I'm chronically sore, so I scoured the internet to find the best massage guns for every budget
The unsung heroes of the relaxation and recovery world.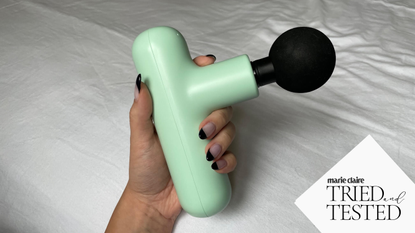 (Image credit: Valeza Bakolli)
Whether you're feeling sore after a workout, have built-up tension from sitting at your desk all day or just slept in a strange position on your long-haul flight, you could probably do with a massage. But we don't all have the funds (or time) to book a one-hour session every other week - which is where our edit of the best massage guns comes in.
Sometimes you need a little pick-me-up more often throughout the week, at a time and place that suits you. We're big on finding the right equipment to support your workouts and wellness here at Marie Claire UK - from the best yoga mats and home gym equipment to the best fitness trackers, we have a whole load of tried and tested edits for you to shop when it comes to wellness equipment.
And it doesn't end there. Rest and recovery are fundamental to supporting a healthy lifestyle, and the soothing yet effective vibrations of a good massage gun can work wonders when used regularly to support your fitness regime. It's an amazing tool to help warm up muscles before a workout, and also to loosen and relax them afterwards - both of which help to prevent injury and make your workouts stretch further.
Beyond this, I'm sure we can all relate to WFH-related aches and pains which - you guessed it - can be alleviated with the help of a massage gun. In fact, a recent study found that there is a significant relationship between regular massage gun use and a reduction in musculoskeletal pain. I, for one, am forever sore in one spot or another thanks to prolonged stints in front of my laptop, so I love to give my shoulders a quick go-over with my massage gun to wind down after work.
As the shopping writer here at MC UK, I know a thing or two about scouring out a product that you'll genuinely use time and time again. Similarly, I love working out and have seen first-hand how much muscle guns can ease post-workout DOMS. IMO, massage guns are crucial when it comes to both relaxation and recovery. That said, not all models were created equal. I've done a deep dive into the world of massage guns to find the very best options for you to shop below. Keep scrolling.
What to consider before buying a new massage gun:
The features and attachments: does your device have different speed options? Tailoring the speed and strength of your massage means you'll be able to use it in multiple ways. Attachment heads are also important for this reason - you can target specific areas of your body or massage larger tired muscles to help with relaxation.
The weight: while heavier models can often signify more power or a longer battery life, the last thing you want is to have to lug around a weighty device when you're out and about or travelling. Think about where you're most likely to use your massage gun - if it's at work or at the gym then you might benefit from a lighter model.
The battery life: most massage guns are portable these days, and for good reason! Nobody wants to deal with a tangle of wires while they're trying to recuperate and heal. Having a device with a long battery life is important if you plan on travelling.
The price: of course, it's important to find the best model within your budget when choosing the perfect massage gun for you. Luckily, a higher price doesn't always mean a superior product, so we've chosen from a range of price points for you to browse through below.
7 best massage guns you can shop right now
Best stylish massage gun
Lola Massage Gun
Reasons to buy
+
Compact
+
Lightweight
+
Stylish
+
Affordable
Reasons to avoid
-
Smaller design so not as powerful as other models.
"In my opinion, this massage gun from Lola can do no wrong. It's super lightweight and small (the device is about the same size as my iPhone), looks chic thanks to its matte pastel finish and costs under £80. It also has four head attachments and an automatic turn-off feature when it's been running too long to prevent overworking my muscles. If you're after a travel or desk-friendly device to soothe your muscles, this is one of the best massage guns you can buy." Valeza Bakolli, Junior Shopping Editor
Best powerful massage gun
Theragun PRO 5th Generation Percussive Therapy Massager
Reasons to buy
+
Powerful
+
Ergonomic
+
Quiet
Reasons to avoid
-
Quite pricey
-
Heavier model
"The Theragun Pro might be one of the higher price point products in this list, but there's a reason it's a bestseller nonetheless. It's powered by the brand's QuietForce Technology which (as you can imagine) makes it both super quiet and incredibly powerful. The design is very sleek and stylish, and the ergonomic design makes it comfortable to hold for prolonged periods. " Valeza Bakolli, Junior Shopping Editor
"I own this massage gun and can confirm, it's one of the best you can buy. Yes, it's an investment, but if you workout regularly, it's an ideal way to prioritise recovery from home. It's far quieter than other competitors on the market and has a battery life that lasts for ages, too, meaning you're never left with a dead battery when what you wanted was a soothing massage." Ally Head, Health Editor
'Best of both worlds' massage gun
Theragun Elite 4th Generation Percussive Therapy Massager
Reasons to buy
+
Powerful
+
Quiet
+
More affordable than the Theragun Pro
"The Theragun Elite model is slightly more affordable and still offers an ultra-quiet and powerful result. The triangular shape makes it easy to massage hard-to-reach areas like your back and shoulders without recruiting your long-suffering niece to help you out again. If you're after the unique shape and most features of the Theragun Pro, the Elite is the best value-for-money option out there." Valeza Bakolli, Junior Shopping Editor
"Yep, I've tried a few massage guns in my time, and am a fan of this one, too. If you're keen to invest in the Theragun brand but want to opt for a more affordable price point, the Elite is similar enough to the Pro, if slightly noisier and less powerful. Still a great investment option, though." Ally Head, Health Editor
Best mini massage gun
Theragun Mini 2.0 Handheld Electric Massage Gun
Reasons to buy
+
Lightweight
+
Compact
+
Powerful
Reasons to avoid
-
Smaller size might make it difficult to reach certain areas
"Theragun's Mini model is a great option if you're after a high-quality device at a slightly lower price point. While it's still a bit of an investment, you'll get a lot of the same features as the Theragun Pro and Elite models for even less. The small size and lightweight design make it perfect for travelling, too." Valeza Bakolli, Junior Shopping Editor
Best affordable massage gun
Zerolia Deep Tissue Massage Gun
Reasons to buy
+
Affordable
+
Powerful
+
A good intro to massage guns
Reasons to avoid
-
Large size
-
On the heavier side
"If you're looking for an intro to massage guns, this model is under £30 and gets rave reviews. Despite its lower price point, users rate its powerful motor and long design which allows you to reach tricky areas with ease." Valeza Bakolli, Junior Shopping Editor
Best battery life massage gun
Renpho Massage Gun
Reasons to buy
+
Long battery life
+
Powerful
+
Affordable
"Customers rave about this massage gun's battery life, so if you're planning on travelling with one (and don't mind a slightly bigger model than the compact styles above), it's an ideal choice. It has a 4.6-star rating from over 29,000 reviews, so you know it packs a serious punch when it comes to motor power, too." Valeza Bakolli, Junior Shopping Editor
Best heated massage gun
Homedics Mini Heated Massage Gun
Reasons to buy
+
Comes with travel back and 5 attachments
+
Affordable
+
Compact
Reasons to avoid
-
Heated attachment must be charged separately from the main device
"Often the time comes when you just need a little something extra to help speed up your recovery post-workout, and this heated massage gun provides just that. It comes in at just under £100, so it one of the more affordable options out there, and the heated head attachment is great for both soothing and warming up your muscles, if you're keen to use pre-workout, too." Valeza Bakolli, Junior Shopping Editor
Is it ok to use a massage gun every day?
While it is safe to use a massage gun every day, there are some rules you should follow. As with most things, it is possible to overdo it with your massage. While the sensation might feel great on sore muscles in the moment, you might do more harm than good by causing more soreness and even bruising on overworked areas.
Some massage guns (like the Lola and Renpho models above) have a helpful time limit on how long they can be used in one go. My Lola design stops after 15 minutes so I know if I've been working on one area for too long. But if your massage gun doesn't include this feature, it's a good idea to set a timer for 10-15 minutes to ensure you don't overwork a particular area.
You can also adjust the strength and speed settings on most massage guns to cater to different body parts and needs. This is especially important if you have been using your massage gun every day - listen to your body and sense when it could do with a lighter massage or slightly softer head attachment.
Of course, it's best to consult your GP before using a massage gun if you are pregnant or have a condition which might be affected by vibrations.
Celebrity news, beauty, fashion advice, and fascinating features, delivered straight to your inbox!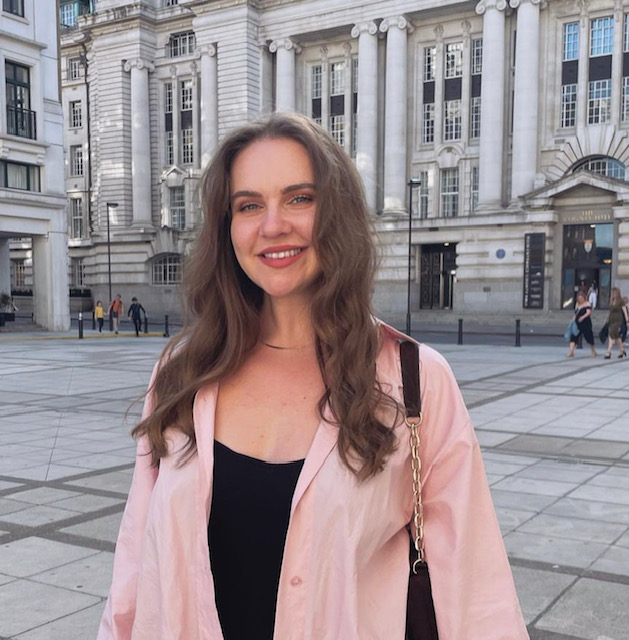 Valeza Bakolli is Marie Claire's Junior Shopping Editor. She previously worked at BuzzFeed, where she honed her skills in all things shopping - from gift guide curation to being first on the scene to feature the latest fashion and beauty drops. She's made it her mission to encourage people to shop mindfully and with purpose. That's why she dedicates hours of her time every day to finding the best products online so you don't have to - from small and sustainable businesses wherever possible, of course.