This Hotel Chocolat hack gets you 45% off their iconic Velvetisers
This is the best Hotel Chocolat Black Friday and Cyber Monday deal you'll find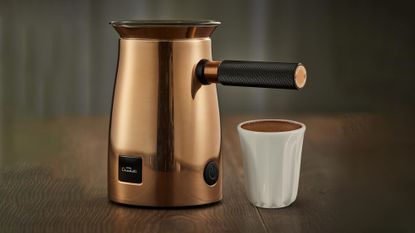 The Hotel Chocolat Black Friday and Cyber Monday deals you need to know about
If the winter months are making you crave warmth and comfort, you're not alone. Searches for Hotel Chocolat Velvetiser Black Friday and Cyber Monday deals are on the rise and to be honest, we don't blame you.
It's undeniably the must-have product of the festive season and, thanks to an army of influencers posting videos of themselves "velvetising", the luxe in-home hot chocolate machine has become a viral sensation - promising barista-quality drinks in under three minutes.
You'll be delighted to know, then, that the Hotel Chocolat Black Friday and Cyber Monday deals aren't slowing down. In fact, they're flying off the shelves with some pretty hefty discounts.
Obviously, it's important to invest sensibly - here at Marie Claire UK, we're passionate about buying products for life.
If that, for you, is the Hotel Chocolat Velvetiser, now is a good time to buy.
On the Hotel Chocolat website, you can now get 15% off by using the HOHOHO at checkout. But other retailers are offering up to 45% off, saving you nearly £50.
Here's where - happy shopping.
Hotel Chocolat Black Friday and Cyber Monday - quick shopping links
Hotel Chocolat Black Friday Velvetiser deals
Is there a cheaper version of the Velvetiser?
Other Hotel Chocolat Black Friday Deals
Is Velvetiser worth the money?
Short answer - it depends on how much you'll use it. If you're a hot choc lover who has a couple a week and will opt to make them at home instead of purchasing out, then you'll make your money back in no time.
That said, it's important - especially at current - to invest wisely, so weigh up how much you'll use it pre *adding to basket* to make sure it doesn't end up gathering dust at the back of the cupboard.
Hotel Chocolat Velvetiser pouches