Here's everything our editors wore to London Fashion Week
Plus, where to buy the exact items.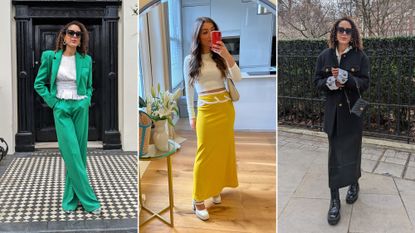 (Image credit: Future)
The Marie Claire fashion team was out in full force over the weekend attending London Fashion Week's Autumn/Winter 2023 runway shows. Editor-in-Chief, Andrea Thompson, Editor, Sunil Makan and Fashion Editor, Zoe Anastasiou ventured all over the city with the help of DS Automobiles to witness the collection debuts of some of the UK's most talented designers.
While we are heavily focused on the clothes on the runway, there is no denying that in recent years fashion week street style has become a spectacle (and veritable industry) in and of itself. Editors, influencers and more now dress for the occasion, sporting their best looks to take their seats on the front row.
So what did the Marie Claire editors wear to London Fashion Week this year? We're so glad you asked. Below you'll find all our looks, as well as the links to shop our exact fashion week outfits.
While many of our outfits did include statement pieces (hello, Christopher Esber cut-out skirt!) by and large our editors relied on tried-and-tested wardrobe staples this season, utilising many of our favourite capsule wardrobe items.
From timeless coats to tailored trousers, it was all about mixing and matching classic items with statement heroes to create looks worth a second look. Keep scrolling for everything our editors wore at London Fashion Week.
Editor in Chief, Andrea Thompson
Day 1: Pinko Suit and IRO Paris Boots
Day 2: Pixie Market Skirt, Chanel Bag, Sandro Boots
Day 3: Paul and Joe Tweed suit, IRO Paris boots, Louis Vuitton bag
Day 4: L'Agence Dress, Iro Paris Coat, Chanel Bag, Dear Frances Boots
Fashion Editor, Zoe Anastasiou
Day 1: Christopher Esber Skirt, Prada Cleo Bag, M&S heels
Day 2: Reformation Dress, Mango Blazer, Jacquemus Wallet
Day 3: Mango Coat, Prada Skirt, Heavenly London Necklace