Princess Diana fashion moments: from the wedding dress to the 'revenge dress'
We take a look at Diana's most memorable and stylish outfits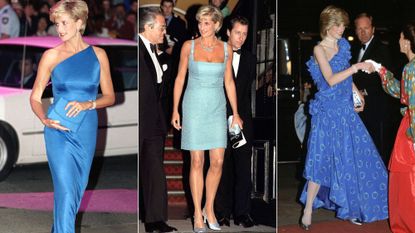 (Image credit: Getty)
Princess Diana was the original monarch who ruled the art of royal dressing. She seamlessly embraced royal etiquette, all the while setting her own fashion rules, like not wearing gloves on official visits and single-handedly making the Dior Lady Di bag one of the most coveted in the world.
Her sartorial influence was such that even Kate Middleton and Meghan Markle often pay tribute to her in subtle ways. Meghan Markle wore Diana's ring on her wedding night, and just like Kate, she had Diana's blue ribbon sewn into her wedding dress. Meanwhile, the Princess Of Wale's maternity dress featured a touching tribute to Diana, and of course, you all know the story behind Kate Middleton's engagement ring, which previously belonged to Diana herself.
Here, we take a look back at some of Princess Diana's most iconic style moments.
Get the royal look: The Micro Lady Dior Bag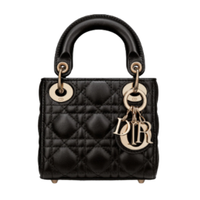 Mirco Lady Dior Bag, £2,600 | Dior
A mini version of Princess Diana's Dior Lady Di bag, this style is crafted in black lambskin with signature Cannage topstitching and a 'D.I.O.R.' charm.

Princess Diana's wedding dress
It might surprise you to hear that when Princess Diana first got engaged, she had no interest in fashion. But overnight, she went from a shy young aristocrat to a soon-to-be princess in the limelight and had to dress accordingly. At first, her style was very twee.
According to Diana's former stylist, Anna Harvey, "Diana started off being really safe with her style. It was all very 'Laura Ashley'." Cue bows, frills and, in other words, every little girl's interpretation of a fairytale princess.
Princess Diana's wedding dress embodied exactly that aesthetic, thanks to its cathedral-length trail, puffy sleeves and miles and miles of taffeta - and FYI, did you know there was a second dress made as a backup, and that her wedding tiara had a special meaning?
Princess Diana's fashion in the 1980s
In the mid to late '80s, as Diana's love of fashion and her confidence grew, she began to make some bolder fashion choices. The exhibition curator of Diana: Her Fashion Story, Eleri Lynn, commented, "We see her growing in confidence throughout her life, increasingly taking control of how she was represented, and intelligently communicating through her clothes."
There were the bold evening gowns, including the midnight blue Victor Edelstein dress she wore to dance with John Travolta on a state visit to the US to meet Ronald and Nancy Reagan. In fact, that dress was hailed as a departure from her usual 'safe' style.
She became known for her Dynasty-esque sequin gowns, and bold-coloured shoulder pads, which she pulled off elegantly. During the day, she favoured power suits and dresses in equally bright designs and prints, always worn with matching accessories like pillar box hats.
Princess Diana's fashion in the 1990s
It wasn't until the mid-90s that Princess Diana really found her style; it was no coincidence that this coincided with her divorce. Gone were the brash colours and exaggerated silhouettes of the '80s, replaced in favour of sleeker, more minimal outfits in muted tones.
Perhaps one of her most famous of all was the black Christina Stambolian 'revenge dress' she wore to the Serpentine Gallery summer party in 1994, the same night Prince Charles admitted to having an affair with Camilla. Many would have hidden away from the limelight, but she emerged confident as ever.
Diana almost didn't wear the dress, which she thought was too low cut, and in fact, had intended on wearing a Versace gown instead, but was put off at the last minute after a release went out announcing her outfit.
She also nailed her working wardrobe, favouring chic Catherine Walker suits and tailored dresses, and became known for her simple evening dresses.
To shop Diana's iconic style, for less, with retro accessories that align with the era, shop vintage. Not sure where to start? Check out our edit of the best online vintage clothing stores.
See more of Princess Diana's iconic style moments below:
Princess Diana, 1980
At the age of 19, Princess Diana's style was much more demure than her later years. She favoured shirts and feminine blouses, and loved wearing an initial necklace around her neck.
The Engagement, 1981
Princess Diana and King Charles got engaged in 1981, and the outfit she wore to the announcement at Buckingham Palace was power dressing at its best, neckerchief and all. It was the beginning of Diana's royal-style journey, but believe it or not, the ensemble was actually plucked from the rails of Harrods at the last minute.
Diana had visited high-end Bellville Sassoon, but wasn't recognised by the French sales assistant, who suggested Diana visited a more budget-appropriate department store. Fortunately, once David Sassoon himself had discovered the mishap, Diana was warmly welcomed back into the boutique and their relationship flourished from there; the designer was one of the defining names behind the Diana style we all know and love.
Princess Diana, 1981
Princess Diana began to get attention from the press after announcing her engagement, here she is leaving her flat in Earl's Court. Her oversized pinstripe trousers and high-neck shirt hinted at her impeccable sartorial taste.
Goldsmith's Hall, March 1981
As a royal-to-be, this was Princess Diana's first official appearance following the engagement – and what better dress to rely on for the occasion than an LBD?
Designed by Elizabeth and David Emmanuel (who would also serve as the masterminds behind Diana's wedding dress), it made headlines around the world and firmly established Diana as a global style icon.
The Wedding Dress, 1981
Ask any millennial woman to name an iconic wedding dress from the last century and we're 90% sure they'll name Diana's fairytale showstopper from her 1981 royal wedding. Presumably, the others would mention Kate Middleton, who was a bride precisely 30 years later.
Complete with a 25ft train, Diana's gown was designed by David and Elizabeth Emmanuel along with the bride herself. It's the epitome of everything little girls dream of in a princess wedding dress.
Princess Diana, 1981
Princess Diana wore a floral Donald Campbell dress on board the Royal yacht Britannia during her honeymoon cruise.
Princess Diana, 1981
Diana wearing a dress by Bellville Sassoon to the V&A. Total princess vibes.
Pregnant with Prince William, 1982
Diana's maternity style was the perfect balance of practical and chic; think oversized, slighlty slouchy dresses paired with a stylish pair of pumps. You recognise this green and white polka dot number for a reason – that iconic photo of Diana and Charles with a newborn William on the steps of St Mary's? It's the very same dress Diana wore then.
At a Guildhall London banquet, 1982
This Bruce Oldfield gown ticked all of the boxes – dramatic shoulder? Check. Bold blue? Check. Statement pattern? Check. It was one of her first public outings following the birth of her son, Prince William, only a few months beforehand, so naturally the gorgeous ensemble sent the fashion world into a frenzy. Talk about nailing it in the post-baby style stakes.
Princess Diana, 1982
Wearing a red ballgown to the ballet in Covent Garden.
On the Royal tour of Australia, 1983
This outfit is classic '80s Diana; smart hat, statement red, oversized lapels and a polka dot dress to boot. Here she's pictured on her tour of Australia in 1983.
Royal Tour of Australia, 1983
As part of that same Royal tour in 1983, Princess Diana taught everyone how the (currently revived) off-shoulder trend should be done. Here she is arriving at a reception at the Melbourne Hilton Hotel in a sparkling white floor length gown and suitably sparkling earrings to match.
The 'Lover's Knot' Tiara at The British Embassy, Washington, 1985
While this gorgeous lace white gown is nothing short of princess-like, the tiara is the big deal here. Gifted to Diana as a wedding present in 1981, the 'Lover's Knot' tiara is encrusted with diamonds and teardrop pearls.
It was designed by Queen Elizabeth's grandmother in 1914 and was reportedly Diana's favourite. So, naturally, when Kate Middleton wore it to a function a few years ago the world could barely contain its excitement.
The tiara is currently in the possession of Princess Kate, who also happened to wear the item a few weeks ago to a state banquet.
Dancing with John Travolta in 1985
Another iconic moment during which Princess Diana captured the hearts of the world; showing off her fun side by dancing with a young John Travolta at a White House dinner held by President Reagan.
The gown, an off-shoulder number by Victor Edelstein, was sold at auction for £240,000 after her death.
Princess Diana, 1986
Diana, Princess Of Wales, was photographed sitting on the steps outside of her country home, Highgrove. She's casually dressed in pink gingham trousers with a matching jumper.
Princess Diana, 1986
Diana, Princess of Wales wasn't afraid to take sartorial risks. Here she wears a Murray Arbeid flamenco dress with one red glove and one black glove to a ball.
Princess Diana, 1986
Wearing a navy blue Murray Arbeid dress and pink long gloves, Princess Diana attends the theatre gala of 'Phantom of the Opera'.
Princess Diana, 1987
At the Cannes Film Festival looking beautiful in blue.
Princess Diana, 1988
Diana, Princess of Wales at a bicentennial dinner-dance in Melbourne, during a royal tour of Australia. Here, Diana's dress was designed by Catherine Walker.
Princess Diana, 1989
Princess Diana, Princess of Wales wearing the 'Elvis dress' during a visit to the Culture Centre in Hong Kong. The pearls were a nod to her host.
Royal Naval College Parade in Dartmouth, 1989
Princess Diana wore a suitably naval-feeling outfit to represent the Queen at a parade for Officers of the Britannia Royal Naval College in 1989. The red and white coat was designed by Catherine Walker, while the hat was made by Philip Somerville.
At the Royal Lancaster Hotel, 1990
Another Catherine Walker number, this time worn to a charity evening held at the Royal Lancaster Hotel. The shimmery gown was complete with puff long sleeves and adorned with sequins, meaning Diana caught the light wherever she turned.
Princess Diana, 1991
The Princess of Wales, Princess Diana, dressed in tartan, on a walkabout in Manchester where she visited the Manchester Art Gallery in Moseley Street.
The 'Revenge Dress', 1994
Quite possibly Princess Diana's most famous look from her style archives is the black plunging Christina Stambolian gown she wore to the Serpentine Gallery summer party in 1994. Its special significance? Not only did she almost not wear the gown, but it was the same night a documentary aired in which King Charles confessed to his affair with Camilla Parker-Bowles. The name 'Revenge Dress' stuck, and the gown was one of ten iconic Diana dresses auctioned off in 2013.
Visiting British troops in Canterbury, 1995
You'd be forgiven for thinking this was Jackie Kennedy, but no, it's definitely Princess Diana. The pink suit, complete with a very Jackie O hat, was designed by Gianni Versace for the Princess of Wales to visit troops at Howe Barracks in Canterbury, 1995.
At the Serpentine Summer Party, 1995