Guess which fashion influencers gained the most Instagram followers in 2016?
All of the likes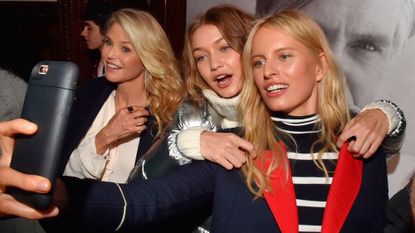 All of the likes
In celebville, a strong digital following can equal dollars nowadays. So relevant is the figure atop a star's Instagram account, that the newest crop of supermodels can even leverage their large social presence into million pound deals with major fashion and cosmetics brands.
In fact, Forbes even considered social clout when compiling their World's Highest Paid Model in 2016 list: 'For fashion's elite, follower count has finally turned into fiscal fortitude. Though Gisele Bündchen still leads the world's top-earning models with $30.5 million, Kendall Jenner (No. 3) and newcomer Gigi Hadid (No. 5) have risen up the ranks by turning their outsized Instagram followings into multi-million dollar paydays.'
And now, for their end of year round up, Instagram have uncovered exactly who gained the most followers in 2016. The top ten, which reads like a Victoria's Secret casting call, is unsurprising but does give an insight into the career trajectories of the women who's feeds we can't get enough of right now.
Some of the findings are pretty expected: taking the lead with an unprecedented 16,033,757 new followers this year is none other than Gigi Hadid. Cara Delevingne and Hailey Baldwin were hot on her heels, in the second and third spots respectively, while sister Bella Hadid landed fourth place.
What did come as a surprise however was the fact that Kendall Jenner was missing from the list entirely. This could be due to Kendall's recent Instagram hiatus.
Victoria Beckham claimed the sixth spot, which could be attributed to VB's hilarious Insta-LOL posts, not to mention her frequent posts of David and their genetically blessed offspring.
Check out the full list of new followers each woman received this year, below:
1. @gigihadid, 16,033,757 2. @caradelevingne, 14,333,714 3. @haileybaldwin, 5,935,909 4. @bellahadid, 5,849,699 5. @emrata, 5,685,483 6. @victoriabeckham, 5,173,409 7. @chrissyteigen, 4,840,896 8. @gisele, 3,880,496 9. @taylor_hill, 3,624,222 10. @angelcandices, 3,480,158
Stay tuned for more 2016 social media, must-read round ups, from the funniest to the most unexpected Instagram newcomers – including Pope Francis and Tom Hiddleston.
Celebrity news, beauty, fashion advice, and fascinating features, delivered straight to your inbox!