This is who the Love Island cast should couple up with based on their star signs
Forget "my type on paper", it's time for "my type in the stars"...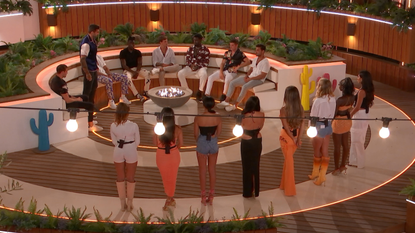 (Image credit: ITV)
Forget "my type on paper", it's time for "my type in the stars"...
The Love Island drama is in full swing, with the Mallorca villa seeing age-gap drama, an ex in the mix and all the dramatic dumpings.
Fans are already predicting who will win, but can the stars give us a sign as to who should couple up?
Usually the islanders couple up based on who they think is the hottest - or who they think will win if they're wise and keep the cash prize in mind. But the stars have different ideas for the contestants' love matches.
"My type on paper" is the phrase officially coined by Love Island. But what is their type in the stars?
"When combining love matching and astrology, the signs are split into harmonious duos who have similar life perceptions," explains Astrologer and manifesting coach Melanie Bentley-Moore, before citing the most harmonious matches as Earth & Water signs, and Air & Fire signs.
Without further ado, here all the Islanders' star signs and who they should couple up with as a result...
Gemma Owen
Star sign: Taurus - Earth
Astrological match: Melanie reveals that as a Taurus, Gemma seems to live up to the stubborn stereotype. Her family has described her as "very honest and a bit stubborn" and we certainly got to see that side of her when she shut down Ekin-Su. According to Melanie, an interesting match would be a Scorpio which is the opposite sign of Taurus. As they say, opposites attract! A lot can be learnt from an opposing sign, and guess who is a Scorpio? Brand new (and old) Adam Collard. Watch your back Luca.
Adam Collard
Star sign: Scorpio - Water
Astrological match: Apart from Gemma who is currently taken, the other Earth sign in the villa that would be a perfect star match for Adam is Paige. He already has his eye on her and the two have been for many a chat. So much so in fact that her partner Jacques decided to leave pretty soon after his return. Maybe he saw something we didn't, as the stars certainly align for the pair.
Paige Thorn
Star sign: Virgo – Earth
Astrological match: Melanie explains that "Virgos are the ones who pay attention to details and appreciate the small things. Virgos can be fussy when choosing partners". But going against her star prediction, Paige seemed pretty set Jacques, even turning down Jay who actually would've been an astrological match for her. Will she couple up with Adam now?
Dami Hope
Star sign: Aries – Fire
Astrological match: Dami and Indiyah were the favourites to win, until Dami's "lads holiday" during Casa Amor (eye roll). Melanie predicated that things could get intense between them, as two fire signs can be eruptive. She was certainly right, as Indiyah and Dami most definitely showed the fiery side of them both, when Indiyah dropped the best Love Island line ever, "May the best heartbreaker win." While the nation would love to see these two get back together, the fire and fire combination may be too much.
Tasha Ghouri
Star sign: Leo - Fire
Astrological match: A Leo woman needs a man that will allow her to shine brightly. Andrew definitely was that man up until Casa Amor, where the girls told him she was walking all over him (typical Leo fashion). Leo's love to be the centre of attention, so new partner Billy may not be the best match as he definitely likes to dominate the room too.
Pisces boyfriend Andrew would be compatible match as they are known for being able to bring out others' emotions, which we have certainly seen with Tasha. A Pisces and Leo can balance each other out well, and it has been said that a Pisces strokes a Leo's ego well. Maybe Andrew is the perfect match for Tasha after all.
There is finally a perfect Air match in the villa for Tasha... brand new bombshell Jamie Allen the Gemini. The footballer may not be in with a shot now that Tasha and Andrew are official but can Tasha's head be turned?
Davide Sanclimenti
Star sign: Capricorn – Earth
Astrological match: As Melanie explained, Earth and Water signs are the perfect match and the one female islander with a water sign? Antigoni. The pair did couple up, but now she has left the villa, there is not another water sign in there to rock his boat.
"Capricorn men can have that marmite effect, but as long as they have someone to put them in their place when needed in a down-to-earth manner, that can help. Capricorn men can be quite difficult to get through their walls, but once in, their loyalty is concrete."
Thinking that sounds exactly like a job that Ekin-Su could do? You're not wrong, as "two earth signs together can have a great understanding and appreciate the same things".
Ekin-Su Cülcüloğlu
Star sign: Virgo - Earth
Astrological match: Matching with fellow Earth sign, Davide, could work for the pair. The two have proven to be very similar and they both stayed single during Casa Amor, choosing to stay with each other.
Unfortunately for Davide, and for "the new Ekin-Su", water sign Adam would be the perfect match for Ekin. Adam and Ekin? We could definitely see the stars aligning for that one. Terrace chat incoming.
Especially after Davide said she is as fake as a fake Louis Vuitton handbag, ouch.
Andrew Le Page
Star sign: Pisces – Water
Astrological match: There are three Earth signs that would pair well with Andrew's water sign: Gemma, Paige and Ekin. Astrological expert Melanie says of all of them, it is Andrew and Ekin that would make the perfect match.
"Pisces and Virgo are opposing signs, but have a lot to learn from each other, and do compliment one another once the balance has been found and maintained, as they will have similarities. Virgo can bring the Piscean back down to earth when needed, and the Piscean can help Virgo loosen up a bit and be more in touch with their emotions."
Andrew and Ekin-Su - will it happen?
Indiyah Polack
Star sign: Sagittarius – Fire
Astrological match: Sagittariuses are very open minded when it comes to love, which is definitely lovely Indiyah's style. Despite the fire, Dami could be a good astrological match for Indiyah, and as an Aries, the two can have a lot of energy together. The two signs will never get bored of each other, and that is exactly what the pair have admitted to wanting. A match made in heaven. I mean, the stars. New bombshell Jamie Allen is Gemini Air sign, who could sweep Indiyah off her feet and away from Dami.
Luca Bish
Star sign: Capricorn – Earth
Astrological match: Taurus is a great match for a Capricorn, and remember who is a Taurus? Gemma. As two earth signs, they can feel connected from the off, which is exactly how the pair have been since they entered the villa. Mutual respect and work ethic is a big thing for both of these signs, and if you are a keen Love Island watcher, you will remember Luca and Gemma talking about exactly this.
Although Luca has been told he can be too protective over Gemma, these two seem to be going the distance. Gemma is waiting until he can get the family seal of approval first, before they make things official, but could this perfect match be the winning couple?
Billy Brown
Star sign: Scorpio - Water
Astrological match: Ekin-Su. The new Casa Amor boy has been making waves since he entered the main villa in true Scorpio style. While he is currently coupled up with Tasha, he apparently has his eye on Gemma. His astrological love match Ekin-Su is currently swaying towards Adam, but if that doesn't work out, there is always Billy.
Danica Taylor
Star sign: Aries - Fire
Astrological match: Danica has been extremely unlucky in love these past weeks, but things are about to take a positive turn. Brand new bombshell Jamie Allen would be Danica's best astrological match. Jamie, as Gemini is an Air sign would be perfectly suited to Danica's fire. The two signs are compatible as they both bring excitement to the relationship, just as a bombshell always does. Aries and Gemini bring the passion and adventure, as well as bringing out an intelligent side to the pair. Let's hope they hit it off and couple up..
We can't wait to see what happens.
Celebrity news, beauty, fashion advice, and fascinating features, delivered straight to your inbox!
Dionne Brighton is a writer at Marie Claire UK, specialising in all things shopping, beauty and fashion. Born and raised in North London, she studied Literature at the University of East Anglia before taking the leap into journalism. These days, you can find her testing out the latest TikTok beauty trends or finding out what the next full Moon means.