Beauty editors and celebrities all swear by this bestselling moisturiser for glowing skin
One sells every two minutes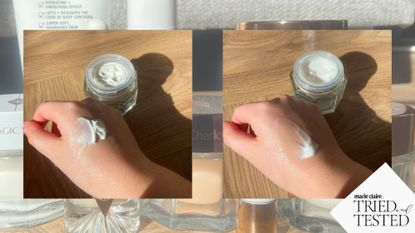 (Image credit: Tori Crowther)
It's hard to believe that the iconic Magic Cream created by Hollywood's favourite make-up artist, Charlotte Tilbury MBE, hit shelves 10 years ago. While there are many hard-working moisturisers out there that claim to be a cult favourites, few actually achieve status quite like the Charlotte Tilbury's Magic Cream. It's so loved, in fact, that one is sold every two minutes globally.
Given the roaring initial success of the iconic Magic Cream, people wanted more. And if there's one thing Charlotte does best, it's giving the people what they want. Nowadays, the 'Magic' skincare line consists of 8 core products: The original cream, new water cream, a serum, a body moisturiser, a mist, a night cream, a lip oil and an eye cream.
But what makes them all so brilliant? That's what we're going to break down.
What makes Charlotte Tilbury's Magic products so... magic?
In short: it's Magic Cream's instant ability to give skin a pick-me-up, especially after long days and late nights. The formula contains what the brand calls its Magic 8 Matrix, which is basically a fancy way of describing its blend of hyaluronic acid, bionymph peptides, vitamins C + E, aloe vera and frangipani extract, camellia oil, rosehip oil and shea butter. Essentially, each product is packed full of hydrating, skin-loving ingredients that help support the skin barrier (keeping it from feeling irritated and dry) and leave it looking plump.
All of this, in my opinion, gives the Magic products the USP of being an ideal pre-make-up base, which makes a lot of sense given Charlotte's make-up artist background. Each product can be layered and mixed together to give a glassy, moisturised finish that soaks in well but leaves enough sheen on the skin before applying the best foundations.
As someone with rosacea, this is pretty much everything I look for in skincare, particularly on the days I want to pack my make-up on to conceal redness whilst still appearing natural. Although at nighttime I use skincare products more catered to problem-solving my redness and rosacea-related breakouts, I love this group of Charlotte Tilbury products for the ultimate glowing base. Read on to get the (g)lowdown on each Magic product with texture swatches for each.
The best Charlotte Tilbury Magic products, reviewed by a beauty editor
1. Charlotte Tilbury Magic Cream
Charlotte Tilbury Magic Cream
Of course, we had to start with the OG: The Magic Cream. Launched 10 years ago, after Charlotte's A-lister clients begged her to give them a sample of whatever she used on their skin before applying make-up, it reminds me of an old school cold cream in the best kind of way, delicate floral scent included. A little goes a long way to give skin an instant moisture boost, providing an excellent primer for make-up. It's ideal for dry skin types who find they need a thicker consistency to get the job done. If you're on the oilier side, you'll likely find this one a little rich; but fear not, there's plenty of other options for you.
Now, this isn't one I would particularly use at bedtime. The reason being is I like my formulas to be a little more action-packed at nighttime with ingredients to tackle my skin concerns. I find this works so well as a primer, that's what I like to save it for.
I've not included it here in the list, but the Magic Cream also comes in a light version, which is exactly the same formula but slightly less heavy with a more lotion texture. It's a great option if you love the original cream but in summer months want something a little more lightweight but with all the same benefits.
For
Great for dry skin
Fantastic pre-make-up cream
Against
Not ideal for oilier skin types
2. Charlotte Tilbury Magic Water Cream
Charlotte Tilbury Magic Water Cream
Next up is the newest product of the bunch, the just-launched Magic Water Cream, a lightweight gel version of the original Magic Cream.
This one really knocks it out of the park for oily skin types or those days where you want something a little lighter and fresher. It was designed to instantly hydrate the skin, even quicker than the original, and I have to say, it definitely lives up to that claim. That's all thanks to two ingredients: aquaporin and beta glucan, both of which work to support skin cells and ultimately help skin feel and look more hydrated. The ingredient technology is said to give 100 hours of hydration (only tested on 33 people, so not a ton), which I don't personally feel is feasible, especially on dry or combination skin types. Nevertheless, it does give skin a hefty dose of moisture and leave it feeling comfortable right away.
Unlike the original, this moisturiser is fragrance-free, allowing even the most sensitive skin types to get its benefits and not have to worry about irritation.
For
Ideal for oily skin types
Provides a nice tacky base for make-up
Very soothing
Against
It does feel expensive for a gel-cream formula in my opinion
3. Charlotte Tilbury Magic Eye Rescue
Charlotte Tilbury Magic Eye Rescue
Eye cream has been working overtime for me right now with soreness, redness and dryness. This is one of the few eye creams I can slather on knowing it won't be irritating and gets the job done. My skin seems to soak it up in seconds, instantly soothing the area before bed.
In the day time, it works excellently before applying concealer, which recently feels drying and ends up looking a little cake-y. I use a tiny pea-sized amount for both eyes and let it soak in for a minute before continuing with my make-up.
Do I think it does anything for dark circles? Honestly, no. Dark circles are difficult to rid with creams so I use the products to de-puff and deeply hydrate, which it does instantly.
For
Huge tub so lasts a long time
Great both at night time and before makeup
Against
The jar makes it not super sanity to consistently stick you finger into; I recommend using a little spatula
4. Charlotte Tilbury Magic Serum Crystal Elixir
Charlotte Tilbury Magic Serum Crystal Elixir
For me, this is the best product out of them all. I've not found a serum that matches the lit-from-within glow I get from this. Just like the Magic Cream, I don't use the Magic Serum at night (I prefer prescription creams at bed time), but instead save it for the mornings when my thirsty skin is in need of a boost. It has a thin, milky consistency that spreads well on skin and soaks in instantly.
It dries down enough to not sit on top of the skin but enough to leave a nice dewy finish. Best of all, it layers really well underneath creams and make-up products where other serums pill—provided you don't use loads of it. If you're looking for an additional daytime product before make-up, this will change the game. But I wouldn't recommend this as a night-time serum to fix all of your skin concerns.
For
Gives a lit-from-within glow
Pairs really well with the Magic Cream and Magic Water Cream
Against
Isn't going to fix skin concerns like hyperpigmentation or breakouts
5. Charlotte Tilbury Magic Hydrator Mist
Charlotte Tilbury Magic Hydrator Mist
I just love a mist, and this one is a delight to use. The first notable characteristic of the Magic Hydrator Mist is that it has the same refreshing scent as the Flawless Setting Spray, which I personally love but do think some people might find a little overpowering, especially if you like to spritz multiple times throughout the day.
When it comes to mists, the spray mechanism is important in my opinion. You don't want too much that you aggressively spray yourself in the face, but you don't want too little that you barely feel like you're feeling the refreshing effects. This finds a nice balance so you only really need a couple of spritzes to get your entire face and neck. This is why I think the higher price tag is justified, because it lasts longer than many other mists I have.
As for results, I don't personally find that it's super hydrating on its own, but I do like to use this before the Magic Serum and Magic Cream for the ultimate hydration sandwich.
For
Great spritz mechanism
Feels refreshing
Against
Is expensive for a mist
Scent might be overpowering for some
6. Charlotte Tilbury Magic Body Cream
Charlotte Tilbury Magic Body Cream
The Magic Body Cream is a mixed bag for me. I love it for the basic reasons one would love a body moisturiser: it moisturises. It gets the job done well with no frills or extras. However, the price and being a CT product would indicate more frills and luxurious packaging. The brand loses me on its promises to "firm" skin and help cellulite, which sadly, no cream can do.
Fragrance in body cream is tricky; some people love it, others hate it. I'm definitely in the love it camp so struggle to use unscented body lotions. This is one exception though, and I prefer to use this in the day time before spritzing perfume. I find that the residue gives a great base for my fragrance to stick to and give both hydration and long-lasting scent—a win-win.
Overall, I really enjoy using this products and think it does well at hydrating and making my skin look dewy and fresh. I don't love the messaging though and do think the packaging isn't as fancy as the other products for the price tag.
For
Thick, comforting texture
Moisturises the skin well
Against
Isn't very scented
Packaging isn't as luxe
7. Charlotte Tilbury Magic Lip Oil
Charlotte Tilbury Magic Lip Oil
I really enjoy using the Magic Lip Oil and often find myself going back to it. Let's start with the packaging, it's a fairly small tube featuring a ball end application, which I personally really like. It allows me to get enough on my lips to hydrate without squeezing out half the tube by accident; I find it really easy to use on the go. But I also know people who hate the packaging and don't find it super user-friendly, so this is something to bear in mind.
As for the ingredients, it's packed full of oils, aloe vera, hyaluronic acid and extracts to keep lips feeling hydrated and comfortable.
The one disappointment for me with this product is how little you get in the tube; I swear on first application it always feels like the tube is half empty already. Having said that, I always go back for more so it must be doing something right.
For
Application ball is fun to use
Leaves a nice sheen on the lips
8. Charlotte Tilbury Magic Night Cream
Charlotte Tilbury Magic Night Cream
Leaving the most interesting texture for last. If you've ever tried snail mucin, that's what I can compare the Magic Night Cream to. It's completely unlike the original in texture so don't buy this night cream thinking it's the same!
It's a thick, almost sticky consistency that although I don't think is the most delightful to use, does give excellent results. Think: super dewy, hydrated skin with zero dry patches by the morning. It's definitely one to use for drier skin types.
My favourite way to use this is taking a small amount and applying it after my serum and moisturiser at night; doing this long before I'm going to sleep to give it time to soak into my skin. This slugging technique gives my skin a much-needed moisture boost.
For
Leaves skin feeling incredibly hydrated by morning
Against
Has a sticky residue that not everyone will like
Celebrity news, beauty, fashion advice, and fascinating features, delivered straight to your inbox!
Tori is a freelance beauty journalist and contributor for Marie Claire. She has written for various titles, including Allure, Glamour, Elle, Refinery29, Brides, and more. Currently training to be a nail tech, Tori is a total nail enthusiast and always has time to talk all things nail art. When she's not writing about beauty and testing products, Tori can be found walking her rescue dog Pip, drinking great coffee, and eating as many croissants as humanly possible.