When your make-up is slipping off throughout the day, these simple skincare changes will help
It makes sense when you think about it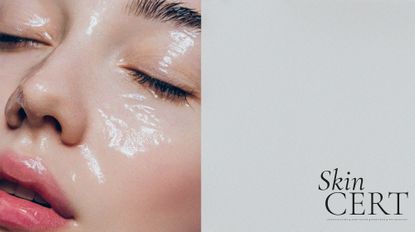 (Image credit: Future/Getty Images 1389993783)
Many people believe that the secret to long-lasting make-up lies in the make-up products that they use. But what if we told you there's far more too it?
That's right, forget your best foundation, because this time it's all about your skincare routine. No, we're not talking about just whacking on your favourite moisturiser and hoping for the best, we're talking about tailoring your routine to your specific skin type and prepping the skin to help your make-up last all day.
As a beauty writer, I spend a big chunk of my working days speaking with make-up artists, and they all say the same thing: a great make-up look starts with expertly applied skincare. In fact, it's basically the secret to lit-from-within glow.
So, what goes into the art of skin prep? Well, that's where the experts come in. We've spoken to Rebecca Moore, NARS National Senior Makeup Artist and Ridah Syed, Senior Medical Aesthetician at Skinfluencer London all about how to prep skin before make-up, and it's a lot easier than you think.
Keep on scrolling for everything you need to know about the art of skin prep...
Is it important to prep skin before applying make-up?
The short answer? Absolutely. "Prepping the skin is the most important step in your make-up routine. Everything you do in this step will determine how your make-up will look, last and feel throughout the day. This is a great time to tackle any skin concerns such as dryness or excess oil," says Moore.
"It also helps to smooth the skin and minimise pores," adds Syed. "Overall, your make-up will look better and last longer."
So, let's get prepping.
What ingrediants should you use to prep the skin for make-up?
"I would recommend looking for products with hyaluronic acid and vitamin C," says Syed. "Hydrated skin equals glowing skin which makes a great canvas for make-up. For this reason, hyaluronic acid is your skin's best friend. It is a fabulous hydrating ingredient that will lock in moisture."
This MAC serum contains a blend of hyaluronic acid, niacinamide, ceramides and Japanese peony extract to hydrate the skin and enhance radiance. The great thing about this is that it also doubles as a primer, making it the ideal product to prep skin before make-up.
"For an additional glow, include vitamin C in your skincare routine, but be careful about which type of vitamin C you use. Generally speaking, oilier skin types can't handle high percentages."
Finally, make sure you're using a primer underneath your foundation. Syed recommends using one that contains silicones. "A primer with silicones in will generally give skin smoothness." So, if you want your foundation to glide onto the skin, Syed suggests using something like the Charlotte Tilbury Wonderglow Primer.
Charlotte Tilbury Wonderglow Instant Soft-Focus Beauty Flash Primer
This soft focus glow primer will create a smooth canvas for make-up, and will leave you with a gorgeous, glowy finish.
Nars Smooth & Protect Primer SPF50
We also love this smoothing primer from Nars. It helps to minimise the look of pores and fine lines and protects skin against UVA/UVB rays and pollution.
What products should you avoid when prepping the skin?
"The main thing to remember when doing your skincare routine is to make sure that you aren't using products that are too rich for the make-up you are using. If you do, you may find your make-up product 'rolling' and the make-up will not sit right on the skin," says Moore. Instead, make sure you are choosing lighter products that will sink into the skin and sit nicely under foundation.
"Another thing to keep an eye out for is using the correct skincare products for your skin type," adds Moore. "This will help the make-up sit better and have a longer lasting wear throughout the day." So, if you have dry skin, you can get away with more hydrating products, whereas those of you with oily skin might want to opt for mattifying moisturisers and primers to keep shine at bay and help your make-up to last longer. As Moore says, "The wrong skincare could promote excess oil or exaggerate dryness."
How to prep the skin for make-up
Now that we've gathered that skin prep is important, how exactly should you go about doing it? "Using skincare like serums and moisturisers are great for prepping the skin. Use a generous amount and massage it into the skin. Treat it like a mini facial for yourself. This will make sure for a plump hydrating canvas," says Moore.
Do that skin prep mistakes become a thing of the past, we asked Syed exactly how to prep your skin step by step.
Step 1
"The first thing you need to do is make sure the skin is nice and smooth, so try and exfoliate after you cleanse. Do not use a harsh exfoliant that will strip or dehydrate the skin, something such as the ZO Skin Health Exfoliating Polish is a great choice."
ZO Skin Health Exfoliating Polish
ZO Skin Health's exfoliating polish contains magnesium crystals to exfoliate dead skin cells to create a clear, smooth and even-toned complexion.
Step 2
Then, Syed says to ensure that the skin is hydrated . "This can be easily achieved using hyaluronic acid, and I love the iS Clinical's Hydracool Serum."
iS Clinical's Hydracool Serum
This serum is infused with botanically-derived hyaluronic acid, vitamin B5 and brightening mushroom extract, to rejuvenate and hydrate the skin.
Step 3
An additional step that isn't necessary (but feels great) is to use cryoglobes to really allow the hyaluronic acid to sink into the skin. Not only do they feel super refreshing and boost glow, but they can help to reduce puffiness first thing in the morning.
Oxygen Boutique Cryo Facial Tools
These cryo facial tools from Oxygen Boutique are the perfect addition to your morning skincare routine.
Step 4
The fourth step is vitamin C. "This will give your face a nice glow, but the vitamin C you choose should be suitable for your skin type. I use the iS Clinical's Pro-Heal Serum," adds Ryed.
iS Clinical Pro-Heal Serum Advance
iS Clinical's vitamin C serum contains olive leaf extract and pure vitamins A and E to help provide the skin with antioxidant protection.
Step 5
Finish with a moisturiser that helps to not only hydrate the skin but will also repair the skin's barrier function, and finally, don't forget SPF!
Celebrity news, beauty, fashion advice, and fascinating features, delivered straight to your inbox!
Grace Lindsay is currently Junior Beauty Editor at Who What Wear UK and previously was Marie Claire UK's E-Commerce Writer. With over three years of experience in the fashion and beauty industry, she covers everything from the best make-up and skincare deals to how to shop the stand out trends of the season. When she's not typing away at her laptop, Grace can be found shopping her favourite vintage markets IRL, or catching up on her never-ending list of books to read.