These travel beauty tips will revolutionise your next long-haul flight
What you need to know before you prepare for takeoff…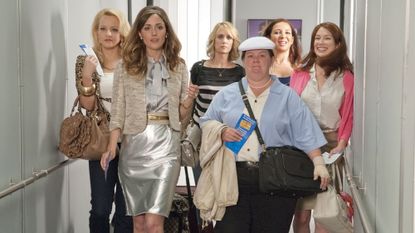 (Image credit: Sky)
Ace that arrival
Long-haul flights are horrific for skin. You could be the most seasoned traveller, but neglecting your complexion when you're up in the air could affect how your skin looks and feels at your destination. Which, if you're off on a dream holiday is a bloody disaster. Thankfully, we have come up with a super handy guide with the best travel beauty tips so that you can avoid any nightmares upon arrival.
Travel beauty tips
1. Hydrate, hydrate, hydrate
It's no secret that H20 is the key to a hydrated, clear complexion. But if you take it for granted when you're on land, you certainly don't want to make that mistake up in the air. Every passenger on the plane takes in oxygen and releases carbon dioxide, so in order to give everyone the oxygen they need, fresh air is pumped into the cabin. This, mixed with the high altitude, makes the perfect recipe for dry air. Try to consume a litre of water for every 4 hours you're in the sky. Fill your water bottle up before you get on the flight and don't be afraid to get up and ask the flight attendants for regular top ups. Don't press the call button, walking around the cabin will also help with your circulation whilst on board.
2. Watch what you drink
Don't overdo it on the free drinks. We know how tempting free booze is - why do you think all good weddings end in memory loss?! - but trust us, dehydration will be at an all time high up there (no pun intended), don't up the ante by drinking your way through the bar. Not only will it disrupt your sleep, but it'll play havoc with your skin. Same goes for coffee. If you want a little caffeine boost, ask for green tea instead.
3. Get your zzzs in
The first thing you should do when you get onto the flight, is change your watch to your destination's current time. This will help get your head around your new timezone. This is especially useful if it's an overnight flight. Lack of sleep shows straight away on the face - skin can end up looking dull and the bags under your eyes will be out in full force. Try to avoid binge watching films and invest in a silk eyemask and noise cancelling headphones. Another handy tip is to bring your own pillowcase to cover the awful scratchy pillow you're given by the airline.
4. Rock a red lip
Just before you land, apply a slick of your best red lipstick. Not only does it make your teeth look whiter and draw attention away from dark circles, the right shade will complement your skin tone to enhance the warmth in your face and give you a healthy glow. So no matter how much sleep you managed to get onboard, you'll walk through arrivals looking chic and put together.
5. Invest in travel minis
Ever since airports introduced that darned 100ml rule, we are now limited with what we can take on to the plane with us. There's no way our whole skincare routine is going to fit into that tiny plastic bag so we have to be clever about things.
Our online editor, Holly, recently flew to Aspen and followed all of these travel beauty tips and here's what she packed in her cabin bag...
During my 10-hour flight, I applied this treatment twice and that was only because I looked in the mirror mid-flight and looked so disgusting only a shiny lip boost would do. Its glossy, super-hydrating staying power will last HOURS, and isn't hugely sticky so you can eat your incredible in-flight tray food to your hearts content knowing your lips are going to be juicy juicy for the duration.
This may seem like a massive space waste in your bag of plane liquids, but no. It is essential. This wonder spray refreshed and cooled all limbs (and olfactory receptors) during my flight thanks to a potent mix of yarrow, marigold and dandelion, and I'm certain also delighted my fellow Row F passengers as a result of my over enthusiastic spritzing. When it comes to Susanne Kaufmann, it's nice to share.
As this balm doesn't count as liquid, it's the perfect swap if you are short of space when it comes to carry-on liquids. It's got Frankincense and moss (not to be confused with myrrh) in it, which basically means it smells nice and calming and slightly woody once smudged onto your pulse points.
I trust Murad with my life (and my skin) - every Murad product I've tried has been best in class and this Water Gel is no exception. I used this before I flew, as we took off and as soon I got into the hotel directly after my flight. The jelly-gel like consistency added a much needed moisture hit to my skin and sunk straight in without any faff, yet left my skin bouncy and soft all day. This Water Gel has now been added to my normal morning beauty regime.
Sheet masks are the MVP of your in-flight carry on bag and most importantly, they don't count as liquids. This kit contains x1 hydrating sheet mask, x1 illuminating sheet mask, x1 hydrating lip mask and a pair of rejuvenating eye patches that in 5 minutes, will have your skin looking perky even if you feel drowsy AF. Until someone upgrades me to fancy class, I can't bring myself to go full sheet mode in economy, but I can tell you the discreet eye patches did wonders for depuffing mid-flight and the hydrating sheet mask pumped my skin back to life (once I was in the privacy of my hotel room).
Being the picnic packer I am, I decanted a few of these pads into an old sandwich bag (it's former life was also a travel makeup bag, so no crumbs to worry about) as the big 'ol tub isn't really carry-on friendly. I used a couple of these delightfully soggy pads on my face to get rid of any makeup and general plane grease and the combination of rosewater and water mint left my skin clean and most importantly hydrated in seconds. Again, these have since been upgraded to Daily Routine status.
I always feel like a COOL MUM when I have Glossier products on rotation, especially when they're in a translucent bag passing through security so everyone can see how cool I am. Personally, I think the Bubblewrap eye and lip cream is the best skincare product they've come out with - it cooled, softened and visibly de-puffed my eyes during the flight and worked wonders on my dark circles as the jet lag began to creep in. I'm not sure about its lip plumping properties, but I put it on my cupids bow anyway. And I felt cool doing so.
So there you have it.
The ultimate beauty travel tips.
Celebrity news, beauty, fashion advice, and fascinating features, delivered straight to your inbox!
Katie Thomas is the Senior Beauty Editor at Marie Claire UK. With over 10 years of experience on women's luxury lifestyle titles, she covers everything from the best beauty looks from the red carpet and stand out trends from the catwalk, to colonic irrigation and to the best mascaras on the market. She started her career on fashion desks across the industry - from The Telegraph to Brides - but found her calling in the Tatler beauty department. From there she moved to Instyle, before joining the Marie Claire digital team in 2018. She's made it her own personal mission to find the best concealer in the world to cover her tenacious dark circles. She's obsessed with skincare that makes her skin bouncy and glowy, low-maintenance hair that doesn't require brushing and a cracking good manicure. Oh and she wears more jewellery than the Queen.