The internet has gone crazy for this retinol eye cream, so we asked 3 beauty editors to give it a go
An eye cream that tackles puffiness, fine lines and dark circles? Sign us up.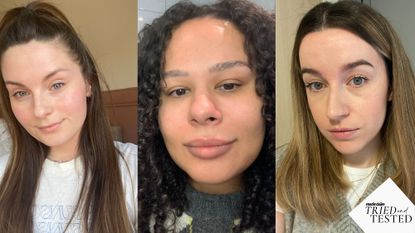 (Image credit: Tori Crowther, Amerley Ollennu and Grace Lindsay)
If you google the best eye cream, you'll most likely come across the RoC Retinol Correxion Line Smoothing Eye Cream. This retinol eye cream is regarded as one of the best for tackling fine lines, dark circles and puffiness.
Here at Marie Claire UK, we know that no eye cream can fully get rid of fine lines, but there are some that can help. So, we decided to put RoC's bestselling formula to the test to see if it actually worked.
Of course, we enlisted the help of three beauty editors in order to get multiple opinions. Keep on scrolling to see what they had to say, and for more inspiration, don't forget to check out our guides to the best caffeine eye creams and the best eye creams for wrinkles.
Buy the RoC Retinol Correxion Line Smoothing Eye Cream
RoC Retinol Correxion Line Smoothing Eye Cream
The results
The verdict
"There are two schools of thought when it comes to eye cream. Some experts believe you don't need them—you should simply apply your serum all over, while others are convinced a targeted treatment that suits the needs of this thinner and drier area is a must. I have always thought I might as well use one just in case, and so far, it seems to have kept wrinkles at bay. Dark circles and puffiness however, not so much.
"This refreshing gel like cream is formulated to target all my needs, as RoC claim it wards off and smooths lines, depuffs and reduces dark circles. Did it deliver? Well, thanks to the hyaluronic acid it left my eye area feeling deeply hydrated, and I was impressed by the fact that my typically sensitive eye area didn't react at all to the formula, even though retinol can cause irritation. I didn't find my eyes looked any less puffy after a late night but after two weeks of use I did look more bright-eyed and bushy-tailed.
"However, like with any retinol-based product it can take months to see 'real' results. This is because it will take some time for your newly acquired collagen stores to thicken your skin back up, and the cells to turnover enough times to lessen hyperpigmentation. But what's nice about this cream is that I found it gentle enough to be used day and night (to speed up the process). Just don't use too much, if I used anything more than a grain of rice sized dose, I experienced pilling when applying make-up or when rubbing my eyes. Overall, while this doesn't feel like a luxury buy – the formula is a lacklustre yellow, with a medicinal scent, and the packaging is pretty basic – it was incredibly gentle, deeply hydrating, made a dent on my dark circles and is, rather reassuringly, clinical proven to work (with continued use)."
Tori Crowther, Freelance Beauty Journalist
The results
The verdict
"Since I'm still in my 20s, my eye area isn't my biggest skin concern. But as a beauty editor who speaks to dermatologists practically daily, I know that if I want to keep it that way, I need to be on top of prevention. That's why an eye cream with retinol appealed to me right away. Retinol is pretty much the gold standard in reducing fine lines and wrinkles in an easy-to-use topical treatment. Although I'm keen to amp up my retinoid usage, I also have rosacea so am a little hesitant of retinol-based products, especially around the delicate eye area.
"The eye cream applies really well, it's a lightweight gel-cream formula, which means it's nice and cooling on first application. However, it does pill. I've tried it in combination with a few different products and it's pilled every time, which is a shame. I do like to pile on the hydration at nighttime though, so if you're someone who keeps it a bit simpler then you'll be fine. Since this is a retinol product that I only use at night, it doesn't matter too much since I'm not wearing make-up, but if you're particularly bothered by pilling then this might be annoying.
"As far as living up to its claims and results, in short: it's difficult to say. It promises to 'rejuvenate the eye area by targeting puffiness, dark circles and fine lines,' and while I believe in the latter, over time, I don't believe it tackled dark circles. Simply because no eye cream truly can to a dramatic degree. Having said that, it did leave a really lovely sheen to my skin, which can give the impression of slight improvement to dark circles. Though, the only person around to appreciate any under-eye sheen right before bed is my boyfriend, which is probably wasted on him.
"My under eyes felt moisturised, non-irritated (something I really struggle with when it comes to eye products), and after a few weeks did genuinely make me look a little fresher faced, which is a win in my eyes (literally).
"It's difficult to see immediate results with this product but the formula feels hydrating, cooling, and non-irritating, which is a bonus for a retinoid-based product. I would definitely continue to use this in my nighttime routine."
The results
The verdict
"This eye cream originally appealed to me thanks to the gold packaging, however, the product is just as nice. Lightweight and easy to apply, it blended into my under eye area like a dream and sunk into my skin instantly. It's hard to say whether it works to tackle fine lines and dark circles as I haven't used it for long enough yet, but I definitely noticed that it did help with puffiness.
"The only downside was that I found it wasn't as hydrating as other eye creams I have used. Now, this might just be a 'me' thing, as I do suffer with really dry under eyes, whereas I know other people have found this eye cream to be plenty hydrating, so it's worth thinking about your skin type before investing. If you do get drier skin around your eyes, I would recommend using another, more hydrating option on days where you don't use this product."
Celebrity news, beauty, fashion advice, and fascinating features, delivered straight to your inbox!
Grace Lindsay is currently Junior Beauty Editor at Who What Wear UK and previously was Marie Claire UK's E-Commerce Writer. With over three years of experience in the fashion and beauty industry, she covers everything from the best make-up and skincare deals to how to shop the stand out trends of the season. When she's not typing away at her laptop, Grace can be found shopping her favourite vintage markets IRL, or catching up on her never-ending list of books to read.