I asked 11 beauty editors about their favourite shower products—and the results were fascinating
Right this way for 'everything shower' inspo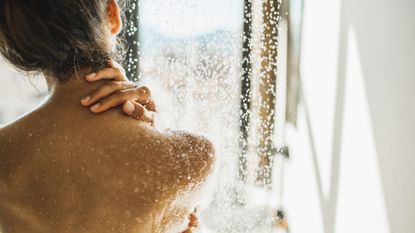 (Image credit: Getty Images)
The TikTok-trending nickname may be new but, like many, I've long been a big fan of getting my best shower products together for an 'everything shower'. I'm not saying it fixes everything, but sometimes hair-washing, scrubbing, shaving (if that's your thing), lathering up with a fancy body wash and indulging in a silky body cream really takes the edge off things.
Haircare products—like the best hair masks—get a lot of airtime when it comes to in-shower beauty buys, but they're not the only thing that can help you feel like a brand new human being when you step out of the shower. While the best bath products out there are heralded as the pinnacle of self care, I can't help but feel as though shower products don't get enough airtime. Maybe it's investigative journalism, maybe it's just plain nosiness, but I decided to ask my fellow beauty editors all about the products that elevate their usual shower regimes. Here are the ones they wholeheartedly recommend.
11 beauty editors share their picks of the best shower products
Lucy Abbersteen, Freelance Beauty Editor
First Aid Beauty KP Bump Eraser Scrub
"Whenever a friend or loved one asks for a body scrub recommendation, I point them in the direction of this First Aid Beauty tube—and I have the WhatsApp receipts that prove I've got them hooked, too. It has the finest grit (no large and scratchy particles here, thanks), plus chemical exfoliants in the form of two different AHAs, for a multi-pronged approach against rough and bumpy skin. Formulated specifically to improve the appearance of keratosis pilaris, which I can say from experience that it does, it's also great at nipping ingrown hairs in the bud. If I use it before shaving my legs, my skin is as smooth as a baby seal's afterwards. I'll happily buy it again and again." — Lucy Abbersteeen, Freelance Beauty Editor
Shannon Lawlor, Acting Senior Beauty Editor, Marie Claire UK
& Other Stories Perle de Coco Glow Body Scrub
"I'll admit it's an odd niche to have as a beauty editor, but I'm somewhat of a bath and body product aficionado. While I typically lean towards baths more than I do showers, I can't deny the appeal of an everything shower. The product I lean on every single time to get me (and my skin) feeling its best? This body scrub from & Other Stories. Honestly, I've never found a product that compares to it. Every person I've ever recommended it too has also become hooked. Not only does it smell like the most heavenly thing ever (coconut, caramel, vanilla and freshly baked goods), but the formula is also incredibly hardworking. The texture holds together, meaning it gives skin a really good scrub without half of it falling down the drain. Plus, this version has a subtle shimmer that leaves limbs glowing." — Shannon Lawlor, Acting Senior Beauty Editor at Marie Claire
Tori Crowther, Freelance Beauty and Health Journalist
Nécessaire The Body Wash Eucalyptus
"It's simple, it's spenny, and I can't get enough of it. The Nécessaire Body Wash Eucalyptus is a favourite that I regularly bring with me on hotel stays when I'm in need of some serious de-stressing. It lathers well, so a little goes a long way, and the scent lingers long after showering. I have sensitive skin, which means I tread carefully when it comes to fragranced products, but this is non-irritating or drying. It's definitely more expensive than your average body wash but I often find myself reaching for this during those decompression showers when my mind is whirring and it does just the trick, making it a justified enough purchase for me." — Tori Crowther, Freelance Beauty & Health Journalist
Mica Ricketts, Freelance Beauty Editor
Rituals The Ritual of Ayurveda Foaming Shower Gel
"For me, there is one product that elevates my standard five-minute shower into something that feels like a real treat and that's the Rituals Foaming Shower Gels—specifically, the Ritual of Ayurveda scent. The product itself is a thick, luxurious gel that transforms into a creamy foam once mixed with water and this rose and sweet almond oil fragrance truly smells incredible. It's £8.50 a bottle, so definitely pricier than my usual bottle of Radox, but not as expensive as some of the fancier fragrance brand shower gels that I own. However, I love how silky-soft it leaves my skin and how the expensive-smelling scent lingers for ages after I've stepped out of the shower. I have been using it for years and years and will never be without a bottle in my bathroom." — Mica Ricketts, Freelance Beauty Editor
Vanese Maddix, Freelance Beauty Journalist and Podcaster
MIRROR WATER Buff Body Exfoliator
"Showers are one of my favourite parts of the day, so I love to make sure my shower caddy is well stocked. One part of my routine I've rediscovered is a good body exfoliator, and Mirror Water's Buff Body Exfoliator has fast become a weekly staple in my routine. As someone with a normal-to-dry skin type, it's important that my body exfoliator not only removes dead skin cells but leaves my skin feeling soft and nourished without drying it out. This is why I've been turning to this body exfoliator from Mirror Water, as it doesn't feel harsh on the skin. It's formulated with vitamin E-rich refined sunflower seed oil which works wonders at moisturising the skin. Plus, as I really enjoy a bit of fragrance in products, the addition of essential oils makes it smell even greater." — Vanese Maddix, Freelance Beauty Journalist and Podcaster
Lucy Partington, Freelance Beauty Editor
"OK, bear with me here because, yes, this is a shower gel that smells exactly like the iconic Morrocanoil hair oil that everybody has used at least once in their life. I can't tell you how obsessed with it I am: it's a little bit floral (but not in a horrible way), a little bit musky and it's heavy on the amber—which I love. But, aside from that, it's sulfate-free, but it still has just the right amount of lather. It also leaves my skin feeling soft and the scent lingers nicely. It makes every shower feel like such a treat—seriously, I dare you to try it and not love it as much as I do." — Lucy Partington, Freelance Beauty Editor
Zoe Cripps, Deputy Style Director, OK!
Beauty Pie Le Smash Santal Shimmering Body Moisture Crème