The 7 fake tan formulas for pale skin that I know I can count on come summer
Right this way for how to fake subtly sunkissed skin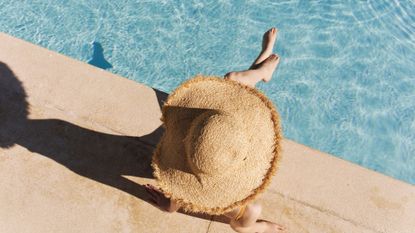 (Image credit: Gett Images/ShotPrime)
It's fair to say I know my way around fake tan. As a former Irish dancer where the tan was just as important as the footwork, slapping on layers of streaky, orange lotion was a weekly ritual. Thankfully, formulas have come a long way since then—especially if you have pale skin like me.
Tanning when you're on the fairer side can be intimidating. There's a lot that can go wrong and when it doesn't wash off immediately, panic can set in; as can some more untraditional removal methods (read: lemon juice, which is never a good idea). But trust us when we tell you, these products won't steer you wrong, it's all about choosing which is right for you and some expert tanning tips to give the results you're after.
Self-tanning still feel a bit daunting? The experts have a few top-line tips:
1. Choose a tan that's close to your natural tone
If you're super fair skinned, don't opt for an "ultra dark" formula as this is likely to be really intimidating and also not realistic to your actual skin tone. "I've always advocated choosing your self-tanner based on your existing skin tone—not your desired end result," says Marc Elrick, founder of Tan Luxe. "Remember with self-tan, less can mean more—it doesn't have to be about a drastic colour change it can be about a glow on the skin and a base for makeup," says Isle of Paradise founder Jules Von Hep.
2. Try your face first
Marc recommends trying some self-tan on your face first if you're hesitant. "I like to think of self-tanning my face as a semi-permanent alternative to tinted moisturiser," he says. "It's this beautifully bronzed base that you can control and customise. If you're looking to skip out on foundation or simplify your make-up or skincare routine, facial tanning can be a big help here".
3. Choose a colour guide
If you're brand new to tan, choose a formula with a colour guide. They can look a little more scary (because the initial shade can be a lot more intense than the wash-off result) but they guide you so you know exactly where you've applied tan and where you haven't. This avoids missed patches.
4. Less tan = less colour
"Tanning is about logic, the more tan you add to the skin, the deeper your end result will be," says Jules. "Therefore, for paler skin, apply just one light layer and get used to the colour change you see after the tan has developed (4-6 hours later)," he adds. That way, you'll know for next time if you want more colour, add more during your application.
How to avoid fake tan streaks
The main reason most people don't try tan is the fear that it'll be streaky and orange. Streaking isn't an issue when we've got the right formulas—especially colour correcting formulations designed to work against the dreaded orange—but tacking orange tones is a little more tricky. But not impossible by any means. Luckily, Jules has a couple of fool-proof (and easy) tips to ensure a flawless finish every time.
First is exfoliating prior to application, which ensures an even tan once it's all developed. "Immediately before you apply your tan, moisturise dry areas (hands, elbows, knees and feet) and if you're fair haired, add a small amount of moisturiser to eyebrows and hairline."
"Apply one light layer of tan to your face, trust me it will be enough—a face too tanned will give the game away!" he says. "After you've applied tan to your face, take a clean kabuki make-up brush and tease the tan up on to the ears, underneath the nose and lightly over the eyelids," Jules adds. "Take a clean face cloth and fold into quarters, roll up and sweep over the hairline to buff any excess tan, remember to do this around the back of your neck too."
How to maintain your tan and stop it going patchy
So, you've managed to get the perfectly finished fake tan. But half of the bother is keeping it that way, without the dreaded patches that can appear after a couple of days time. What do you do to keep this from happening?
Hydrate, hydrate, hydrate. The key is to moisturise your body daily to prevent dry skin. Then after two days lightly buff your tan with an exfoliating product. Yes, that sounds counterintuitive but this stop old tan from clinging into dry patches. This is where you can start to layer light tan over the top without it being a patchy mess.
The best fake tan for pale skin
Try light or medium tanning products versus dark shades. These naturally suit your skin tone and will get the best results. When it comes to formulas, generally, foams are the easiest formula to work with for beginnings. They apply well, have a colour guide to, well, guide you, and don't leave streaks.
If you're an intermediate tanner, you might want to step it up to tanning waters. "Tanning waters are the most hydrating tan possible, we are quite literally giving our skin a drink, and they are SO easy to apply," adds Jules. "The trick is to apply liberally. Your skin should be drenched after application and then blended with a mitt, swept gently over skin. The peach tones are perfect for a paler skin tone, as it will just brighten your skin and give you a sun-kissed glow," he adds.
Ready to take on the world of tanning? Read on for my top self-tanners for pale skin below.
1. Isle of Paradise Self-Tanning Drops Light
Isle of Paradise Self-Tanning Drops Light
Best for dry skin
Reasons to avoid
-
Don't have a colour guide
Tanning drops are the way to go if you have a body moisturiser you currently enjoy using but want to add a subtle glow. Simply add 2-6 drops into your moisturiser and follow your normal routine, just pay a little extra care on the ankles, knees and hands to make sure you've covered all areas. These are traditionally made for the face but the brand launched body drops so you can add them to any body moisturiser, too. The best part about these drops is that you can customise them depending on the depth of tan you're after. Oh, and if that wasn't enough, the product colour corrects as it tans.
2. Dove DermaSpa Summer Revived Self-Tanning Body Lotion
Dove DermaSpa Summer Revived Self-Tanning Body Lotion Medium to Dark
Best for beginners
Reasons to buy
+
Great for a fuss-free tan
Reasons to avoid
-
Not as easy to apply as a foam formula
You can't go wrong with a good old self-tan body lotion and Dove has always nailed it in this category. You're pretty much guaranteed no streaks with this smart formula, it smells delightful and it'll keep your skin feeling incredibly hydrated. What's not to love?
3. James Read Gradual Sleep Mask Tan Face
James Read Gradual Sleep Mask Tan Face
Best for face tanning
Reasons to avoid
-
Can't be used on the whole body
If you're not a fan of traditional tan formulas then this sleep mask is the one. You use it just as you would a regular moisturiser — most people opt for at nighttime — making sure you've worked it into your hairline and down your neck and wake up with a just-got-back-off-holiday glow. The best part about this particular sleep mask is that it doesn't have that dreaded biscuit tan smell that so many do.
4. Bondi Sands Technocolor 1 Hour Express Self Tanning Foam Sapphire
Bondi Sands Technocolor 1 Hour Express Self Tanning Foam Sapphire
Best for long-lasting tan
Reasons to buy
+
Great for colour-correcting
Reasons to avoid
-
If you find foam tans messy, this isn't for you
The newest in Bondi Sands' vast tanning collection is the Technocolor range, which was created with undertones in mind. I particularly like the Sapphire cool tone shade, which is incredibly natural-looking—even when leaving it on for hours to develop. While I wouldn't say it smells especially nice, it definitely has less scent than other Bondi Sands products. The packaging is also super smart, it has both a bottle twist mechanism and a cap to prevent leaks.
5. Tan-Luxe The Crème Advanced Hydration Self-Tan Face
Tan-Luxe The Crème Advanced Hydration Self-Tan Face
Best for hydration
Reasons to buy
+
Acts as a 2-in-1 tan and moisturiser
One of the most elegant moisturising tans out there comes from Tan Luxe. It's one of the more expensive here, but for good reason. This is one for the drier skin folks out there because the lotion is thick in consistency and deeply moisturising. It's subtle and golden without an orange glimmer in sight.
6. Isle of Paradise Express Mousse
Isle of Paradise Express Mousse
Best for a quick tan
Reasons to buy
+
Delivers a tan in just 30 minutes
Reasons to avoid
-
It smells like classic fake tan
If you want to control how dark your tan goes, an express option is a great choice, as you need only leave on for 30 mins for a light glow. This new formula from Isle of Paradise is one of the fastest I've tried and the result is incredibly natural-looking. Its only downfall is that it does have that classic biscuit tan smell, but for a super speedy tan, I don't mind that at all.
7. St Tropez Self Tan Purity Bronzing Water Face
St Tropez Self Tan Purity Bronzing Water Face
Best for lazy tanners
Reasons to buy
+
Delivers a super-easy, light glow
Reasons to avoid
-
Not particularly long lasting
If you're looking for a light glow on your face and chest and can't be bothered to faff around with development times, colour guides or tanning mist then a refreshing water is the way to go. Simply spritz on and go. Although a quick mist in tan form might seem like a disaster waiting to happen, this formula is anything but patchy or streaky. It settles into a beautiful, even tan.
Celebrity news, beauty, fashion advice, and fascinating features, delivered straight to your inbox!
Tori is a freelance beauty journalist and contributor for Marie Claire. She has written for various titles, including Allure, Glamour, Elle, Refinery29, Brides, and more. Currently training to be a nail tech, Tori is a total nail enthusiast and always has time to talk all things nail art. When she's not writing about beauty and testing products, Tori can be found walking her rescue dog Pip, drinking great coffee, and eating as many croissants as humanly possible.