'Mirror glaze' nails are this season's update on doughnut nails—here's what to ask for in the salon
Hailey Bieber's new favourite will be your autumn go-to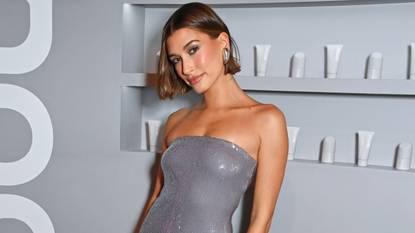 (Image credit: Getty Images)
Whether you're a huge nail trend girlie or not, there's no way you couldn't have noticed how popular doughnut nails have been in recent seasons. Favoured by Hailey Bieber, we first saw the trend take hold when the star had her now-famous mani created by nail artist Zola Ganzorigt (known as @nailsbyzola on Instagram).
Doughnut glaze was absolutely everywhere—and I'm not just talking about nail art, either. From clothing to skin, you weren't a true Hailey stan unless you were super dewy all over at all times.
And the Rhode founder's latest take on the trend is even dewier, more high-shine and even more dazzling than its original older sister. Mirror glaze nails are here, and they're about to be absolutely huge.
So what are they, what do they look like and how can you get them yourself? We've got you.
What are mirror glaze nails?
When looking at pictures of mirror glaze nails (see inspo below), you might be thinking: These sure look similar to doughnut nails? But side-by-side, you'll really be able to see the difference.
The mirror glaze is *much* more high shine, with a reflective finish that's closer to the likes of silver metallic/chrome nails. Colour-wise, the manicure is also much more neutral, rather than the hints of pink seen in doughnut glaze designs.
This new option gives you a new style to try out, especially for party season later this year where it'll be mirror glaze galore.
Hailey Bieber's mirror glaze nails
Thought you were already committed to the doughnut nail trend? Think again. Zola Ganzorigt's mirror-glazed look on Hailey Bieber is about to take the nail world by storm—trust us.
How to do mirror glaze nails from home
Luckily, Zola Ganzorigt shared a step by step video on her Instagram for mirror glaze nails. Simply follow these, or take them to your nail artist at the salon (some of the chrome powders are often professional-use only):
1. Apply two coats of OPI Put It In Neutral (or similar).
2. Use a non-wipe top coat.
3. Mix OPI Tin Man Can (salon only) chrome powder with Tammy Tailor Lazer Silver Mirror Chrome together, and apply with a brush until shiny.
4. Finish with another layer of top coat.
While some of the listed products above aren't available for at-home manicures, we've got you covered with the below products.
Celebrity news, beauty, fashion advice, and fascinating features, delivered straight to your inbox!
Rebecca is a freelance beauty journalist and contributor to Marie Claire. She has written for titles including Refinery29, The Independent, Grazia, Coveteur, Dazed, Stylist, and Glamour. She is also a brand consultant and has worked with the likes of The Inkey List on campaign messaging and branded copy. She's obsessed with skincare, nail art and fragrance, and outside of beauty, Rebecca likes to travel, watch true crime docs, pet sausage dogs and drink coffee. Rebecca is also passionate about American politics and mental health awareness.