I'm always short on time, so I swear by these 6 make-up products to get ready fast
Everything you need for a 5-minute face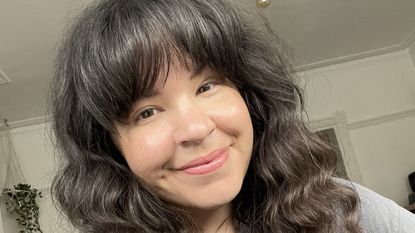 (Image credit: Mica Ricketts)
Applying my make-up used to be something of a ritual for me—I would purposefully carve out time in my day to prep my skin, bounce on foundations, mix-and-match concealers and apply a multitude of highlighters, eyeshadows and powders. These days? I have approximately three minutes to spare before one of my small children needs me, and that means that my make-up routine needs to be fast. In fact, more accurately, it needs to be super-speed.
Thankfully, I'm a beauty editor, which means that I've been able to make it my mission over the last few years to decipher which quick make-up products are actually worth the time (or lack of). Trust me when I say that I have dedicated a lot of working hours to testing and trialling products that apply quickly, look good on the skin and—most importantly—last. Because, seriously, who has time for touch-ups? From cream blusher to brow gels, keep scrolling for my definitive list of the quick makeup products that I swear by.
1. Merit The Minimalist Perfecting Complexion Stick
Merit The Minimalist Perfecting Complexion Stick
Typically, I'm not a fan of foundation sticks so I was really dubious about this product, which was created to replace the need for both a foundation and a concealer in your make-up bag. However, I was instantly converted—it's creamy, lightweight and delivers a pretty decent amount of coverage. While it won't totally cover blemishes or majorly dark circles, it definitely brightens, evens skin tone and makes my skin look fresh and healthy. You just scribble it onto your skin (make sure you've moisturised well before though, as I find it can cling to dry patches), and then I like to blend it in with the accompanying brush.
For
Creamy texture
Quick to blend
Long-wearing
Against
Won't cover blemishes or severe dark circles
2. Milk Makeup Mini Lip + Cheek
Milk Makeup Lip + Cheek Stick
I have these multi-purpose, twist-up cream pigments all over my house and in basically every bag I own as I'm so obsessed with them. They've been in my make-up arsenal for years, but really come into their own when I'm particularly time-poor. The new sizes are much smaller than the original versions, but you only need a tiny swipe to enjoy some pretty impressive colour pay-off. I use them on cheeks and lips for a flush of natural colour. Smirk is my current favourite shade (and has been since Hailey Bieber sported it for one of her Coachella looks this year), but I also adore Muse when I want something with a little more impact.
For
Lots of colours to choose from
Works well on cheeks and lips
Against
Small size means I go through these quickly
3. Vieve Skin Nova
Suggesting that you apply a primer when you're in a rush might sound ridiculous, but I've found that the key to ensuring a quick make-up look lasts well on the skin and has a polished finish is all in the prep. This takes mere seconds to apply (just smooth one pump all over your skin), but it transforms tired-looking skin into a glowy delight. In fact, on days when I'm really in a rush I'll just use this as my base and use concealer where I need it. (Admittedly, only when I'm having a particularly good skin day though.) It contains niacinamide and rose water to soothe and hydrate skin, as well as ultra-fine golden pigments for a beautiful sheen. My make-up always looks better when I've applied this first.
For
So glowy
Adds moisture to dry skin
Against
Oily skin types might find this too sheeny
4. Hourglass Arch Brow Volumising Fiber Gel
Hourglass Arch Brow Volumising Fiber Gel
Even if I am having an entirely make-up-free day, I will almost always use a brow gel. My brows have a life of their own—the hairs are wiry, unruly and just simply don't stay in place unless they have some product on them. I've tried so many over the years, and while Glossier's iconic Boy Brow is still one of my firm favourites, I think that this Hourglass gel might have just overtaken it as my brow product of choice. It has a slightly bigger, fluffier brush which imparts micro fibres onto sparse patches and makes light work of adding fullness and definition. Plus, it delivers just the right amount of tint to hairs without making them look overly made-up. A few upward swipes on each brow and you're done.
5. Naturium Phyto-Glow Lip Balm
Naturium Phyto-Glow Lip Balm
Not only is this one of the longest-lasting lip balms that I've ever tried, but whenever I wear it I get asked what I'm wearing on my lips. (It's always the shade Camellia—a barely-there pink that makes lips look so juicy.) It's so comfortable to wear, thanks to an infusion of shea butter and plant squalane for hydration, but also has a really shiny finish—much more like a lip gloss than a standard balm. It's hydrating, never sticky and I'm truly addicted to the glow that it gives. I used to be a red-lipstick girl, but this has now become my daily go-to.
For
Lovely shiny finish
Keeps lips soft and hydrated
Against
It's very glossy, which some might not love
6. Kosas Revealer Super Creamy Concealer
I mentioned earlier how the Merit complexion stick can work as a foundation and a concealer—and it definitely can if you aren't after intense coverage. However, on mornings that I've had next to no sleep or I've woken to a breakout, this is the concealer that I reach for to fix things fast. It is truly the creamiest concealer that I've ever tried and, while I tend to prefer make-up brushes or sponges for applying products, I find this looks best when blended in with fingertips. It instantly brightens the darkest of under-eye bags and blurs over blemishes, and it never looks heavy or cakey on the skin.
For
Great coverage
Good range of shades
Against
Oily skin might want to powder to increase wear time
Celebrity news, beauty, fashion advice, and fascinating features, delivered straight to your inbox!
Mica Ricketts is a freelance beauty editor and contributor to Marie Claire. She has written for titles including Refinery29 and Who What Wear UK, and also works with beauty brands on content messaging and marketing copy. She was previously Who What Wear UK's beauty editor. As someone that has tried basically every acne product on the market, she has a particular passion for debunking skincare myths and finding products that work. Plus, with two small children at home she is all about time-saving beauty routines that boost glow and disguise dark circles.