Hailey Bieber's make-up artist shared her contour hack on TikTok, and my make-up has never looked better
I'm pretty sure my cheekbones have risen in the process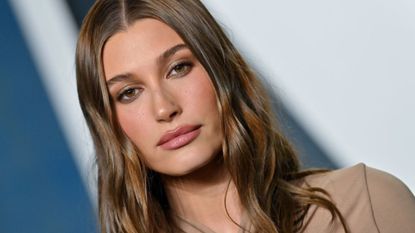 (Image credit: Getty Images)
At the time of writing, the hashtag #maryphillipsmakeup, showcasing a certain Mary Phillips make-up tutorial, currently has 9.6 million views on TikTok, making it one of 2023's biggest make-up trends so far. Yes, that's right. While I've only just got my head around cold-girl make-up (I'm in love, by the way) and the red nail theory, there's already a new beauty craze on the block.
If you're currently wondering who Mary Phillips is, let me explain. Phillips is big news in the beauty industry. She is perhaps most well known for being the make-up artist (and genius) behind Hailey Bieber's make-up—and it's safe to say we all want to know Hailey's beauty secrets (I'm fully sold on glazed donut nails).
And now, Phillips has blown up on TikTok. Why? Because she shared one of her master moves—one she no doubt uses when working on Mrs Bieber. The now famous Mary Phillips make-up tutorial shows exactly how she nails a flawlessly sculpted contour look that still delivers natural results.
The tutorial explains that nailing the perfect contour is not down to fiddly placement or even the product you use, at all. It turns out, contouring doesn't have to be complicated at all. The secret? Applying your contour before your foundation.
And, I'll admit, when I first saw it the whole thing sounded a bit daunting to me—following Phillips' advice would totally flip my make-up routine on its head. In all honesty, I just couldn't see it working for me at all.
Having said that, my journalistic curiosity got the better of me, so I ended up trying it for myself. And while I don't like to through the word 'need' around when it comes to beauty trends, I really feel like you need to try this trend.
A step-by-step of Mary Phillips' make-up tutorial
Put simply, you need to forget everything you thought you knew about your make-up routine.
In her video, Phillips' explains that to her, it just makes more sense to apply contour as a first step. "It's like laying down the bones under the skin. So the contour and the highlight being the bones and the skin being the foundation."
Here's how to do it...
1. Contour the face
Start with a freshly moisturised and primed face. Then, place your favourite contour under your cheekbones. Phllips draws a line from under the cheekbone/top of the ear and takes it all the way to the smile line.
Once you've carved out your cheeks, take the contour from the brow bone to the hairline and follow it around the hairline. Then contour from the middle of the chin and sweep the formula across the jawline.
For nose contour, Phillips uses the Tweezerman Shaping Brow Brush and takes the contour shade down the sides of the nose, too. Use a brush to blend out and create a 'soft' finish.
Westman Atelier Face Trace Contour Stick
This is the exact contour used in the Mary Phillips tutorial.
My everyday go-to contour, this stuff is buildable and versatile enough to suit every look.
2. Conceal and highlight
Once you've done your contour, use a concealer to highlight. Place your chosen concealer under the eye, in between your cheekbone and jaw contour, and a little between the eyebrows and forehead, too. Then, use a foundation brush or a beauty blender to smooth and blend everything together.
NARS Cosmetics Radiant Creamy Concealer
Phillips uses this concealer in shade Creme Brulée for her creamy highlight.
VIEVE Modern Radiance Concealer
Infused with hyaluronic acid, this concealer has such impressive coverage that you don't even really need foundation.
3. Foundation
By now, your face may already feel pretty covered. So like Mary, you might not feel the need to go in heavy with foundation. To tie your base together, just add a small amount of foundation to any areas you want a little more coverage. Use a big brush to blend everything together.
Chanel Vitalumiere Radiant Moisture-Rich Fluid Foundation
This is the hydrating, glow-boosting foundation Phillips uses in her tutorial.
bareMinerals Original Loose Mineral Foundation
This mineral formula is my forever-favourite foundation and is perfect for this make-up look. Use a tiny amount to tie everything together without losing your contour entirely.
4. Blush
To finish everything off, apply your favourite blush across your cheekbones. If you're anything like me, you may want to add a little bronzer, too.
My verdict
When this make-up hack first came up on my For You page, I was more than a little sceptical. As someone who uses a full-coverage foundation daily, I didn't think my red acne scarring could deal with going straight in with contour—but boy, was I wrong.
I followed Mary's step-by-step apprehensively. How was this ever going to look good?! First, I started with the Vieve Skin Nova primer , which made my skin look glowy enough to not worry about the red marks glaring back at me in the mirror.
Moving onto the contour, I used the Charlotte Tilbury contour wand. If you are a fan of this too, you will know it likes to leak, so my contour came out pretty heavy. It ended up looking a little too dark and very blotchy. However, after adding lashings of concealer and some intense blending, I sort of loved it. I didn't even really need to add any foundation (although I did anyway). Once I finished with the blush, I was sold.
Despite the tricky start, the end result was the best my make-up has looked in, well, forever.
My advice? You have to try it, even if you are as sceptical as I was.
Celebrity news, beauty, fashion advice, and fascinating features, delivered straight to your inbox!
Dionne Brighton is a writer at Marie Claire UK, specialising in all things shopping, beauty and fashion. Born and raised in North London, she studied Literature at the University of East Anglia before taking the leap into journalism. These days, you can find her testing out the latest TikTok beauty trends or finding out what the next full Moon means.