I've spent many hours analysing Hailey Bieber's make-up routine—here's the 8 products she uses on repeat
What Hailey does, I follow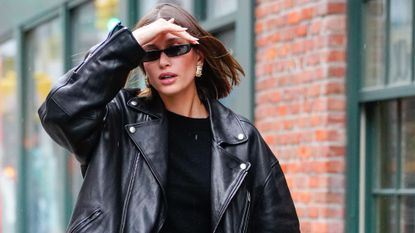 (Image credit: Getty Images/Gotham / Contributor)
As a beauty editor, I'm slightly ashamed to admit that I'm not a huge follower of make-up trends. If I'm being totally honest, I haven't really changed my make-up routine for years. I like low-maintenance, natural-looking, glowy make-up that takes minimal effort to execute. And that, my fellow beauty-loving friends, is why I'm so invested in every Hailey Bieber make-up routine that comes my way on TikTok.
It's worth me pointing out here that I'm not a traditional TikTok fan. I'm a millennial, for starters, so trying to get me off Instagram and onto another app is difficult enough. On top of that (and most importantly), the main reason I'm still not quite sold on the TikTok hype is because terrible beauty advice is rife on the app. In fact, as soon as I get served a beauty video on my FYP, I scroll straight by. Instead, I rely on my Gen-Z Marie Claire colleagues to fill me in on the latest trending beauty fads. Doing so saves me screen time and unnecessary frustration.
Having said all of this, though, I do still use TikTok. Why? Well, because I like both cute animal videos and Hailey Bieber's make-up very much. And while those things don't relate to one another, they are the two things that feature most prominently on my feed and keep me going back for more.
But cute animals aside, I am infatuated with Hailey Bieber's make-up routines (including her now viral contour hack). And why wouldn't I be? Her glowing, seemingly effortless looks (like the cold-girl make-up look, for example) speak to me not only as a low-maintenance beauty editor but also as a natural-looking make-up lover.
In fact, I've spent so many hours searching 'Hailey Bieber make-up routine' on TikTok, that I can pretty much reel off every product she's ever used from memory. And if there's one thing I've learned in my Hailey Bieber TikTok studies, it's that she uses a lot of different make-up products. In fact, basically every make-up routine she posts features a new product that requires a whole load of researching on my part.
Having said that, there are a few products that crop up in a number of Hailey Bieber make-up routines—to me, cementing the fact they are her go-to make-up products.
So, to save you the time, here's the products that feature in nearly every Hailey Bieber make-up routine I've seen on her TikTok (and I'm pretty sure I've seen them all)...
1. Chanel Vitalumière Radiant Moisture-Rich Fluid Foundation
Chanel Vitalumière Radiant Moisture-Rich Fluid Foundation
I'm not sure I've seen Hailey use a base that isn't this one on her TikTok yet. I mean, I think this is the foundation she uses. I know for sure that it is a Chanel foundation of some sort, and if the shape of the bottle in her TikToks is anything to go by, it is Vitalumière. Given the fact the bottle looks the same and Hailey has revealed in past interviews that this is her go-to foundation, I think my guess it pretty safe. Typically, she mixes a few drops in with some sort of hydrating skincare product (usually from her brand Rhode, which isn't yet available in the UK) and smooths it over her skin with her fingers. The bad news? This foundation is currently very hard to come by. Rumours are swirling that Chanel has discontinued this particular formula—which is loved for its glow-giving formula (meaning it's not great for oily skin, btw). Let's hope Hailey has some sway in making sure it sticks around.
2. Kylie Cosmetics Pink Me Up Lip & Cheek Glow Balm
Kylie Cosmetics Pink Me Up Lip & Cheek Glow Balm
As long-time friends, it's not surprising that Hailey supports Kylie Jenner's make-up collection. And while I'd usually be cynical and think it was all for marketing purposes, the number of times Hailey has used this balm as a blusher in her GRWM TikToks implies she really is a big fan.
3. Nars Afterglow Lip Balm in Wicked Ways
Nars Afterglow Lip Balm in Wicked Ways
Another Hailey fave that's difficult to come by is this tinted lip balm from Nars. The deep, chocolatey tint is combined with a bunch of skin-loving ingredients to help plump lips and deliver a beautiful sheen. Of all the Hailey Bieber-approved make-up products I've tried, this is the one I'm most in love with.
4. Kosas Revealer Concealer
This concealer from Kosas is chock-full of skincare ingredients to leave skin looking hydrated, plump and natural-looking—and if there's one element of Hailey's make-up routine I wish I could emulate, it would be her base. She applies this under her eyes and seems to also use it to highlight, blending it with a beauty sponge. My order is already on its way.
5. Hourglass Veil Powder Brush
Hourglass Veil Powder Brush
I actually let out a squeal when I first saw this brush feature in one of Hailey's make-up routines because I already have and love it. It's wildly expensive, I know, but I honestly use it to do my whole face. Of every bronzer, powder, blusher and highlight brush I've ever used, this is the best by a long shot. The dense but soft bristles deliver a truly impressive blur.
6. Pat McGrath Labs Mothership VII Divine Rose Eyeshadow Palette
Pat McGrath Labs Mothership VII Divine Rose Eyeshadow Palette
Speaking of painfully expensive beauty products, here's one of Hailey's most used eyeshadow palettes. It costs an eye-watering £118, and for that you get 10 beautifully buttery and wearable eyeshadow shades in one mega-luxe palette. The only reason I have tried this palette is because I was sent it in PR. And although it's one of my most used palettes, it's worth remembering that dropping £118 on eyeshadow is likely relatively normal for rich and famous people. If you're not rich or famous, you don't need to spend £118 on eyeshadow. If you can afford it and you want it, however, know that it's lovely.
7. Tom Ford Shade and Illuminate Contour Duo
Tom Ford Shade and Illuminate Contour Duo
This product deserves a place in the metaphoric beauty hall of fame. With a creamy, melting highlight and contour in one handbag-friendly compact, it's stunning. And I assume Hailey agrees considering I've regularly seen her on TikTok buffing the contour shade into the hollows of her face.
8. Dior Rosy Glow Blush
Celebrity news, beauty, fashion advice, and fascinating features, delivered straight to your inbox!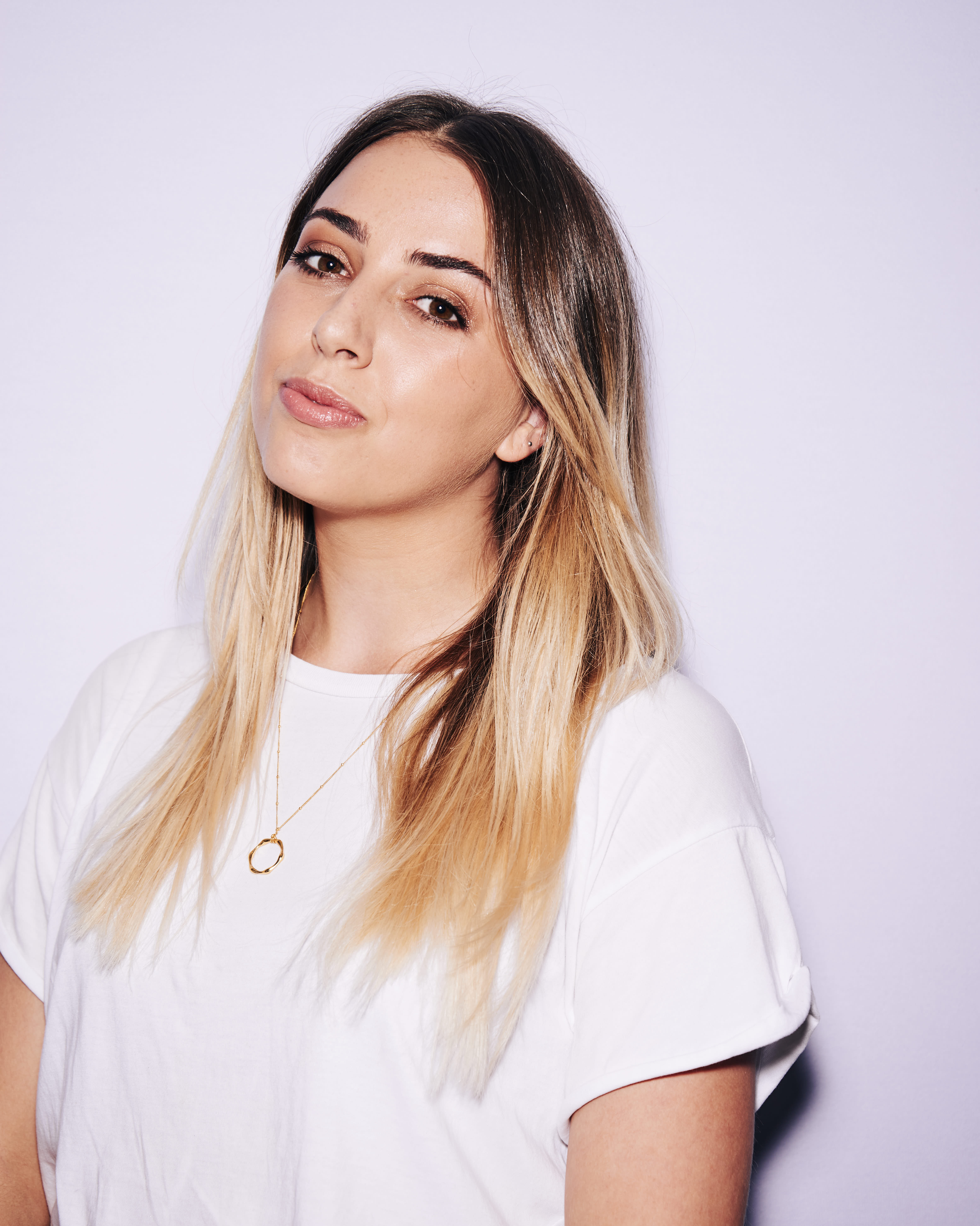 Shannon Lawlor is the Executive Beauty Editor at Marie Claire. With nearly a decade of experience working for some of the beauty industry's most esteemed titles, including Who What Wear, Glamour UK, Stylist and Refinery29, Shannon's aim is to make the conversation around beauty as open, relatable and honest as possible. As a self-confessed lazy girl, Shannon has an affinity for hard-working perfumes, fool-proof make-up products and does-it-all skincare.