A complete guide on how to find your foundation shade in store and online
Say goodbye to bad make-up days with our top tips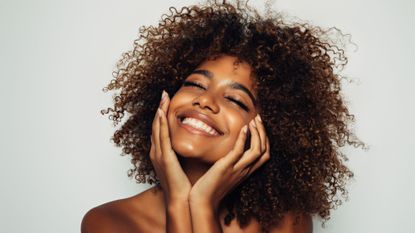 (Image credit: Getty Images 1396277411)
So, you're wanting to purchase one of the best foundations, but you don't know how to find your foundation shade? Well, you're not alone. In fact, according to a survey commissioned by Bobbi Brown Cosmetics, the average British woman spends a whopping £125 and tries seven different foundations before finding the right one.
Here at Marie Claire UK, we know that times are tough, and we don't want anyone wasting their precious pennies on the wrong make-up shades. Therefore, we've taken it upon ourselves to speak to the experts and put together a guide on how to find your perfect foundation, both online and in store. Keep on scrolling for everything you need to know, and for more inspiration, don't forget to check out our guides to the best foundation for oily skin, the best foundation for dry skin and even the best drugstore foundations. If you prefer a lighter base, we've also got a guide to the best tinted moisturisers. You're welcome.

How to find your foundation shade in store
When looking for the right foundation shade, it's always easier to head to your local store to see the products in real life. That being said, it can still be tricky to know where to start, especially when you're battling with dodgy lighting and a lack of mirrors. But not to fear, as we've spoken to the experts and have got all the information about exactly what to do when testing foundations in person.
Find your skin's undertone
Firstly, when choosing a foundation, it's important to know what your skin's undertone is. This is because once you know this, you will know whether you are looking for a warm, cool or neutral foundation shade.
We spoke to Jamie Coombes, Dior International Pro Makeup Artist, all about how to find your skin's undertone, and it's a lot easier than you think.
"You can do this by using the colour of the veins in your wrist," explains Coombes. "If they are olive-greenish, this means you are a warmer undertone, if they are blue you are a cool undertone and if the veins are barely visible then you are a neutral undertone."
Test foundation on the correct area of skin
Once you've settled on a couple of shades that you think might be a good match, it's best to apply them to your skin to see which one is right for you. However, there are certain areas of the face that are better to test make-up on than others. "The best way to choose a foundation is to try it on your cheek and forehead," explains Jones Road founder, Bobbi Brown. "If it disappears, then it's the right colour."
If you can still see the foundation on your skin, then we'd recommend trying a different shade until it blends seamlessly into your complexion.
Coombes also recommends applying the foundation to your décolleté to check that it matches your jawline, as you should always match your face to your body.
Test foundation on bare skin
We've all tested a new foundation on top of our make-up from one time to another, and it's an easy mistake to make. You get yourself ready, put on your make-up and head out the house, only to realise that when you get to the shops, there is no way of removing your foundation to try a new one out. However, for the best colour match, Coombes always recommends testing foundation on bare skin.
We always carry a little bottle of micellar water and a couple of cotton pads in our bag so that we can remove our make-up in store if needed.
Test foundation shades in natural light
"Daylight is the best lighting to test different foundation shades as it is the most 'true' lighting", says Brown. Although this can be difficult in store, Coombes recommends asking for a sample that you can take away with you and try at home.
Most brands will have little pots of foundation that you can take away with you, and it's a great way to not only check the shade, but also to see if you like the formula itself.
How to find your foundation shade online
As mentioned above, the best thing to do when buying a new foundation is to pop into store and test the shades out. However, as our life shifts to be more and more digital, there are several smart and techy ways that you can now buy your base online.
Findation
Findation is a website that compares hundreds of different shades from all of your favourite brands to help you find the best colour for you. For example, if you know your which shade you use in Estée Lauder Double-Wear and Nars Sheer Glow Foundation, then it will recommend which shade of bareMinerals Original Foundation you should go for.
Dior Virtual Try On
The clever team over at Dior have introduced a virtual try on, so that you can try on different foundation shades in the comfort of your home. Cool, right?
The website will link up to the camera on your laptop or phone, then all you have to do is choose which product you would like to try and click on the different shades to see which one looks like the best match.
Jones Road Quiz
Jones Road have created a quiz to help you find your perfect foundation shade. As well as matching your skin tone to a foundation shade, you will be asked questions such as what skin type you have, what your skin concerns are and how you like to apply your foundation, and your personalised recommendations will be emailed to you.
Il Makiage Power Match Foundation Quiz
The Il Makiage Power Match Foundation Quiz is remarkably accurate. It asks you 20 questions - everything from what jewellery you wear to what your skin worries are – and at the end it emails you their recommendation. Marie Claire's Senior Beauty Editor, Katie Thomas, took the test and was amazed by how perfect the formulation and shade was. If for any reason your quiz match isn't accurate, you have 60 days to return your foundation for an exchange or refund, or 30 days if you skipped the quiz.
Dcypher
The people behind Dcypher don't think that any of the shades on the beauty shelves are good enough. They want to help you find your *exact* match. They've developed technology that creates your perfect formula – one that's the ideal coverage, texture, finish and shade that matches your skin tone. Pop onto their website, take three pictures of your face, answer a few questions about your personal preferences and they'll come up with a code that's completely unique to you. They'll send you a sample first to check that they've got everything right (and if not you can make changes) and once you're happy, you can order your foundation as and when you need it.
So, there you have it. Everything you need to know about how to find your foundation shade. No dodgy looking make-up over here.
Celebrity news, beauty, fashion advice, and fascinating features, delivered straight to your inbox!
Grace Lindsay is currently Junior Beauty Editor at Who What Wear UK and previously was Marie Claire UK's E-Commerce Writer. With over three years of experience in the fashion and beauty industry, she covers everything from the best make-up and skincare deals to how to shop the stand out trends of the season. When she's not typing away at her laptop, Grace can be found shopping her favourite vintage markets IRL, or catching up on her never-ending list of books to read.