I've tried hundreds of foundation brushes—these are the 8 I think are worth investing in
Trust me: not all brushes are made equal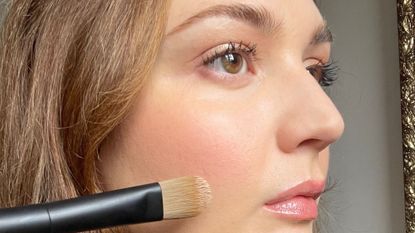 (Image credit: Madeleine Spencer)
If you ended up here looking for the best foundation brush after getting your hands on the best foundation and are wondering if you should invest, I might dash your expectations a little when I tell you that you don't *need* a make-up brush. Truly, plenty of make-up artists (me included) are happy to apply with fingers, and you'll often get great results doing just that.
But (and it's a big but) the right make-up brush does make things easier, more precise, more even—whether you're applying tinted moisturiser a full-blown foundation for oily skin.
Over the course of my career as a beauty journalist and make-up artist, I've used hundreds of them, filtering the brilliant from the so-so, compiling a collection of brushes I'd be happy to use on my face or on a clients', and the below edit contains only the ones I'd invest in.
Before you choose, I asked fellow make-up artist Daniel Sandler for his make-up brush rules and he shared some of his wisdom:
Daniel Sandler's make-up brush rules
"Use just the tip of the brush to apply your base - you don't need to get it into most of the brush head; doing so is uneconomical as you waste so much product, plus it's so much easier to clean just the tip."
"My application method is a kind of gentle flicking motion back and forth over the entire face and neck. I start using a small amount of base and then add more if necessary to certain areas."
"Synthetic brush fibres are perfect with liquid or cream bases, as natural hair would clump together."
The Best Foundation Brush Criteria
Below is my edit of all the brushes I use regularly, and really rate. They all are high quality and deliver brilliant application—but each have slightly different strengths, which is where this guide comes in...
Best foundation brush for a novice
1. Sigma F80 Flat Kabuki
If you struggle with make-up application, it doesn't get easier than a flat kabuki. All you have to do is dip it in foundation (you can apply the foundation from the back or palm of your hand for most ease), then buff in little circles all over your face.
For
Makes buffing foundation on easy
You can build layers with it
Against
The brush head won't allow you to get into small areas unless you angle it
Best luxury foundation brush
2. Westman Atelier Foundation Brush
Westman Atelier Foundation Brush
The quality of make-up artist Gucci Westman's brand Westman Atelier is unparalleled, and her brushes are things of beauty.
I especially like that the brush bristles are white, making it easy to know your brushes are truly clean during the washing process after use (if you're using liquid foundation, it's good practise to wash your brushes after each use if possible to reduce bacteria and for the best application).
Using it is a pleasure thanks to the soft fibres which apply liquid foundation smoothly, every time.
For
It is very soft on skin
It applies foundation smoothly without streaks
Against
It's pretty expensive
You can't buff with it
Best foundation brush for speed
3. MYKITCO. 0.7 My Flawless Foundation Angled Brush
MyKitCo. 0.7 My Flawless Foundation Angled Brush
Want to slap your foundation on at top speed and still have a perfect application? Get this one. Like a kabuki, it buffs foundation in for a seamless finish, but the angle means you can easily slide it into the nooks and crannies of your face and make sure you've got an even layer everywhere.
For
Makes buffing foundation in easy
The angle means it can slide into smaller areas
Against
The bristles are very densely packed so it sometimes takes a little longer to clean
Best foundation brush for a customisable finish
4. Lisa Eldridge No 1 Seamless Blend Brush
Lisa Eldridge No 1 Seamless Blend Brush
Size can be vital to how well a brush works, and this one is testament to that. Not too big, and not too small, it allows you to brush a little bit of foundation on section by section, giving you the ultimate control over what - and how much - goes where.
For
Is the perfect size for controlled application
The bristles are supremely soft
Against
You can't buff foundation on with it, but rather have to lay it down
Best all-in-one foundation brush
5. Trish McEvoy Wet/Dry Even Skin Brush
Trish McEvoy Wet/Dry Even Skin Brush
On the one side, a foundation buffing brush, on the other, a mini concealer buffing brush. Both are comprised of densely-packed fibres which allow for seamless, smooth edges and lots of control, and it does make things much easier to have one brush for all your base make-up needs.
For
Can apply foundation and concealer
They're both perfect for buffing in make-up
The smaller head can also be used to apply details like liquid highlighter
Against
If you keep your brushes in a pot, you'll need to lie this one down instead.
Best full-coverage foundation brush
6. Delilah Fuller Coverage Foundation Brush
Delilah Fuller Coverage Foundation Brush
If you're all about a solid application of foundation and don't want to spend ages building and building layers, this brush is going to be the one for you; thanks to the curved edge and seriously tightly-packed bristles, you can use a slight slide and press motion and achieve quite impressive coverage.
For
Achieves high coverage, quickly
Is soft enough to press into skin to achieve maximum foundation in an area
Against
It's not the best at applying just a dash of coverage, if you want a brush that does both
Best foundation brush for lightweight coverage
7. Monika Blunder Beauty Foundation and Blush Brush
Monika Blunder Beauty Foundation and Blush Brush
The thing I most love about this brush is that it refuses to overdo foundation, so if you're keen to apply just a whisper, seamlessly, this will do it, every time. It's handy that it also doubles up as a blush or highlighter brush, so if you find you only use a foundation brush on special occasions, you'll still get plenty of use out of this.
For
It makes applying a dash of foundation a doddle
It doubles up as a blush or highlighter brush
Against
It wouldn't be the one for applying a thick layer of anything
Best foundation brush for detail
8. Louise Young LY01 Mini Foundation Talon
Louise Young LY01 Mini Foundation Taklon
I've long been devoted to Louise Young's brilliant brushes, but this small foundation brush is one of my favourites of the lot for its ability to really hug the contours of the face, making it perfect if you only like foundation here and there. The size of it also makes it a really good at applying liquid or cream contour or highlighter.
For
It is very precise thanks to the size
It can be used to apply cream/liquid bronzer or highlighter
Against
It would take longer to do a full face with it
You need to blend the edges if you are applying a lot to a small area
Celebrity news, beauty, fashion advice, and fascinating features, delivered straight to your inbox!
Madeleine Spencer is a journalist and broadcaster who has contributed to titles including Grazia, Glamour, InStyle, The Independent, The Evening Standard, and Stylist, as well as offering commentary for the BBC, Sky News, and ITV.
She is keen on exploring the significance beauty rituals, products, and memories have on people from different walks of life, and enters into conversation on the topic with guests on her podcast, Beauty Full Lives.