Estée Lauder Double Wear is one of the world's most popular foundations—here's 4 beauty editors' thoughts
It's a cult classic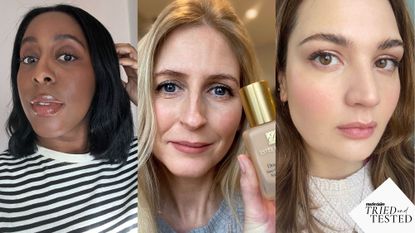 (Image credit: Charley Williams-Howitt, Keeks Reid and Madeleine Spencer)
Some of the best foundations have been around for years and have established themselves as cult classics within the beauty community. One that always springs to mind is Estée Lauder Double Wear Foundation.
One of the best full coverage foundations out there, the formula is renowned for its ability to last all day and control oil. That's right, it's also one of the best foundations for oily skin.
When we spoke to the brand about the foundation's success, Katie Moradian, National Education Manager at Estée Lauder, said: "Double Wear Stay-in-Place is our best-selling, medium to buildable coverage foundation. If you want to forget about your make-up all day and for it to stay looking perfected, this is the foundation for you. It gives 24hr wear but has a comfortable formulation with a cashmere matte finish. Want to add extra hydration or glow? Mix it with a drop of our Famous Advanced Night Repair Serum."
Often, when a product is this popular, a lot of people purchase it without even trying it out first. Here at Marie Claire UK, we are all about making considered buys when it comes to beauty, so we've taken it upon ourselves to test out some of the most popular products out there to save you the hassle.
We asked four beauty editors to try out Double Wear Foundation for the very first time in order to get their honest opinions. Keep on scrolling to see what they had to say, and for more inspiration, don't forget to check out our roundups of the best foundations for dry skin, the best foundations for acne-prone skin and even the best dewy foundations.
Buy Estée Lauder Double Wear Stay-In-Place Foundation
Estée Lauder Double Wear Stay-In-Place Foundation
Before
After
The verdict
"With 60 shades and the promise of being sweat, heat and humidity-resistant, waterproof and 24-hour colour true, this foundation had a lot to live up to. I have to admit, even though it's now a cult classic, I had never tried this much-loved foundation. The words 'stay-in-place' immediately made me think it was going to be heavy with a matte finish. I'm a complete cliché and like my base to look and feel like my skin, but better, and I was worried that this would deliver the opposite.
"However, I was heading out for a whole day of meetings, finishing with an evening event, so I needed make-up with longevity, so I reached for Double Wear Foundation. Housed in a lovely glass bottle and gold lid, it looked so grown up on my bathroom shelf and the formulation looked silky as I poured it onto my fluffy brush. I used said brush to help disperse the product for a less heavy coverage. But I needn't have worried. It creates a beautiful soft-focus finish that never creases or settles into fine lines. My skin was left looking smooth and almost filter-like. Yes, it gives full coverage but it doesn't feel like you're wearing anything. By lunchtime my face still had its filter on, and by dinner, when usually oiler areas such as my chin and nose require touch-ups, my complexion still looked fresh. I am a complete convert."
Keeks Reid, Freelance Beauty Broadcaster
Before
After
The verdict
"This foundation is such a cult classic. It's been around for years and years, yet you don't really hear fanfare around it like you do other classic foundations. I have always wondered why this is, but I think doing this testing has helped me suss it out because it requires a lot to look effortless. The shade range is extensive with 60 shades that span evenly across light, medium and deep tones. I went for the shade 6W2, with the 'W' standing for warm but I was disappointed that it had a bit of coolness to it that left my skin looking a little ashy when it oxidised.
"I loved the texture of it, so light and runny and spreadable on my skin yet a full-on heavy-duty foundation that covered my pigmentation in a second. The dry down should have been perfect for my oily/combination skin, but I found this almost too matte for me. There was no shine through for over 4 hours which is unheard of, especially with no primer of powder. But I felt like my face almost looked like a painting canvas, like 2D and so matte that I had to inject life back into it with blush, bronzer, contour and highlighter. It looked FIRE when I did, but I think for every day it's way too much groundwork to have to put in to make a foundation work for me. If you like more of a full finish then I'm sure this is for you."
Madeleine Spencer, Journalist, Broadcaster & Make-up Artist
Before
After
The verdict
"There are few foundations as cult as Estée Lauder's Double Wear—and given that it's still around after over 25 years, it's clearly doing something right. It sounds promising on paper: 24-hour wear, an ability to cover blemishes and blur imperfections, sweat and waterproof, and over 60 shades to pick from.
"Before we start on the formula, though, I need to level with you on the packaging: I don't love it. It's a glass container which, granted, looks nice on the shelf but which I found a bit impractical. First, you have to pour it, meaning I often ended up dispensing too much, or with some of it around the neck of the bottle. Second, the heavy glass isn't my favourite for travel, and given that I'm a bit clumsy, I find I'm worried about dropping glass make-up receptacles in general.
"That said, the foundation is great. I was worried that given the heavy-duty nature of it that it might look cakey on, but it applied beautifully over my SPF with fingers or with a brush, and sheered out really nicely across my cheeks and forehead, where I need less coverage. Around my nose and chin, where I tend to be a bit more red and where most of my breakouts happen, I stippled it and it built nicely without tipping into looking like I was wearing a thick coat of make-up.
"In terms of lasting power: yes, it did see me through the day well, but I did need to pat it where it collected in creases and wrinkles. This is perhaps not the fault of the formula: I wear serum, moisturiser, and SPF under my foundation, so there's always a bit of slip for it to contend with, and it's a price I'm willing to pay for that 'even and glowy' look I personally like to achieve."
Before
After
The verdict
"I can totally see why everyone loves this foundation. After trying it out for myself, I found that it lasted all day, controlled oil (I have a very oily complexion) and gave me a full-coverage finish. I also loved the fact that it was sweat-resistant and waterproof, as I didn't have to worry about it moving around on my face.
"It's worth noting that I wouldn't really want this amount of coverage every day, so I tend to save this foundation for special occasions. Also, if you like a more dewy finish, then this definitely wouldn't be the one for you, but if you like a matte base, then you'll love this just as much as me."
Celebrity news, beauty, fashion advice, and fascinating features, delivered straight to your inbox!
Grace Lindsay is currently Junior Beauty Editor at Who What Wear UK and previously was Marie Claire UK's E-Commerce Writer. With over three years of experience in the fashion and beauty industry, she covers everything from the best make-up and skincare deals to how to shop the stand out trends of the season. When she's not typing away at her laptop, Grace can be found shopping her favourite vintage markets IRL, or catching up on her never-ending list of books to read.