Every single eyeshadow I use creases and eventually disappears except these 6 cream formulations
They're not going anywhere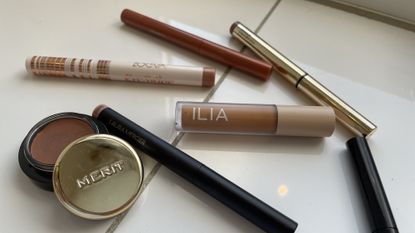 (Image credit: Mica Ricketts)
As a beauty editor with extremely oily eyelids (delightful, I know) I have truly tried every eyeshadow primer and product on the market that promises longevity, but when it comes to staying power and crease-resistance I always come back to the best cream eyeshadows.
"Over the last decade cream eyeshadow formulations have advanced to both include skincare ingredients and become longer lasting," explains Ruby Hammer MBE, Makeup Artist and Founder of Ruby Hammer Beauty.
And for someone who is absolutely useless at makeup application, another huge appeal about these formulations is how utterly straightforward they are to use—no brushes required.
"Easy to blend with fingers or a brush, cream eyeshadows are great for everyone from beginners to pros," says Ruby. "Creams can be blended out for a beautiful diffused look, or tapped on to increase the pay-off. And the biggest benefit is you won't get product fall out underneath your eyes throughout the day."
If you have particularly oily eyelids? (No judgement, I'm right here with you.) Ruby recommends applying a powder over the top for a longer-lasting finish and to increase the intensity of your chosen colour.
Of course, all of these benefits really only apply if you've picked the right cream eyeshadow to start with. And, thankfully, I have tried and tested basically all of them on the market and I'm sharing six of the very best below that I can vouch for.
Best cream eyeshadows chosen by a beauty editor
1. Merit Beauty Solo Shadow
Merit Beauty Solo Shadow
Best cream eyeshadow for an everyday eye look
Reasons to buy
+
Long-lasting
+
Modern colours
Reasons to avoid
-
You need to work fast to blend it
Truly, it seems to me that Merit can do no wrong when it comes to its makeup launches and its cream eyeshadow formulation has been a real game changer for me thanks to how easy it is to use. In fact, before its launch, eyeshadow wasn't a staple in my everyday makeup routine, but now I love wearing it regularly. The chic pots contain a pigmented cream-to-powder formula with a soft-matte finish that can be applied with your fingers, or a brush. I tend to just swish my finger around the pot and then smear it haphazardly onto my eyelids, and it somehow manages to create a cool, effortless, everyday eye makeup look. Be warned though: these dry down in seconds and then do not budge. Perfect if, like mine, your eyelids tend to cause products to slip away by lunchtime, but it means that you don't have much time for blending if you're looking to create a more precise finish. My shade pick is Midcentury—a warm brown that makes me feel put-together.
2. Hourglass Voyeur Eyeshadow Stick
Hourglass Voyeur Eyeshadow Stick
Best cream eyeshadow for nights out
Reasons to buy
+
Angled tip for precise application
+
So creamy- it glides on
When it comes to the creamiest eyeshadow formulations, Hourglass is up there with the best of them. This twist-up cream eyeshadow truly glides onto eyelids with no pulling or tugging to deliver a pigmented slick of colour that lasts for hours. If you don't like your eyeshadow with shimmer or sheen, then these probably won't be for you; but I love that kind of finish. Rather than glitter or sparkle, these eyeshadows have a beautiful metallic effect that's super flattering and surprisingly wearable. My favourite has to be Prism—a cool rose gold—which would work just as well at a party as it does for a morning commute, but I'd happily wear any of the seven shades available. My only complaint? I love these so much that I'd love them in more finishes—mattes, glitters, anything.
3. Fenty Beauty Shadowstix Longwear Eyeshadow Stick
Fenty Beauty Shadowstix Longwear Eyeshadow Stick
Best cream eyeshadow for pigment
Reasons to buy
+
Available in mattes and shimmers
+
Layers well
These cream eyeshadow sticks from Fenty Beauty really deliver when it comes to pigment, and a little goes a really long way. I apply them straight from the stick—just twist it up, scribble it on, and blend out the edges with my fingertips. I find that the water-proof formulation means that these also work well as an eyeliner alternative if you're after a kind of smudgy, smokey eye. I am a huge fan of the shade Copp'd That, which is a vibrant chestnut with a hint of shimmer running through it, but would love to see some more experimental tones in the line-up which definitely skews more towards neturals. That makes these great for traditionalists but not so great for those that like to be playful with make-up. However, they layer well with each other—so you can cocktail the matte and shimmer finishes together to create a multitude of cool eye looks.
4. Zoeva Eye Swipe Longwear 2-in-1 Shadow Liner
Zoeva Eye Swipe Longwear 2-in-1 Shadow Liner
Best cream eyeshadow for subtle colour
Reasons to buy
+
Works as eyeshadow and eyeliner
+
Crease-proof
Specially formulated to be used without a primer, these cream eyeshadows definitely stand up to their claims. I have worn these all day without any fallout, smudging or creasing and am so impressed with their longevity. While the shadows themselves definitely have dimension with some subtle shimmer throughout the pigment, they dry down to an almost powder-touch finish compared with some of the other products on this list—which I think is why they stick around so well. Peach Champagne is a subtle, peachy-pink shade which I've been wearing on repeat for a barely-there wash of colour, but I also rate Warm Chocolate as a liner shade when I'm after a more impactful finish.
5. Laura Mercier Caviar Stick Eye Colour
Laura Mercier Caviar Stick Eye Colour
Best cream eyeshadow for different finishes
Reasons to buy
+
Mattes, shimmers, metallics, and duochromes
+
Buildable
Reasons to avoid
-
Not as pigmented as others
These cult cream eyeshadow sticks have been around for years and are constantly reformulating in different shades, textures and finishes to remain top of their game in the beauty space. While I wouldn't say they are as pigmented as some of the other offerings on the market, or even this list, they are incredibly wearable and you'd be hard-pressed to find a shade or finish that you don't like. They layer beautifully—so you can definitely build them up if you want a more intense finish—and there's never any flaking or fall-out when using them. I am currently rather obsessed with a unique shade called Rush, which is a kind of violet duochrome finish that is so fun and playful. I layer it with Blossom, a soft pink, when I want a more vibrant effect.
6. Ilia Liquid Powder Eye Tint
Ilia Liquid Powder Eye Tint
Best cream eyeshadow for longevity
Reasons to buy
+
Sets in place all day
+
Unusual shades
Reasons to avoid
-
Trickier to apply than some
Although these are described as a "liquid powder", these are cream eyeshadows that dry down to a powder once applied. I love the doe foot applicator to put the product onto your eyelids, but you need to also use your finger or a brush to blend out the edges. Once they've set, they truly lock into place and my oily eyelids haven't even come close to shifting them before I remove them in the evening. I love the variety of really unique and innovative shades, but Ochre—an orange-terracotta hue—is my current pick of the bunch.