This low-fuss hairstyle is *very* popular right now—and it suits everyone
Yep, we're going to convince you to get a fringe again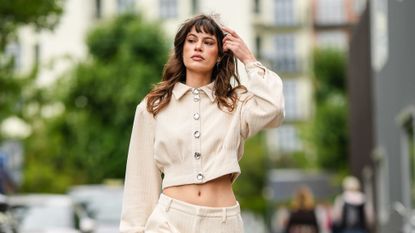 (Image credit: Getty Images / Edward Berthelot / Contributor)
To fringe or not to fringe, that is the question. The answer? It's all down to picking the right fringe hairstyle for you and knowing exactly how to style it. One of the most popular styles right now are wispy bangs (they look really great with a bob, by the way).
Wispy bangs (or a wispy fringe) is all about feathery, light, effortless pieces of hair. The great news is that it suits everyone and anyone can get involved. If you're not sure whether to take the plunge or not, we called in the experts to explain everything you need to know about wispy fringes, plus how to style yours at home. Then, we've rounded up some of the very best inspiration to take to your next hair appointment.
What are wispy bangs?
Wispy bangs or a wispy fringe is essentially "a softer variation of the blunt straight across fringe," says Emma Vickery, creative director at Percy & Reed. "They're shorter in the middle and slightly longer on the edges," adds hairstylist and founder of MD London, Michael Douglas. This style is point cut, which means it's cut into the hair with the point of the scissors rather than straight across, creating a feathery look. Michael also explains that sometimes the bottom centimetre of the fringe is cut into with thinning scissors to take some of the weight out of it, encouraging movement within the hair. Since weight keeps the hair straight, the idea is to keep it light, feathery and wispy!
Although they look similar, wispy bangs are different from curtain bangs. The latter are far more parted, just like curtains. Whereas, a wispy fringe is often across the full forehead but still light and piecey.
Who suits wispy bangs?
The answer to this is everyone! Normally, when we talk about suiting hairstyles we dive straight into face shapes, but Michael has a different outlook on this. "I never really think about face shapes," he says.
What does matter is facial features. "The size of your mouth, nose, how big your eyes are, the colour of your eyes, the space between your eyes and forehead, whether you have glasses or not and your hair colour plays a much bigger part in whether your hairstyle suits you or not," he explains.
In addition to features is the length of your fringe. "Generally speaking, wispy fringes look better longer," says Michael. We're talking: at the eyelashes or slightly lower, which gives it a much more wispy, feathery feel. "When it starts to get shorter it gets blocky very quickly. This is because with shorter, more block fringes you've only got your forehead in the background," Michael explains. With longer wispy fringes though, "you've got eyebrows, lashes, laugher lines in the background and the fringe gets broken much and much softer", he adds.
Finally, of course hair type matters when it comes to haircuts. A wispy fringe is typically something we see on straight hair. Afro hair works well with this trend when blow dried smooth. Although curly hair can also get involved, it'll have a slightly different (but still brilliant) look, being less wispy and more piecey. "The danger is cutting curly hair too short, and realising after drying that it's much shorter than you think," says Michael.
How to style wispy bangs?
Now onto styling — perhaps the most tricky part of being the proud owner of a fringe. There are two main ways you can style wispy bangs and this all depends on your desired finish. If you'd like your hair to be less curtain bangs (or Birkin bangs) and more blocky, then drying it forwards is the way to go. The first, as Paul explains, is drying it forwards using a round brush to ensure the hair doesn't separate too much. This will give volume, separation and movement to your bangs.
The second way to dry either side at a time gives a more curtain, separated finish. First, split the fringe into a centre part. Then, "take the right hand side of the fringe and blow dry it to the left, rolling it around your round brush (no bigger than 35mm otherwise you'll get too much volume)," explains Michael. "By pushing the hair in the opposite side but rotating around the brush anticlockwise, you create a funny mohawk in the middle (once you've done both sides)," he adds. This pushes the hair together beautifully and creates "two softer wings of hair". Always use a good quality hair dryer, like the MD London Blow Hair Dryer, with a nozzle to avoid flyaways.
When styling, Michael also recommends to avoid greasy products and oils at all costs. "Because your forehead produces quite a lot of sweat and sebum and your fringe will go oily anyway," he says. Instead, opt for a lightweight blow dry spray on damp hair, he recommends Sam McKnight's Save The Do and Wella's Sugar Lift.
The best dry shampoos can work wonders for a fringe. Michael recommends spritzing a little at the beginning; opt for products that contain tapioca starch as opposed to rice starch, which can leave a white residue on the hair.
The best wispy bangs inspiration
Selena Gomez is the queen of lobbed wispy bangs.
This look, served by Lily Collins, makes a strong case for the incorporation of wispy bangs into a voluminous supermodel-esque hair look.
These wispy bangs are almost invisible, which is, in our opinion, all part of their undeniable chic-ness.
We know bobs are all the rage right now, but this look is making us want to grow our hair out for the forseeable.
This hair transformation is goals. And it's making us want to book into the salon right away.
Wispy bangs with a sleek, chin-length bob? We're sold.
This tousled blow dry is nothing short of perfection.
A stellar example of just how excellently wispy bangs work with curls.
It's giving strong Farah Fawcett vibes, and we're all in.
This wispy-fringed, blown-out look is giving expensive.
Don't mind us, we're just reaching for our Airwraps so that we can recreate this look at home.
Celebrity news, beauty, fashion advice, and fascinating features, delivered straight to your inbox!
Tori is a freelance beauty journalist and contributor for Marie Claire. She has written for various titles, including Allure, Glamour, Elle, Refinery29, Brides, and more. Currently training to be a nail tech, Tori is a total nail enthusiast and always has time to talk all things nail art. When she's not writing about beauty and testing products, Tori can be found walking her rescue dog Pip, drinking great coffee, and eating as many croissants as humanly possible.