Google has reported searches for scalp exfoliator are up 250% and as a beauty editor I can see why - IMO it's the key to beautiful healthy hair
Get scrubbin'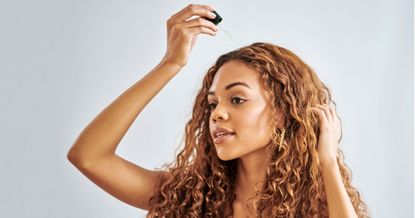 (Image credit: Getty Images / Royalty-free)
Naturally, we pay a lot of attention to our faces; meticulously choosing the best cleanser, best moisturiser and best facial exfoliator, but rarely do we (and I include myself in that) pay as much attention to the products we use on other parts of our body–and that includes our scalp. The scalp has definitely had more attention in recent months and for good reason. Scalp treatments are really important to maintain good hair growth and healthy ends.
Scalp exfoliators work in the same way that facial exfoliators do; they help to slough off the dead skin and product build-up (yep, all that dry shampoo builds up too). If not removed, this can all negatively impact a healthy hair follicle. Exfoliators work to stimulate regrowth, help regulate sebum production and also makes your hair feel squeaky clean. Basically it's like a souped-up shampoo session.
Not only do they work wonders on the health of your scalp but they're also incredibly lovely to use. Who doesn't love a good old scrub after all? There are plenty to choose from too, with lots of heavenly scents.
I decided to test drive some of the market's very best scalp exfoliators and I can tell you that it really upped my hair wash game.
1. Christophe Robin Cleansing Purifying Scrub With Sea Salt
Christophe Robin Cleansing Purifying Scrub With Sea Salt
Reasons to buy
+
Lathers well when worked into the scalp
+
Leaves a clean feeling
+
Tub lasts for ages
Reasons to avoid
-
Exfoliating beads are large so can take a little getting used to
An OG in the scalp scrub world, this Sea Salt exfoliator is loved by many thanks to its ability to deeply cleanse the scalp, ridding all build-up in one wash. I found it a little more difficult to work with due to the size of the salt beads in the formula but once I had lathered it up it worked brilliantly. It suits most hair types and sebum levels and it'll give you a next-level clean feeling. I found once a week the ideal amount, as I saw benefits after just one wash.
2. Davines SOLU Sea Salt Scrub Cleanser
Davines SOLU Sea Salt Scrub Cleanser
Reasons to buy
+
Beautiful creamy formula
+
Smells wonderful
Reasons to avoid
-
Beads are a little smaller
Another classic from the much-loved Davines. The magic in this one lies in the creamy texture for me. The beads are much finer, which made it easier to lather up and work into my hair. The only downside is that I kind of felt like I didn't get as much of a harsh scrub but I don't find that impacts the performance at all. If anything my hair feels just as fresh but still fairly hydrated at the roots. To up the ante with this one, I'd recommend using it with a scalp scrubber like the Percy & Reed Scalp Massager.
3. The Body Shop Tea Tree Purifying and Balancing Scalp Scrub
The Body Shop Tea Tree Purifying and Balancing Scalp Scrub
Reasons to avoid
-
Not great if you're sensitive to tea tree
If your oily roots need a good old scrubbing then there's nothing quite like this Tea Tree exfoliator from The Body Shop. It'll leave your roots feeling fresher than fresh, ridding build-up and helping reduce flakes. It's quite a thick consistency but once it's worked into the roots, it forms a beautiful lather that is easy to work into your hair like any other shampoo.
4. Briogeo Scalp Revival Charcoal Coconut Oil Micr Exfoliating Scalp Scrub
Briogeo Scalp Revival Charcoal Coconut Oil Micr Exfoliating Scalp Scrub
Reasons to buy
+
Sensitive scalps
+
Hybrid scrub/shampoo formula
Reasons to avoid
-
You want a really grainy scrub
-
Can separate so just give it a mix before using it
A hybrid between a scrub and a shampoo, this is a micro-exfoliant, meaning it doesn't have big exfoliating beads like the others in the list. It contains peppermint and tea tree to help balance the scalp and I loved that it left my scalp feeling really fresh. There's also some coconut oil in there for a bit of moisture (don't worry it won't leave you feeling clogged at the roots), and charcoal to deeply cleanse. I found that I really didn't need to use much of this or very often; I'd say once a week if you have an oily scalp and every few weeks for dry scalp.
5. Ameliorate Clarifying Scalp Exfoliant
Ameliorate Clarifying Scalp Exfoliant
Reasons to buy
+
Uses physical and chemical exfoliation
+
Easy-to-use nozzle applicator
Reasons to avoid
-
Not as luxe as others in the list
Ameliorate's scrub uses lactic acid in the formula to gently slough off dead skin cells at the hair follicle without any harsh scrubbing necessary. This not only helps to rid build-up, but it also helps add moisture back into the scalp too, which relieves that horrid dry, itchy feeling. The nozzle applicator made it really easy for me to apply directly to the areas of the scalp that needed it - this is especially good in small showers where the formula in tubs can easily get wet. I would recommend shampooing well after using this to make sure you've removed all of the small exfoliating beads.
6. Arkive The Crown Scalp Scrub
Arkive The Crown Scalp Scrub
Reasons to buy
+
One of the most affordable out there
Reasons to avoid
-
If you have oily or thicker hair, you might want larger exfoliating beads
Arkive knows how to create a product that is affordable, feels luxe and truly works. Unlike other scrubs that have large beads or exfoliating salt, they're tiny in this exfoliator. That's because it uses fruit enzymes and menthol to clarify and give that fresh feeling to the scalp, as well as caffeine to help stimulate follicles. This is one of the best-smelling of the bunch; in fact, all of the Arkive products smell delicious, which is one of the reasons I just can't stop going back.
7. Kérastase Energising Scrub
Kérastase Energising Scrub
Reasons to buy
+
Feels beautifully luxurious
+
Smells incredible
Reasons to avoid
-
More expensive of the bunch
Kérastase makes washing hair far more of a luxurious experience than a chore, and this scrub does exactly that. It's definitely on the more expensive end, but if you've ever tried anything from the brand you know that it's always worth it. This scrub contains sea salt to give that satisfying scrub feeling whilst salicylic acid gets to work deeply unclogging pores. I'm one of those people who can't go a day without washing my hair, but using this gave my hair that "just washed" freshness for multiple days.
Celebrity news, beauty, fashion advice, and fascinating features, delivered straight to your inbox!
Tori is a freelance beauty journalist and contributor for Marie Claire. She has written for various titles, including Allure, Glamour, Elle, Refinery29, Brides, and more. Currently training to be a nail tech, Tori is a total nail enthusiast and always has time to talk all things nail art. When she's not writing about beauty and testing products, Tori can be found walking her rescue dog Pip, drinking great coffee, and eating as many croissants as humanly possible.