Crops And Lobs: 5 Tricks To Make Your Short 'Do More Exciting
Think you're limited with short hair? Think again. Armed with just a few trusty products you can easily step out of a style rut. Here's how...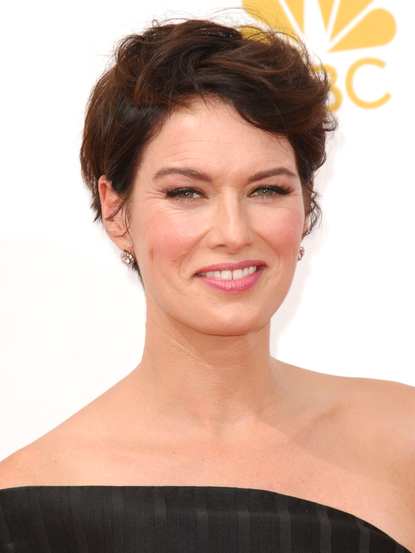 (Image credit: Rex Features)
Think you're limited with short hair? Think again. Armed with just a few trusty products you can easily step out of a style rut. Here's how...
GET MESSED UP: The beauty of a super short crop is that one day it can be sleek and demure and the next it can be roughed up and rocking. So should you wake up to hair that's behaving badly, don't make it conform. Instead, spritz Wella Professionals Ocean Spritz Texture Spray onto your finger tips and work through the ends, or if you're feeling brave, give it a full on ruffle through. For the last word in sexy, team it with rosy flushed cheeks and a soft pink stain à la Lena Headey.
TONG IT: Choose an easy-to-use heated wand, like Tresemme Salon Shine Waves, which you'll probably have just enough length to wrap the hair around once and the trick is to keep the ends out so you don't get the full circular curl like an Irish dancer. The effect you're looking for is a bend, not a curl. The perfect partner to wispy ends is a centre parting which creates a perfect frame to the face and looks hot no matter what your face shape. Finish it off with a smokey eye, courtesy of a black kohl liner like Kate Mara. Hawt.
LIVE THE HIGHLIGHT: If your crop is looking a tad flat atop your crown, some strategically placed highlights will add tone and the illusion of volume. Choose three different shades and have them alternate at different levels in the hair, working out from around the crown. Light tones sitting on top of the dark shows up definite layers in the hair, making it look thicker.
BE BLUNT ABOUT IT: Don't rush to get your straighteners out of retirement just yet, this is best achieved with smoothing serum and a powerful hairdryer on max. Apply Redken Smooth Lock Heat Glide to mid-lengths and ends and divide into sections. One section at a time, wind the hair around a ceramic round brush and pull out from the scalp at 45 degrees, keeping lots of tension. Linger longer over your ends to create the strong shape. Works brilliantly on thick, coarse hair because it has enough substance to it to create a sharp, graphic shape. Jourdan Dunn's new crop nails this look and keeping it longer at the front gives her hair added weight and hold.
SPLIT THE DIFFEENCE: Sounds bonkers, yes, but giving your hair opposing textures and styles can look great and way more interesting than a straight up bob. Work Pantene Pro-V Youth Protect BB Cream into damp hair, then create an extreme side parting - but make it imperfect so it's less severe. The side with less hair is your sleek side so blow dry it smooth and tack it behind your ear. The bigger side is your showier one so give it some interest by tonging it outwards on a cool heat (around 100 degrees) for relaxed waves that kick out from the head. Julianne Hough makes this look super glam but for a punkier look, wear an ear cuff on the tucked in side.
Celebrity news, beauty, fashion advice, and fascinating features, delivered straight to your inbox!