They might get a bad rap, but I have a penchant for sweet perfumes—these 9 smell deliciously luxurious
No headache-inducing scents here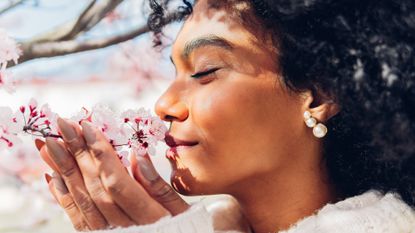 (Image credit: Getty Images)
There was a time in my life when I couldn't get enough of sweet perfumes. In my early teenage years I considered the best perfumes to be Ralph by Ralph Lauren, a sweet fruit salad of a scent, and Anna Sui Dreams, a vanilla-infused floral. Later, it was the juicy blackberry and rose notes of Yves Saint Laurent's Parisienne that saw me through university, and the fresh apple bite of DKNY's iconic Be Delicious that I wore to my post-degree job interviews.
As I headed towards my mid-20s, however, and started working in the beauty industry, I noticed that when it came to sweet perfumes, people tended to be a little snobby about them. This was at a time when Le Labo's Santal 33 still felt something like an industry insider secret, and the spicy, woody, musky notes were, to me, the epitome of what it meant to be a sophisticated woman with her life together. And with access to the kinds of expensive perfumes that I'd previously only dreamed of owning, I began to branch out.
These days, it's musky, powdery florals that tend to be my bag—although my penchant for sweetness still remains, just in the form of more warming, grounding notes like tonka bean or amber. However, there has been no doubt that 2023 has seen a resurgence in the popularity of sweet perfumes for women. Vanilla scents are more in-demand than they've ever been, and a quick search on TikTok reveals that #gourmandfragrances has an incredible 116.6 million views at the time of writing. Clearly, sweet perfumes are experiencing a resurgence and I'm very much here for it.
What makes sweet perfumes so appealing?
Like many of us, my first foray into the world of fragrance was via sweet scents—and there's much to be said about this feeling of nostalgia that they evoke. "They're often scents that we come back to time and time again and find innately attractive and comforting," explains Rebecca Rose, Founder of To The Fairest. And there's no denying that the link between gourmand perfumes and our favourite foods provides some of the attraction, too. "Dessert-inspired notes are a great way to have fun with fragrance," says Michelle Feeney, Founder of Floral Street. "In our scents we use notes of candy floss to give a dreamy sweetness, tiramisu for a delicious, creamy edge, and vanilla because it's comforting, warming and has a nostalgic, familiar appeal."
Which notes provide a sweet fix without being headache-inducing?
When I've asked friends and fellow beauty editors why they might avoid sweet perfumes, the answers tend to be similar—the scents can be too overwhelming, cloying or sickly. But, thankfully, a new wave of perfumers and fragrance houses are turning this notion on its head by injecting their sweet fragrances with a more complex array of notes. "Any good nose will combine sweet gourmands with other notes, like citrus, to balance them out, and prevent them from being too sickly-sweet," says Michelle. And beyond traditional gourmands, Michelle predicts that nutty perfumes, fig fragrances and fruity scents will continue to grow in popularity over the coming months.
Ahead, you'll find my round-up of the best modern-day sweet perfumes for women—a list I have carefully compiled after years of testing and consideration. Intoxicating and joyful, but never cloying or headache-inducing, these scents are undeniably moreish.
The best sweet perfumes
1. Fenty Eau de Parfum
Fenty Eau de Parfum
Specifications
Key notes: Magnolia, musk, tangerine, Bulgarian rose, vanilla, blueberry, coconut, geranium, patchouli
If you're on the fence about sweet perfumes, then this is a brilliant place to start as it's a warm, almost spicy, floral at its heart, but there's an undeniable sweetness to it as well. And knowing that Rihanna adores Kilian Love, Don't Be Shy—a heady marshmallow-infused floral—the gourmand elements in her own fragrance come as no surprise. Yes, there's a bold bouquet of magnolia and rose, but the sprinkling of tangerine, blueberry, coconut and vanilla lend this scent a sparkling juiciness that I can't get enough of.
2. Ellis Brooklyn Sweet Eau de Parfum
Ellis Brooklyn Sweet Eau de Parfum
Specifications
Key notes: Pear, ambrette, bergamot, violet, orris, heliotrope, marshmallow, white amber, cashmere
Given this perfume's name, it's of no surprise that the juice inside is mouthwateringly sweet. Admittedly, the blending of ripe pear with sugary marshmallows doesn't sound like the most sophisticated pairing, but hear me out. This is a playful fragrance that offers a nostalgic throwback to some of the sweeter scents that I loved in my younger years, but with a luxurious update with the addition of more complex notes like ambrette, orris and cashmere. It's definitely a sugar rush of a scent, but it's this which makes it instantly uplifting and able to spark joy.
3. D.S. & Durga Pistachio Eau de Parfum
D.S. & Durga Pistachio Eau de Parfum
Specifications
Key notes: Pistachio, cardamom, roasted almond, patchouli, vanilla creme
As a brand, D. S. & Durga is always pushing boundaries, and Pistachio is a reimagining of the gourmand perfume category for a contemporary crowd. As the name suggests, this is an homage to the pistachio nut—and it manages to capture that blend of subtle sweetness and earthy nuttiness through a combination of foodie notes. There's creamy vanilla and aromatic cardamom, but also patchouli for a twang of spiciness. For me, it's the perfume equivalent of a cult dessert at a fancy restaurant—it's elevated yet still absolutely delicious.
4. Phlur Apricot Privée Eau de Parfum
Phlur Apricot Privee Eau de Parfum
Specifications
Key notes: Apricot, plum, cardamom, jasmine absolute, peony, agarwood, tonka beans, sandalwood, labdanum
A sticky, sunsoaked treat of a fragrance, this sweet perfume is a celebration of the apricot—and not just any apricot, but one that's been drenched in honey and dusted with cardamom. It's decadent, yes, but there's a woody undertone and some velvety florals that prevent it veering into sickly-sweet territory. Once it dries down you're left with something plummy and warm with vanilla. Absolutely delectable.
5. Prada Candy Eau de Parfum
Prada Candy Eau de Parfum
Specifications
Key notes: White musk, benzoin, caramel accord
In some ways this perfume is a classic gourmand fragrance—a sweet perfume with caramel at its heart. There's definitely a nod to its namesake with a cotton candy-esque sugariness, but it's immediately tempered with the amber-like depth of benzoin and the light powderiness of white musk. Far from saccharine, it's a sophisticated gourmand perfume that I think many would delight in wearing.
6. Kayali Vanilla | 28 Eau de Parfum
Kayali Vanilla | 28 Eau de Parfum
Specifications
Key notes: Vanilla orchid, tonka absolute, amber woods, musk, brown sugar
This is quite possibly the most perfect vanilla scent in existence. It's certainly sweet, but because it captures the essence of vanilla in its natural form rather than the sponge of a birthday cake. The heart of the scent is the vanilla orchid flower (not its seed pods) which gives this perfume a floral edge instead of a gourmand one. With tonka, brown sugar, amber and musk, it's complex and heady, yet soft and creamy. Truly, I think that even vanilla perfume sceptics would be converted by this fragrance.
7. Maison Margiela Replica Springtime in a Park Eau de Toilette
Maison Margiela Replica Springtime in a Park Eau de Toilette
Specifications
Key notes: Pear accord, bergamot essence, blackcurrant accord, lily of the valley, rose damascena absolue, musks, vanilla accord
Aiming to capture the warmth and optimism of the early days of spring, this is a luminous floral perfume with an almost effervescent fruity freshness. At first spritz, it's the juicy pears and blackcurrants that burst through before the blossoming spring florals at the fragrance's heart emerge—fragrant lilies and sweet roses. Once worn in, it's the warm sweetness of vanilla and musk that give it a skin-like, comforting quality.
8. Sol de Janeiro Cheirosa '62 Eau de Parfum
Sol de Janeiro Cheirosa '62 Eau de Parfum
Specifications
Key notes: Pistachio, almond, heliotrope, jasmine petals, vanilla, salted caramel, sandalwood
Sol de Janeiro's perfume mists have to be the biggest viral fragrance sensation of 2023, but there's actually an eau de parfum version of the brand's iconic scent, too. If you've smelt their Bum Bum Cream before then you'll know what to expect—it's a sunshiny scent with tropical undertones and a ripple of salted caramel throughout. Fans of sweet perfumes will instantly adore this, but if that isn't typically your bag then the holiday vibes that this perfume evokes might entice you nonetheless.
9. Floral Street Wonderland Peony Eau de Parfum
Floral Street Wonderland Peony Eau de Parfum
Specifications
Key notes: Lemon, pink berries, pink guava, violet, peony accord, raspberry flower, vanilla bean, pink cotton candy cedarwood vetiver