I didn't think I liked fruity fragrances, but these 8 expensive-smelling perfumes have changed my mind—and they all have one thing in common
It's the 'it' note of 2023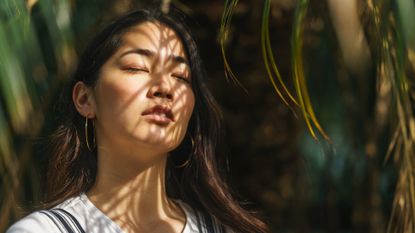 (Image credit: Getty Images)
When it comes to the kinds of perfumes that I gravitate towards, I'm a creature of habit—comforting musks, warm vanilla, and the powdery sweetness of violet are the notes that emerge time and again in my favourite fragrances. Fruity perfumes (like the now iconic Sol de Janeiro mists)? They're not really my bag. However, as the nights have drawn in and autumn has rolled around once more, I noticed that there's one category of fragrance that I've been wearing on repeat: fig perfumes.
The one that I specifically can't stop wearing right now is Phlur's Father Figure—a lush, juicy, comforting fragrance with fig at its heart. I'm happy to admit when I've made a beauty mistake, and I've clearly been sleeping on fig perfumes for way too long.
"The fig scent is so unique, usually portrayed by a combination of both the fruit itself and the sappy leaves of the fig tree which remain fragrant throughout the year," says Beckielou Brown, Perfume Creator and Co-Founder of ALTRA. Earthy and grounding, yet still with a hint of sweetness, fig perfumes are a crowd pleaser for a reason. "They have a distinct scent profile that is cosy, comforting and nostalgic, which makes them perfect for sweater weather," explains Beckielou.
They're fruity, yes, but with none of the syrupy nature of more traditional fruit fragrances. "The fresh, green, almost bitter notes in fig bring a grounding balance to what could be a very sweet gourmand, tempering its sweetness and adding dimension and sophistication," describes Beckielou.
For me, fig fragrances feel like the grown-up approach to fruity fragrances. And, ahead, are the 8 best that I've tried.
1. Phlur Father Figure Eau de Parfum
Phlur Father Figure Eau de Parfum
Specifications
Key notes: Waterlily, lush fig, cassis buds, orris root, iris flower, jasmine dew, skin musks, vanilla madagascar, patchouli leaf, sandalwood
This is the fig perfume that got me hooked on them, and it truly is something special. It captures all the lush juiciness of a ripe fig, enhanced with the sweetness of cassis and vanilla—yet this fragrance is far from saccharine. There is an underlying verdancy paired with a comforting musky skin scent that gives this perfume a feeling of warmth and intimacy. I am halfway through my first bottle and will be hurriedly repurchasing.
2. D.S. & Durga Debaser Eau de Parfum
D.S. & Durga Debaser Eau de Parfum
Specifications
Key notes: Bergamot, green leaf, pear stem, fig, coconut milk, iris, blonde woods, tonka bean, moss
Named after a song by Pixies, this is one of D. S. & Durga's best-selling fragrances, and it oozes the coolness that you'd expect from this innovative Brooklyn perfume brand. Blending ripe fig and tonka bean with dry blond woods, alongside iris and bergamot, it's an unexpected aroma that captures the dreaminess of bygone summers. It's sharp, sweet, sophisticated and absolutely divine. To my mind, this brand can do no wrong, but this fig perfume is up there with their finest.
3. Prada Les Infusions de Prada Infusion de Figue Eau de Parfum
Prada Les Infusions de Prada Infusion de Figue Eau de Parfum
Specifications
Key notes: Green mandarin, lemongrass, spearmint, citron, accord figue, fennel, lentisque, orange blossom, galbanum, incense, white musk
This perfume is an homage to the fig in all its glory—from the green leaves and woodiness of the tree itself to the juicy nectar and creamy flesh of the fruit itself. It's truly mouthwatering, yet remarkably not cloying. Hints of lemongrass, fennel and a dash of spearmint elevate the scent and lend it a brightness that feels vibrant and modern.
4. Jo Loves Red Truffle 21
Jo Loves Red Truffle 21
Specifications
Key notes: Green fig leaf, bitter citrus, pine, juniper truffle
While most fig fragrances tend to centre around the fruit itself, the key note in this contemporary perfume from Jo Loves is the leaf. It's green, fresh and earthy and makes the perfect accompaniment to the rich juniper truffle at the heart of the scent. Alongside bitter citrus and head-clearing pine, this is a dynamic perfume that feels as invigorating as a walk in the winter woods.
5. Ellis Brooklyn Sun Fruit Eau de Parfum
Ellis Brooklyn Sun Fruit Eau de Parfum
Specifications
Key notes: Fresh fig, bergamot, plum leaves and pear, jasmine, cyclamen, orris and orange blossom, amber, vanilla planifolia, musks and coconut
Probably the sweetest fragrance in the line-up, this is a joy-inducing scent that smells like jammy figs and sun-soaked florals. It sparkles with fruity splashes of pear and coconut, yet there's a bold warmth via notes of amber and musk. While traditionally this is somewhat of a summer fig scent, I'd wear this year-round thanks to its sunny optimism.
6. Diptyque Philosykos Eau de Parfum
Diptyque Philosykos Eau de Parfum
Specifications
Key notes: Fig leaves, fig tree sap, fig tree wood, black pepper
Launched in 1996, this fig fragrance is enduring for a reason—it's sophisticated, smells expensive and manages to capture the very essence of a fig grove in all its glory. From the warm earthness of the soil from which the trees grow to the sweetness of the fig itself, it's a woody, green perfume with wide appeal.
7. Vilhem Parfumerie Purple Fig Eau de Parfum
Vilhem Parfumerie Purple Fig Eau de Parfum
Specifications
Key notes: Sichuan pepper, angelica seeds, galbanum, green fig, jasmine absolue, vetiver, cashmere woods
Spicy, rich and smoky with pepper, this is a sumptuous take on figs in their decadent, stewed form. There's the suggestion of caramelised fruit crumble eaten around a smoky fire, but the bitterness of galbanum and musky angelica seeds add an unexpected aromatic edge. To me, this is an evening scent that is made to be worn on winter nights.
8. Jo Malone Fig & Lotus Flower Cologne
Jo Malone Fig & Lotus Flower Cologne
Specifications
Key notes: Fig leaf, lotus flower, vetiver
This is a shimmering scent that's almost water-like in its freshness. It captures the verdancy of fig leaves alongside the milkiness of the fruit itself, while lotus petals and earthy vetiver give the fragrance a fragrant earthiness. It's elegant, timeless and luxurious.
Celebrity news, beauty, fashion advice, and fascinating features, delivered straight to your inbox!
Mica Ricketts is a freelance beauty editor and contributor to Marie Claire. She has written for titles including Refinery29 and Who What Wear UK, and also works with beauty brands on content messaging and marketing copy. She was previously Who What Wear UK's beauty editor. As someone that has tried basically every acne product on the market, she has a particular passion for debunking skincare myths and finding products that work. Plus, with two small children at home she is all about time-saving beauty routines that boost glow and disguise dark circles.