If your nails aren't looking their best, it might be time to try a different type of manicure—here's what to know
Go to the salon armed with all the knowledge you need of the different types of manicures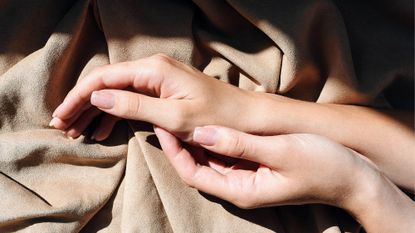 (Image credit: Getty / Royalty-free)
As a beauty editor and nail tech, I spend most of my time either talking about polish shades, writing about nail trends, or doing different types of manicures on various people, including myself. So it's fair to say I get a unique view of nails and the industry from many angles. What I'm asked time and time again isn't the intricacies of a trend, but the fundamentals of each manicure available. I've realised that despite having endless amounts of information at our fingertips, it can be difficult to get your head around the basics, like: what types of manicures (chrome nails, anyone?) are even available. Thanks to TikTok, it seems like there's a new trend or type of manicure out there every week, but more often than not, the platform is reinventing the wheel and giving it a shiny new name.
To help cut the confusion, allow me to take you through the seven different types of manicures you can do at home and get done in the salon, including gel manicures, BIAB, polygel nails and more.
1. Regular nail polish
The humble regular nail polish (sometimes called nail lacquer), is available both at home and in all salons. Applied without the need of special equipment or lamps—just the patience needed to let it dry. It's a bit of a dying treatment in salons with many people opting for longer-lasting formulas, but it's still a very popular choice for toe nails and those looking for a water-permeable nail polish. It's also a great option for those who change their nail colour regularly.
Pros
No expertise needed
Quick and easy
Zero extra equipment
Cons
Not long-lasting
Drying time
Finish isn't always as elegant
2. Gel nail polish
Gel polish—sometimes incorrectly labelled 'Shellac', which refers to a brand name versus a type of product—is one of the most popular manicures for those in the salon and increasingly at home too (though gel nails at home requires caution). It is popular thanks to the incredible staying power, promising a chip-free manicure for 2+ weeks and a glossy finish that doesn't dull. It's definitely more of a faff though—removal takes significantly longer than regular polish and application requires lots of special (and pricey) products.
Pros
Long-lasting
Glossy finish
Zero drying time
Cons
Needs special products and equipment
Requires a professional so generally more expensive
Can cause allergies if done incorrectly at home (that's why visiting a pro is well worth your money!)
3. BIAB nails
Builder in a bottle (BIAB) has skyrocketed in popularity in 2023, with more nail salons offering it. It's a type of soft gel that is thicker than regular gel making it even longer-lasting and more durable than gel polish. It's become one of the best options for nail biters hoping to break the habit and grow out their natural nails. Because of its strength and durability, BIAB can also be used to create nail enhancements as a false tip overlay or to create the tip using a nail form.
The main downside to BIAB is that it's slightly more expensive (though you're pretty much guaranteed a long-lasting set) and the need to visit a professional, which is only a downside if you're a keen DIY-er.
Pros
Extremely long-lasting
Helps grow natural nails out
Can be used for short nail enhancements
Cons
Requires professional application
Not as durable as hard gel or acrylics for enhancements infilled, which is cheaper than a new gel set every time) t
Not as durable as hard gel or acrylics for enhancemens
4. Dip/SNS nails
Dip powder, also referred to as SNS, which is a brand name, isn't one of the most popular manicures out there right now, some salons offer it but it's not as common as gels. Those that love it though, seem to really love it. The main positives are that it doesn't need to be cured under a lamp and doesn't need the same precision that painting does. Having said that, a base and top coat does need to be painted on but you're far less likely to flood your cuticles and get polish everywhere. The main downside, in my opinion, is that isn't never going to have the most natural finish. Often it's quite thick and chunky once finished and needs to be filed quite a lot to get the final result.
Pros
Doesn't need to be cured under a lamp
Less painting required
Quicker than painting and curing
Cons
Can look a little unnatural and thick
Debatable hygiene at a salon when dipping into the same pot as others
Needs lots of filing
5. Gel extensions
There are various types of extensions available, including gel extensions (either with a tip or using a form), acrylics and polygel. Hard gel extensions are great for adding length (obviously) or adding a durable overlay on naturally long nails.
Although wonderful, gel extensions can cause terrible damage if they're not applied and removed correctly; especially if they're picked off. Please don't do extensions on yourself if you aren't trained because if incorrectly done, you'll be left with brittle, weak and potentially sore nail plates. Once damage is done, it takes time, effort and more money to get them back up to strength again. Don't let that scare you though, because done by a professional, they won't damage the nail and give enviable length.
Pros
Natural-looking
Not smelly
Cons
Not the most durable extensions out there
Not as reliable for longer nail extensions
6. Acrylic nails
Acrylics are one of the most old-school enhancements out there and are perfect for those wanting super durable nails. They add both strength and length to nails, both long and short. They're done by mixing a liquid monomer and powder polymer to form a paste that is manipulated and carefully moulded onto the nail in shape. It requires professional products and skill to master so is manicure we'd recommend trying at home the least.
The biggest downside of acrylics is their smell. The monomer and polymer are incredibly strong-smelling ingredients so is best done in a salon.
Pros
Very durable
Great for nail biters
Cons
Incredibly strong-smelling
Require regular infills
7. Polygel nails
Polygel is one of the newest nail innovations on the market. It's a hybrid product that pretty much combines flexibility of gel nails with the strength of acrylics. It can be used as an overlay on your natural nails or as a nail enhancement to create length. It takes some getting used to as the consistency is much thicker than any other nail product. But, once you get the hang of it, it's one of the easier manicures to try at home.
Pros
Can be used for extensions
One of the easier DIY manicures to try
Cons
Requires special products
Not always the most natural looking
Celebrity news, beauty, fashion advice, and fascinating features, delivered straight to your inbox!
Tori is a freelance beauty journalist and contributor for Marie Claire. She has written for various titles, including Allure, Glamour, Elle, Refinery29, Brides, and more. Currently training to be a nail tech, Tori is a total nail enthusiast and always has time to talk all things nail art. When she's not writing about beauty and testing products, Tori can be found walking her rescue dog Pip, drinking great coffee, and eating as many croissants as humanly possible.