Are gel manicures ever safe to do at home? Here's the definitive answer
Plus, what you need to know about onycholysis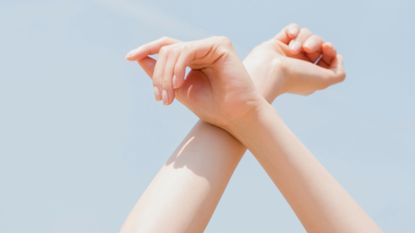 (Image credit: Getty Images/JGI/Jamie Grill)
You wouldn't be alone if, in the last few weeks, you've been concerned by horror stories relating to gel manicures. The Office for Product Safety and Standards announced that it would be investigating the increase in allergies occurring due to nail products so it's only natural to be a little worried.
Following this, the British Association of Dermatologists reiterated the importance of safety to professionals and noting caution for DIY kits, which can be particularly problematic "due to the lack of experience the public has with these products". And look, when it comes to DIY kits, we get it. Everyone is seeing the impact of the cost of living crisis and wanting to save their pennies. Add to this, during lockdown, keen nail enthusiasts had no choice but to turn to DIY. Plus, it's fun to play around with different polish shades and unique nail art at home!
However, this seemingly harmless DIY manicure habit is also the main reason allergies to nail products are increasing. As a nail technician myself, I feel pretty passionate about clearing the air around this topic. With the beauty industry capitalising on our love of DIY and more at-home kits being available to buy, you might be wondering: is it ever safe to do your gels at home?
Now, let's be clear that you don't need to stop getting gel manicures with your trusty nail tech if you're not having any issues. But if you are a keen DIY-er and are worried you might be causing an irritation, this is for you.
What is a gel manicure?
A gel manicure is a treatment that uses soft gel nail polish under a UV or LED lamp to cure polish into a chip-free, ultra shiny material. Because they need to be cured, gel manicures are harder to remove than normal nail polish. They require buffing with a nail file and soaking in acetone to remove them. They're an excellent option for people wanting to grow their natural nails out and, if application and removal is carried out correctly, cause no damage to the natural nail plate.
What are the concerns surrounding gel manicures?
If not carried out properly — and this is the key — gel manicures can cause a number of issues.
Getting lots of attention in the news recently is the increasing number of allergic reactions due to gels. Of course, an allergy is possible with any beauty treatment (including waxing and hair dyeing), no matter how well trained the practitioner is. But it's a well-known fact that allergy caused by gel manicures is far greater if carried out by someone unqualified.
So why do they happen? "Allergic reactions are, more often than not, caused by misapplication," explains Manchester-based nail artist Yan Thi. "For example, this can be caused by product curing onto the skin and under the tip of the nail, especially if your painting technique isn't great. In addition to this, not curing the product fully over time can cause irritation and allergy. This is especially true if gel brands are mixed. Nail polish brands only test their products for safety with their entire system — bonder/primer, base coat, colour coats, top coat, and lamp — so if you're mixing these elements, there's no guarantee as to how they work together.
An allergy (specifically to (meth)acrylate chemicals found in gels and acrylics) doesn't only stop you from getting your nails painted (including extensions like acrylics) but it can actually have dental consequences. A type of (meth)acrylate is also used in fillings and dental work and if you become allergic, your oral care could be compromised.
Another concern is onycholysis, which is a condition in which the nail plate separates from the nail bed. This is caused by a variety of things relating to nails, including: nail trauma (which can occur due to vigorous and improper filing), overzealous use of manicure tools and irritants caused by nail products. This is a condition that nail techs have seen an increase directly relating to at-home kits.
Although onycholysis typically reattaches itself and resolves on its own, there is a possibility for secondary infection to enter the area. If you have onycholysis, you should take a break from your manicures, especially extensions, to allow time to recover. It's best for nails to be cut short and given time to grow out and reattach themselves. With regular visits to a professional nail tech, a plan can be put in place to get your nails back in tip top shape. But if carrying out treatments on yourself at home, you might not even notice you have onycholysis until it's fairly significant, which in turn, takes longer to recover from.
Is a gel manicure at home safe to do?
The golden question: are gel manicures ever safe to do at home? The short of it is, yes, but you have to be clued up. "The issue around gel manicures at home is misinformation and lack of education," says Yan. "The majority of allergic reactions are due to misuse of product or cheaper brands whose ingredients are ambiguous."
Yan explains that she's had clients who visit her thinking that they're allergic to gels due to irritation whilst carrying out a manicure on themselves at home, only to find that after a professional treatment with her that they're not allergic and experience zero irritation. "I've then gradually introduced a professional gel treatment to realise they're not allergic at all, it was being applied incorrectly," she adds.
Here's how to ensure you carry out a safe gel manicure at home
Buy reputable products from the EU
Getting the cheapest brands you can find online is not going to serve you well in the long run. Look for products that were made in the EU, as other countries use harsher ingredients that aren't approved for use in the UK. Safety aside, they're just not going to last very long or look that great as far as a manicure goes.
Use an entire gel system together
If you can, buy a set created by a brand, for example 14 Day Mani or Mylee as these have been tested together.
Take time to practise
If you still can't paint normal nail polish on yourself without getting it on your skin or flooding your cuticle area, you shouldn't be carrying out gel manicures on yourself. I'm sorry, it's a hard truth but otherwise you've got a one way ticket to an allergy.
Do a course
If you really want to become a DIY aficionado at home, do a short nail course. They're relatively inexpensive and you can do a lot of them online from home. This gives you the basics of contraindications and best practice.
In summary, nail technicians need training to be able to carry out these treatments, so there's always going to be more of a risk carrying these out at home. This doesn't mean you should avoid them altogether because they absolutely have their place on the market, but understand the risks and that human error is the main culprit of this allergy increase.
If you're a bit rubbish at doing your own nails, visiting your nail tech for regular manis is well worth the effort and money. They're trained for a reason and always have your safety as their number one priority. If you're ever concerned about allergy risks at home, spending that extra few quid to visit your manicurist is worth it—trust me. If you're a total perfectionist with your nails at home and don't have any issues, continue painting away.
Celebrity news, beauty, fashion advice, and fascinating features, delivered straight to your inbox!
Tori is a freelance beauty journalist and contributor for Marie Claire. She has written for various titles, including Allure, Glamour, Elle, Refinery29, Brides, and more. Currently training to be a nail tech, Tori is a total nail enthusiast and always has time to talk all things nail art. When she's not writing about beauty and testing products, Tori can be found walking her rescue dog Pip, drinking great coffee, and eating as many croissants as humanly possible.