We just tested the best beauty tools out there to see which ones are really worth the money—here's our final verdict
You might already be familiar with some of them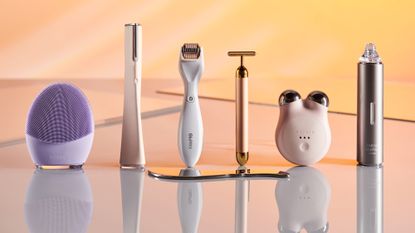 (Image credit: Future)
When you buy a gadget or an electrical, whether it be the best hair straighteners , the best IPL hair removal devices or the best LED face masks, you want to make sure your investment is worth it. These tools are often on the pricey side, so it's important to know ahead of time that your money is going on something that does what it says it will do.
Luckily for you, we've got you covered. Yep, team Marie Claire UK have spent many weeks reviewing some of the best beauty tools and gadgets on the market to separate the wheat from the chaff. With decades of combined journalistic experience under our belts, our standards are high when it comes to expensive beauty products. Frankly, we hate the idea of anyone parting with their hard-earned cash for a product that doesn't deliver. So trust us when we say that we promise we don't take our beauty tools and gadget recommendations lightly.
The best beauty tools to buy now
Whether you choose one that buzzes, vibrates or smoothes, these high-tech gizmos solve almost any beauty dilemma and give you results akin to a professional treatment.
Some of the best skincare tools include super-smart face masks, microcurrent facial toning devices, and massage tools, that are able to stave off fine lines and fight acne in the long term. Better still, the latest skincare tools make the products you apply afterwards work harder, says facialist Sarah Chapman.
Our hair care and body care routines can be just as high-tech as a self-driving car, too. Straighteners that prevent damage and IPL devices that make hair removal at home easier than ever.
Why the investment makes sense
Still need convincing when it comes to the cost?
The initial outlay may seem daunting, but think about how much your last facial cost. A light therapy facial is a good example.
In Harvey Nichols, The Light Salon signature LED treatment would set you back £50 for 30 minutes.
"If you use the at-home LED mask three times a week over a four-week period, it delivers the equivalent dose as visiting The Light Salon once a week for the same period," says co-founder Laura Ferguson. "This means that over two years, the cost per wear is less than £1, making it a really worthwhile investment in your skin health."
See our logic?
The best beauty tools and gadgets
As mentioned, we don't take the task of advising you on the best beauty tools lightly. We know that they can be expensive and we know that some can prove total duds. Having said that, the benefits of incorporating a good gadget into your beauty routine shouldn't be overlooked. They can save you time, money (in the long run) and supercharge results.
To help you determine which beauty tools and gadgets are worth it, we tested a whole bunch of the most highly rated (and most talked about) out there against the below criteria:
Do the results match the claims?
Is it worth the money?
Is it easy to use?
Does it make your beauty routine easier?
If the gadget met the above criteria in our testing, we felt pretty confident in including it in our roundup of the best beauty tools and gadgets that are actually worth the money—and here it is...
1. NuFACE Trinity
NuFACE Trinity Facial Toning Device
Best beauty tool for intense facial sculpting
Reasons to buy
+
Easy to add to your beauty routine
+
Instant results
Reasons to avoid
-
Very expensive for an extra skincare step
-
The sensation takes some getting used to
"This revolutionary facial trainer by NuFACE has improved my facial contours and skin tone. It also reduces visible wrinkles. It's ideal for at-home facials. Don't miss the additional attachment heads (available separately) for more targeted treatments," says Katie Thomas, Senior Beauty Editor.
2. Dr. Dennis Gross LED Mask
Dr. Dennis Gross DRx SpectraLite FaceWare Pro
Best beauty tool for all-round skin health
Reasons to buy
+
Fast-acting
+
Loved by celebrities
Reasons to avoid
-
Very expensive
-
Similar masks out there
"For something that looks like it belongs in a Blade Runner remake, this light-therapy mask is surprisingly simple to use for the average human, with the technology within doing all the hard work for you. I'm 36, and this mask targets my EXACT skin concerns, with a potent combination of anti-acne blue lights (the most powerful blue light allowed in at-home devices) and red lights to help smooth wrinkles and firm up skin in an automatically timed 3-minute cycle, once a day, with no downtime. I'm already seeing clearer skin and I've only been using it a week," says Holly Rains, Freelance Editor.
3. Nurse Jamie Massage Tool
Nurse Jaime Beauty Blade Deep Massaging Tool
Best beauty tool for on-the-go sculpting
Reasons to buy
+
Can pop it in your handbag
+
Proves a great pick-me-up
Reasons to avoid
-
Expensive for a manual tool
-
Requires some expertise to use
"Once you get past the idea that you're taking a scalpel to your face, you'll appreciate the circulation-boosting benefits of this tool. Created by the woman who works on the chiselled faces of the Kardashians, use the curved edges and a scraping technique to glide towards your lymph glands and flush out skin-dulling toxins," says Katie Thomas, Senior Beauty Editor.
4. Sarah Chapman Pore Vacuum
Sarah Chapman Skinesis Pro Pore Refiner
Best beauty tool for busting congestion
Reasons to buy
+
Very satisfying to use
+
Fast-acting
Reasons to avoid
-
Can potentially be damaging if you're too heavy handed
"Can you think of anything more addictive or satisfying than vacuuming your pores? No, me neither. A thermo-therapy plate preps your skin for extraction so that when you apply the 'sucker' any grime and stubborn make-up gets hoovered up," says Katie Thomas, Senior Beauty Editor.
5. FOREO Cleansing Brush
FOREO LUNA 3 Facial Cleansing Brush
Best beauty tool for a deep cleanse
Reasons to buy
+
Effectively works out pore congestion
+
Reduces the chances of future breakouts
Reasons to avoid
-
Can potentially be damaging to skin if you are too heavy handed
"Think cleansing and toning 2.0. With a bigger brush head and longer touch points than the original, it's easier to deep clean tricky areas around the nose and hairline. You just have to choose the device that corresponds to your skin type, then hit the app and choose from three guided massage programmes - eye, neck or all-over contouring - to target acupressure points," says Holly Rains, Freelance Editor.
6. Dyson Airwrap
Dyson Airwrap Complete Multi Hair Styler
Best beauty tool for a bouncy blow-out
Reasons to buy
+
Can be used on all hair types
+
Attachments cater to different results
Reasons to avoid
-
Styles might not last as long as those achieved with a hotter tool
-
Very expensive
"The Dyson Airwrap has transformed my relationship with my fine, meh hair. Once you've mastered how the Airwrap works (just YouTube a tutorial on it), you will actually come to enjoy hair-drying time, because trust me, you get good results, every time. Make sure to try out all of the accessories that come in the kit, each having their own special skill. If you have fine hair like me, the round volumising heated brush will be your friend, being the only tool that has managed to add lasting lift and body to my hair without the need for product," Holly Rains, Freelance Editor.
7. BeautyBio GloPRO Microneedling
BeautyBio GloPRO® Microneedling Regeneration Tool
Best beauty tool for skin regeneration
Reasons to buy
+
Helps skincare work harder
+
Easy to use
Reasons to avoid
-
Must be gentle to avoid damage
-
Check with an expert before using
"This may look like a paint roller with needles and, yes, it tackles worry lines by driving teeny holes into the upper layers of your skin. But derma rolling or micro needling is a dermatologist approved way of sending your skin a signal to get extra collagen to the site of the damage. It takes some getting used to, but once you nail it it can help your skincare absorb 200 times more effectively," says Penny Goldstone, Fashion Editor.
8. Jillian Dempsey Sculp