Princess Eugenie's son August takes first steps and the photos are adorable
It was a very productive Easter weekend for the royal little one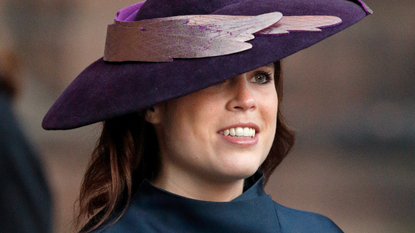 (Image credit: Getty)
It was a very productive Easter weekend for the royal little one
A child's first toddle is a special moment for any mum, but it's not often that the moment is captured on camera. Princess Eugenie was lucky enough to snap her son August's first steps as they happened over the long weekend. And, lucky for us, she shared the photos straight to her Instagram.
The Queen's granddaughter captured her one year old walking unsteadily through a field of daffodils and posted it to her stories with the caption 'Happy Easter'.
In another image Eugenie is sat on the floor opposite her husband, Jack, whilst their son took his first steps between their open arms. Cuteness overload.
The adorable snap shows Princess Eugenie in a comfy tracksuit with rainbows on them, perfect for chasing a toddler. Her son is also impeccably dressed in a blue cable knit jumper, green khakis and Nike trainers. Honestly, August is providing us with spring fashion inspiration.
What a way to make a family weekend? Princess Beatrice, the Cambridges and all of their children witnessed the 14-month-old's monumental first steps. The whole family travelled to Windsor Castle to spend Easter with the Queen.
The royals had a busy week attending the Maundy Service on Thursday and the annual Easter Sunday service. The monarch did not attend either of the events, adding to worries that she may miss platinum jubilee events this summer.
True to tradition, the family made their way back to Windsor Castle after the service at St George's Chapel to their usual four course meal including classic roast lamb. On top of their usual commitments, the family are also thought to have put on an Easter egg hunt for the young royals.
How sweet!
Celebrity news, beauty, fashion advice, and fascinating features, delivered straight to your inbox!
Grace Warn is the at Commercial Producer & Writer Marie Claire UK. From organising cover shoots and uncovering the latest news to creating social content, she loves the fact that no one day is the same!
Growing up just outside of London, Grace made the leap at 16 and started to intern. Juggling education, earning money, styling, producing and organising numerous fashion cupboards was as intoxicating as it was challenging and it's what's brought her here today.
After graduating in the pandemic, the only option was to take on as many freelance roles as possible. From demystifying health jargon to keeping up with the latest footwear drops, a strange concoction of health and footwear journalism became Grace's bread and butter but she always wanted a break in lifestyle journalism and production. Then she landed her dream role!
When she's not racing to deadlines, Grace can be found on anything that could pass as a dancefloor dancing to Diana Ross or scouting out vintage sales on the outskirts out South London - believe it or not, Beckenham is the place to go!