Meghan Markle is reportedly 'nervous' about her trip for the Queen's Platinum Jubilee
It will be the first time Meghan has seen some members of the royal family since that Oprah interview.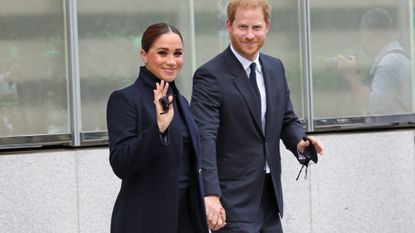 It will be the first time Meghan has seen some members of the royal family since that Oprah interview.
Meghan Markle is reportedly "nervous" about her impending reunion with the royal family, according to a royal expert. Speaking to OK! Magazine, author Duncan Larcombe, who wrote Prince Harry: The Inside Story, said that the visit would be "nerve-wracking" for her and that he believed she would be "dreading the return."
Larcombe, who has told the publication previously, that in his opinion, the Sussex's visit for the Queen's Platinum Jubilee is solely for the benefit of the monarch, has stated that there is no plan to reconcile with other members of the royal family.
Putting it plainly, he said: "...make no mistake, the way in which Harry and Meghan have behaved and the public way in which they've relayed conversations between members of the Royal Family – which is an absolute no no, it really is seen as a total betrayal."
He believes that the couple's two children, three-year old Archie Harrison and Lilibet Diana, who will turn one this weekend, will prove a tonic though in any awkward situations between Meghan, Prince Harry and the rest of their royal relatives.
"Having Lili with them when they return for the Jubilee is probably quite a good distraction. It will all be about the kids and kids' talk because you have to hope they wouldn't have long, drawn out, heart-to-heart chats in front of their children," Larcombe told the publication in their interview with him.
While Prince Harry has made a number of visits since relocating to California, it is only the second time that Meghan has made a trip to the UK since stepping down as a working royal.
It's still unclear which of the Platinum Jubilee events the Sussexes will make an appearance at - although we do know that they won't be stepping out on to the Buckingham Palace balcony during the annual flypast, as only working members of the royal family will be present.
What has widely been reported though is that in a sweet gesture that will mark Lilibet's first birthday, and which falls during the Queen's Platinum Jubilee celebrations, the two will meet for the first time.
Celebrity news, beauty, fashion advice, and fascinating features, delivered straight to your inbox!
Amy Sedghi is a freelance journalist, specialising in health and fitness, travel, beauty, sustainability and cycling.
Having started her career in The Guardian newsroom working with an award-winning team, Amy's proud to have reported on a variety of topics, speaking to a range of voices and travelling far and wide to do so. From interviews on ski lifts to writing up breaking stories outside courtrooms, Amy is used to reporting from a range of locations (she's even been known to type up a story in a tent).
She also loves being active, spending time outdoors and travelling - with some of her favourite features she's worked on combining all three. Cycling and eating her way round the Isle of Man, learning to sail on the Côte d'Azur and traversing the Caminito del Rey path in Spain are just some of her highlights.
Covering a diverse range of subjects appeals to Amy. One minute she may be writing about her online styling session with Katie Holmes' stylist and the next she's transporting readers to the basketball courts of Haringey where she joined a group trying to lower knife crime in the capital.
While at university, Amy was awarded The Media Society bursary. Following her stint at the Guardian, Amy worked at Google and as well as writing for Marie Claire, she regularly contributes interviews, features and articles to National Geographic Traveller, The Guardian, The Independent, The Telegraph, Stylist, Refinery29, Glorious Sport, Cycling Weekly and Rouleur.
When she's not writing, Amy can be found trying to get through her towering stack of books-to-read, cycling down at Herne Hill Velodrome or looking for the next place to eat and drink with friends.