A young Queen Elizabeth can be seen dancing with her sister in never-before-seen footage
It's very sweet.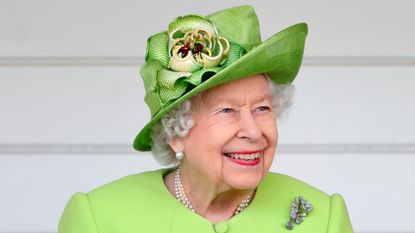 In previously unseen film footage, a young Queen Elizabeth II can be seen dancing with her sister, Princess Margaret in matching blue and white polka dot dresses as the family's corgis dash about between them.
The moving images, which are just one of many never-before-seen pieces of footage in the BBC documentary, The Unseen Queen, give a scarce glimpse into the personal life of the monarch.
For the Platinum Jubilee, the Queen granted the BBC rare access to her home movies for the documentary and has even provided a series of recorded personal musings about them too.
In the clip of the Queen and Princess Margaret, the sisters can be seen grinning and performing a dance routine, with Margaret looking up at her older sister so she could copy her moves. It's a sweet insight into the sisterly bond the 92-year-old monarch had with her late sister and a peek into special memories from their childhood.
The documentary, which aired last night on BBC One, follows the monarch from childhood through to adulthood and on to her ascension to the throne. Family holidays, events of World War II, her engagement to the Duke of Edinburgh, becoming a mother and royal tours are all part of the one hour and 16 minute documentary.
Narrating the start of the documentary, the Queen talks about the significance of cameras and home movies to the royal family:
Showing her wit, the Queen goes on to say of the film and photos: 'You always hope that future generations will find them interesting and perhaps be surprised, that you too were young once.'
Celebrity news, beauty, fashion advice, and fascinating features, delivered straight to your inbox!
Amy Sedghi is a freelance journalist, specialising in health and fitness, travel, beauty, sustainability and cycling.
Having started her career in The Guardian newsroom working with an award-winning team, Amy's proud to have reported on a variety of topics, speaking to a range of voices and travelling far and wide to do so. From interviews on ski lifts to writing up breaking stories outside courtrooms, Amy is used to reporting from a range of locations (she's even been known to type up a story in a tent).
She also loves being active, spending time outdoors and travelling - with some of her favourite features she's worked on combining all three. Cycling and eating her way round the Isle of Man, learning to sail on the Côte d'Azur and traversing the Caminito del Rey path in Spain are just some of her highlights.
Covering a diverse range of subjects appeals to Amy. One minute she may be writing about her online styling session with Katie Holmes' stylist and the next she's transporting readers to the basketball courts of Haringey where she joined a group trying to lower knife crime in the capital.
While at university, Amy was awarded The Media Society bursary. Following her stint at the Guardian, Amy worked at Google and as well as writing for Marie Claire, she regularly contributes interviews, features and articles to National Geographic Traveller, The Guardian, The Independent, The Telegraph, Stylist, Refinery29, Glorious Sport, Cycling Weekly and Rouleur.
When she's not writing, Amy can be found trying to get through her towering stack of books-to-read, cycling down at Herne Hill Velodrome or looking for the next place to eat and drink with friends.