JK Rowling: I had to fight for the privacy of my children
As the Leveson Inquiry continues this week, JK Rowling tells of her fierce battle to protect her children from the consequences of her fame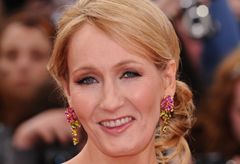 (Image credit: REX)
As the Leveson Inquiry continues this week, JK Rowling tells of her fierce battle to protect her children from the consequences of her fame
JK Rowling told the Leveson Inquiry yesterday how her family was the constant target for paparazzi and described how a journalist slipped a letter into her daughter's schoolbag.
The Harry Potter author, and mother of three, told of her fury that the letter was hidden in her five year-old daughter's bag at her primary school, in the ongoing case into Press standards.
'I unzipped her schoolbag in the evening, and among the usual letters from school and the debris that every child generates, I found an envelope and a letter addressed to me from a journalist,' she says.
'I can only say that I felt such an invasion,' she continued. 'It is very difficult to say how angry I felt that my five year-old daughter's school was no longer a place of complete security from journalists.'
Miss Rowling, 46, explained that her family had been driven out of their own home due to media attention and avoided family holidays because of the constant presence of photographers.
The author did however agree that newspaper publicity had helped to sell her novels and promote the Harry Potter films.
Sienna Miller also took to the stand yesterday to describe how stories about her in the press had led her to accuse family members and friends of selling her stories. She also explained how she was constantly intimidated by paparazzi.
'I was 21 and I would find myself at midnight, running down a dark street on my own with ten big men chasing me,' she says.
Celebrity news, beauty, fashion advice, and fascinating features, delivered straight to your inbox!