Harry Potter actress beaten by her brother after relationship with a Hindu man
Afshan Azad - who played Harry Potter's classmate Padma Patil - received death threats from her father and was beaten by her brother during a violent confrontation at her home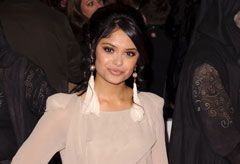 (Image credit: Rex Features)
Afshan Azad - who played Harry Potter's classmate Padma Patil - received death threats from her father and was beaten by her brother during a violent confrontation at her home
Afshan Azad, 22, who played Harry Potter's classmate Padma Patil, received death threats from her father and was beaten by her brother during a violent confrontation at her home, Manchester Crown Court heard.
Prosecuting QC Richard Vardon told the court that Mr Azad was woken up by his son shouting: 'Sort out your daughter! She's a slag!' Vardon added: 'He continued to assault her, shouting, 'Just kill her!'
Abul Azad, 53, and his son Ashraf, 28, were charged with making threats to kill after the incident in Manchester in May.
In a statement given to the police, the Harry Potter star said that her father wanted to 'force her' into an arranged marriage and were unhappy that she was having a relationship with a man who wasn't Muslim.
But she refused to testify and did not want any action taken against her family, saying that the arrest of her father or brother would put her in 'genuine danger'.
Her brother pleaded guilty to one count of assault and will be sentenced in January. He was awarded bail on condition he does not contact his sister.
Her father has been bound over to keep the peace for 12 months.
In November, the Harry Potter actress was pictured on the red carpet at the premiere of Harry Potter and the Deathly Hallows Part 1. She had no formal acting training but won the part of Padma Patil when casting agents visited her school.
The attack comes just a month after the government launched its new strategy on violence against women and so-called 'honour crimes' following the Home Office statistic that there are around 12 'honour killings' every year in the UK.
Celebrity news, beauty, fashion advice, and fascinating features, delivered straight to your inbox!