Topman drops 'sexist' T-shirts following Twitter furore
The offensive tops were swiftly binned after kicking up an internet storm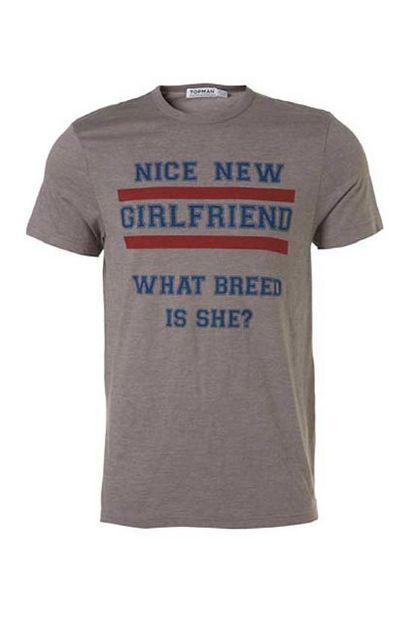 (Image credit: Topman)
The offensive tops were swiftly binned after kicking up an internet storm
They were probably intended to be a bit of a laddish tongue-in-cheek joke, but two of Topman's new slogan tees have backfired spectacularly and caused uproar with their 'misogynistic' messages.
The first T-shirt in question carried the following text: 'Nice new girlfriend – what breed is she?'
Pretty rude, huh?
The other, a red crew-neck tee, says: 'I'm so sorry but…' then shows a tick-box list of excuses, which in order reads: 'You provoked me, I was drunk, I was having a bad day, I hate you, I didn't mean it, I couldn't help it.'
Oh dear.
And so offended were some people by the slogans emblazoned on the front of the tops that they took to Twitter to vent their fury.
Sarah Brown, head of communications for the Women's Resource Centre in London, tweeted: 'This one [the first top] beggars belief, surely a hoax???'
In response to the second tee, @stevegabb posted a mocking remark: 'Look! we can commoditise domestic violence.'
And such is the power of Twitter, Topman swiftly dropped the T-shirts from its stores and online shop and released a statement.
It said: 'We have received some negative feedback regarding two of our printed T-shirts. Whilst we would like to stress that these T-shirts were meant to be light-hearted and carried no serious meaning we have made the decision to remove these from store and on-line as soon as possible. We would like to apologise to those who may have been offended by these designs.'
Twitter 1. Topman 0.
Celebrity news, beauty, fashion advice, and fascinating features, delivered straight to your inbox!