The new earring trend busy girls will love
Plus, how to style it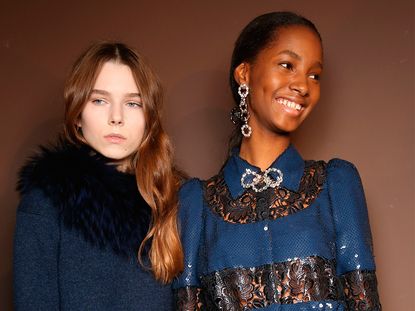 Plus, how to style it
Earrings are a nomadic little accessory. Inherently independent they shirk monogamy for a life of independence, escaping on nights out, and eloping to new homes with other plucky little jewels. Now, thanks to the spring/summer 2016 catwalks of Céline, Isabel Marant and Michael Kors, all those leftover mix n' match earrings we've held onto because we're too gutted to bin them have come into style. Welcome to the singles bar, studs.
Céline's mixy-matchy styling came via an oversized hoop paired with a dangling earring; Michael Kors opted for the same earring but in two different sizes; and Lanvin teamed up two of the same styles in different colours. Loewe, Simone Rocha, Stella McCartney, Alexander Wang and Topshop Unique have taken the look into autumn/winter 2016, which is music to our, um, ears.
This is one of those rare trends that appears as though it was born of happy accident. Think: the Vetements step-cut jeans (we like to imagine this came out of a rogue snip!) or coats draped over the shoulders - because who has time to go rooting around about for armholes nowadays when there is so much snapchatting to be done? Looks that appear nonchalant fall into that Erin Wasson breed of cool, and mismatched earrings are the latest in this line of (seemingly) non-contrived styling.
Yep, losing an earring has gone from being a pain in the face, to a blessing in disguise.
Of course there are always some guidelines to looking guide-less, so to pull this one off without looking like you got ready in dark, read on:
1. Witty fashion is always a breath of fresh air, so embrace any opportunity to create an ironic dialogue between your incongruous jewels. A punky safety pin in one ear and a vintage pearl in the other is one of our favourite mash-ups.
2. If you opt for a cartilage cuff or statement dangling earring on one side, balance it out with dinky little studs on the other side. It's the accessory equivalent of wearing a super-long coat with cropped kick-flares, and puts a playful emphasis on proportion.
3. Though we're genetically predisposed to favour symmetry, one of our favouite ways to rock this trend is to leave one ear completely bare and have a cascade of distinctive single earrings up the opposite ear. Incongruity is key.
When it comes to shopping for individual earrings, Gaia Repossi and Delfina Delletrez have always served as go-tos, with the Repossi gold Berbere collection and Delletrez's whimsical eye and lip designs perfect for a singular statement. We also love emerging designer Sophie Bille Brahe, for her pretty but punkish pearl ear cuffs. Dinny Hall have just launched an ingenious 'singles bar' with an array of gorgeous little jewels 'designed to be worn individually across the ear in true mismatched style.' Or, for anyone wishing to try out the trend before investing in a fine version, Topshop, & Other Stories, Zara and H&M are up to speed with their own versions of offbeat earrings that you can buy as a pack.
So busy girls and scatterbrains, let's breathe a collective sigh of relief, because the absolute best thing about this trend is even if it wasn't intentional, just style it out and act like it was.
Celebrity news, beauty, fashion advice, and fascinating features, delivered straight to your inbox!