Scarlett Johansson Speaks Out About Nude Photo Scandal
Scarlett Johansson has spoken out saying it feels 'unjust' about the breach of privacy after nude pictures of the actress were leaked on the internet earlier this month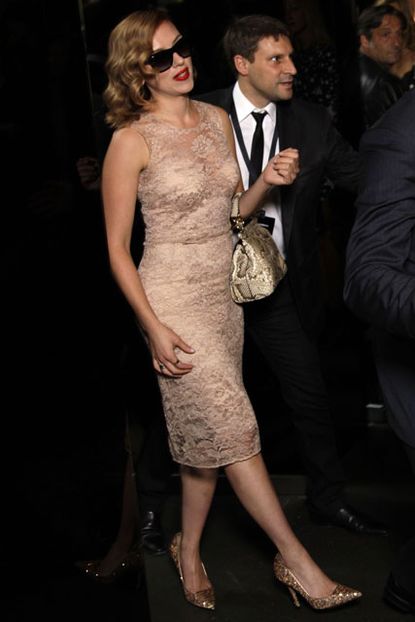 (Image credit: Rex)
Scarlett Johansson has spoken out saying it feels 'unjust' about the breach of privacy after nude pictures of the actress were leaked on the internet earlier this month
Scarlett Johansson has spoken out saying it feels 'unjust' about the breach of her privacy after nude pictures of the actress were leaked on the internet earlier this month.
SEE MORE PICTURES OF SCARLETT JOHANSSON
The 26-year-old actress discussed her privacy for a CNN interview, just two weeks after the naked photos of her emerged on the internet.
The Lost In Translation star, who has never appeared nude in any of her movies, admitted that she took the naked photos of herself at her home in LA, which someone then hacked from her phone.
When the CNN interviewer asked Scarlett why she thought it was important to protect her privacy, she replied, 'I think the question is sort of redundant in a sense. Who doesn't want to protect their own privacy?
'Just because you're in the spotlight, an actor or make films or whatever, doesn't mean you're not entitled to your own personal privacy,' she said.
The Golden Globe nominated actress continued, 'No matter what the context, if that is sieged in some way, it feels unjust. It feels wrong.'
When the explicit pictures emerged on the internet Johansson called the FBI in to investigate how the private photos were hacked from her mobile phone and threatened to sue anyone who published the photos.
Authorities have now said Johansson is one of 50 victims of a phone-hacking gang who are thought to be responsible for stealing photos and videos from the phones or computers of female celebrities.
Other stars targeted by the criminal group include Jessica Alba, Vanessa Hudgens,Selena Gomez and Miley Cyrus.
When asked by CNN how she dealt with breaches of her privacy, Scarlett said, 'I've been asked that from many people. They say "how do you deal with the invasion of privacy?" and honestly I don't know.'
The actress who divorced Ryan Reynolds in July, said it was important to stay firm about exposing too much of one's personal life, 'There's a lot of instances where you give a lot of yourself, but then you have to put your foot down.'
It seems the incident hasn't hindered Scarlett's work and social calendar as she was spotted at the Dolce & Gabbana show at Milan Fashion Week and is still filming for her super-hero movie, The Avengers, with Robert Downey Jr.
Celebrity news, beauty, fashion advice, and fascinating features, delivered straight to your inbox!