Kiefer Sutherland: Not guilty
Brooke Shields comes to Kiefer Sutherland's defence after incident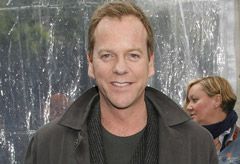 (Image credit: Rex Features)
Brooke Shields comes to Kiefer Sutherland's defence after incident
Actress Brooke Shields has spoken out in defence of fellow actor Kiefer Sutherland's actions after he was charged with third degree assault last week. The charge came after designer Jack McCollough accused Sutherland of a 'vicious and unprovoked' attack at a New York club in the early hours of last Tuesday.
McCollough, of the Proenza Schouler fashion house, was said to be left with cuts on his face after he was supposedly head-butted by the 43-year-old actor.
The altercation happened at a Costume Institute Gala after-party held at SubMercer. It is reported that the incident occurred after an argument broke out between the pair.
It is alleged that Sutherland, who is renowned for his drunken outbursts, was concerned after McCollough knocked into pal Brooke Shields at the private party. Wasting no time he quickly came to the former Lipstick Jungle star's aid.
Kiefer is now back home in LA but the 24 actor, a.k.a Jack Bauer, has been ordered to appear in court on 22 June. He is already on a five-year probation for DUI convictions from 2004 and 2007.
His lawyers are confident however that the investigation will prove he was 'neither the instigator nor a wrongdoer in this incident'.
The 24 cast is just two weeks away from the start of filming season eight – perhaps Kiefer got into his role as Jack Bauer a little too early!
ARE YOU A TWITTERER? FOLLOW US HERE!
BECOME A MARIE CLAIRE FACEBOOK FAN HERE
Celebrity news, beauty, fashion advice, and fascinating features, delivered straight to your inbox!
Natalia is a health journalist with 14 years experience in the publishing industry. She has worked for a number of well known magazines and websites including Marie Claire, Woman&Home, Top Sante, Boots and The Telegraph. She likes to think she practices what she preaches when it comes to health and fitness. Her athletic prowess began early. A keen fencer for 13 years, she wielded an epée for Olympic Team GB during her teenage years. She likes to think she made sword-fighting cool before Game of Thrones came along! While working on her sporting performance with the team, she also participated in a lot of nutrition and psychology training, When it comes to time off, you'll most likely find her up a mountain somewhere. It seems holidays have become a time for climbing several thousand feet, rather than chilling out. She's now hiked eight of the major mountain ranges across four continents – including the Appalachians, the Smokies, the Sierra Nevadas (she spent her honeymoon hiking to the top of Half Dome), as well as hitting the summits of Snowdon, Pen-Y-Fan (Brecon Beacons), Table Mountain in South Africa, the Blue Mountains in Australia and the Atlas Mountains in Morocco. She's also passionate about all things health, particularly vaccinations, and will happily jump on her soap box at any given opportunity to talk about their benefits to anyone who will listen!