Jennifer Lawrence On Anxiety, Her Best Friend And Being A Role Model
The Hunger Games actress opens up about how she wants her life to be as normal as possible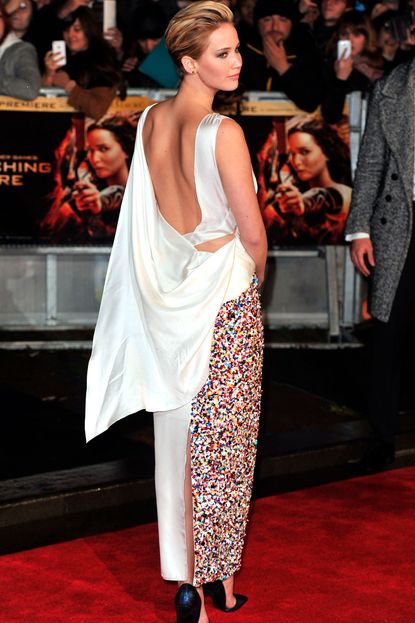 The Hunger Games actress opens up about how she wants her life to be as normal as possible
Jennifer Lawrence continues to cement her reputation as the most refreshing young actress to come out of Hollywood in recent years, with another interview that proves just how uninterested she is in the trappings of the film industry.
As the cover star of the latest issue of French magazine Madame Figaro, the 23-year old actress, who is currently starring in the second instalment of The Hunger Games franchise, revealed why she doesn't want that celebrity essential: a personal assistant.
'I want my life is as normal as possible.' Jennifer told the magazine. 'One of the dangers in the film industry is that things are too fast. I do not want to burn the stages of my life. I want to keep it simple, I do not have an assistant.'
Instead, Jennifer says that the '[the person] that helps me is my best friend' and that the two have known each other for 22 years. 'At the end of a day of shooting, I can go home and hang out with her, and not share time with someone who works for me.'
Despite wanting to lead as normal a life as possible, Jennifer realises that she has become a role model for young women, especially since taking on the role of Katniss in The Hunger Games.
'[It] would be hypocritical [of me] to deny that girls take me as an example, and say that I don't have responsibility to them. Because clearly, I have. I know the influence of celebrities on young people. I was a teenager, and I want to send a positive message.'
The Oscar-winning actress also shared details of her childhood, and how she was prescribed medication to help with anxiety issues.
'My nickname was "Nitro" as in nitroglycerin. I was hyperactive, curious about everything,' Jennifer said.
'When my mother told me about my childhood, she always told me there was like a light in me, a spark that inspired me constantly. When I entered school, the light went out. We never knew what it was, a kind of social anxiety. But I had friends.'
Jennifer's blossoming career would suggest she has left many of those issues behind her. As well as her turn as Katniss, Jennifer also hits cinema screens with her Silver Linings Playbook co-star Bradley Cooper in American Hustle next month.
As always, we can't wait to see what Jennifer is going to do next.
Got a tablet? You can now download Marie Claire magazine straight to your iPad, Kindle (just search the store for 'marie claire magazine'), Nook or Google Nexus.
Celebrity news, beauty, fashion advice, and fascinating features, delivered straight to your inbox!