The family of Love Island's Tasha have asked people to stop 'making fun of her superpower'
The comments being directed her way are not okay.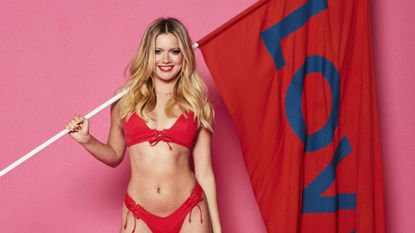 The comments being directed her way are not okay.
Love Island's Tasha Ghouri made history as the first ever deaf contestant to appear on the popular reality television show when she walked through the villa doors. The 23-year-old model and dancer has sensory loss, due to the small hairs in the cochlear being damaged or missing when she was born and so wears a cochlear implant. She refers to it as her 'superpower'.
But the comments being made online about her - and the ableist abuse being spouted on social media - has forced her family to ask the public to "avoid making fun of her superpower."
Posting to Instagram, her family wrote:
As Grazia writer, Aaliyah Harry points out in her piece declaring that the ableist abuse of Tasha needs to stop, some of the comments on social media are too offensive to share.
One of the milder comments (if you can believe it) that she highlights as having seen on Twitter states: "Tasha is so annoying someone should just rip her hearing aid of - I can't stand her voice either."
Not only are comments like the one above pretty vile, it's also completely misguided. In an explainer before she entered the villa, Tasha outlined the difference between a hearing aid and cochlear implant:
Another tweet that we've seen not only makes disgusting sexist comments about Tasha, but jokes they're glad she's deaf as they can't hear them screaming the abuse at her.
From the moment that Tasha was announced as the first deaf contestant to ever enter the villa, there has been a worrying amount of abuse directed her way. Some members of the public have taken to Twitter to highlight the fact that videos mocking her voice are doing the rounds on Tik Tok.
Deaf and disabled journalist and campaigner Liam O'Dell, who has been following the comments aimed at Tasha online, has called on ITV2 to do more. "The general condemnation of 'trolling' is insufficient, @itv2 - you must be specific and condemn the ableism and audism outright."
Speaking exclusively to Marie Claire about the abuse targeted at Tasha, O'Dell said: "The violent ableism I have seen from viewers of Love Island directed at Tasha has been sickening. Many of the comments I've read have targeted her deaf accent, fantasied about damaging her cochlear implant, or expressed a desire for her partner Andrew to physically abuse her."
He says that the fact that such a volume of people are openly sharing these views and levels of violent comments, shows just how far we still still have to go to improve deaf awareness in the UK. "Hearing people still can't understand that you can criticise a person who happens to be deaf without bringing their disability into it," he says frustrated.
While Love Island's team have condemned the trolling of any Islander this year, says O'Dell, he's adamant that that does not go far enough: "They must issue a statement to viewers immediately, condemning the ableist abuse of Tasha in the strongest possible terms."
Celebrity news, beauty, fashion advice, and fascinating features, delivered straight to your inbox!
Amy Sedghi is a freelance journalist, specialising in health and fitness, travel, beauty, sustainability and cycling.
Having started her career in The Guardian newsroom working with an award-winning team, Amy's proud to have reported on a variety of topics, speaking to a range of voices and travelling far and wide to do so. From interviews on ski lifts to writing up breaking stories outside courtrooms, Amy is used to reporting from a range of locations (she's even been known to type up a story in a tent).
She also loves being active, spending time outdoors and travelling - with some of her favourite features she's worked on combining all three. Cycling and eating her way round the Isle of Man, learning to sail on the Côte d'Azur and traversing the Caminito del Rey path in Spain are just some of her highlights.
Covering a diverse range of subjects appeals to Amy. One minute she may be writing about her online styling session with Katie Holmes' stylist and the next she's transporting readers to the basketball courts of Haringey where she joined a group trying to lower knife crime in the capital.
While at university, Amy was awarded The Media Society bursary. Following her stint at the Guardian, Amy worked at Google and as well as writing for Marie Claire, she regularly contributes interviews, features and articles to National Geographic Traveller, The Guardian, The Independent, The Telegraph, Stylist, Refinery29, Glorious Sport, Cycling Weekly and Rouleur.
When she's not writing, Amy can be found trying to get through her towering stack of books-to-read, cycling down at Herne Hill Velodrome or looking for the next place to eat and drink with friends.