Doutzen Kroes Admits She Can Make Girls Feel Insecure
Doutzen Kroes has spoken about her guilt at working in a profession that can make some girls feel negatively about themselves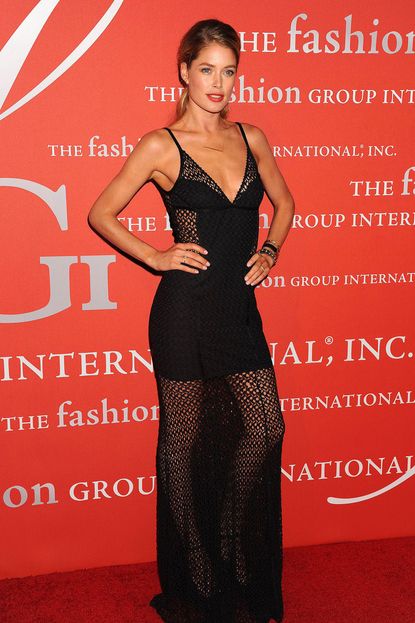 Doutzen Kroes has spoken about her guilt at working in a profession that can make some girls feel negatively about themselves
Doutzen Kroes has admitted that she feels guilty that she works in a career and industry that can make young girls feel negatively about themselves.
Speaking to the New York Post about new legislation which will help further protect models under the age of 18, the Victoria's Secret model said: 'Sometimes it makes me feel guilty that I am in this profession that makes certain girls insecure.'
Doutzen, who is the fifth-highest paid model in the world, and is currently one of the faces of L'Oreal, also admitted that the images we see of her in magazines may not always tell the whole truth.
'If you put me in bad light with no hair and makeup, it's not good.' The mother-of-one said. 'I wake up sometimes like, this is not what I see when I look at the magazine, who is this visitor in the bathroom?' Doutzen continued.
However, speaking to the Telegraph last month, Doutzen made clear that what you see on the catwalk is always the real thing.
'For the show, there is no retouching. We can't escape from the truth. There are millions of people watching – and even people watching live – so it's really important to work out a lot, which I do, and I definitely change my diet.'
For Ms Kroes, it's obvious that being healthy is key. 'I stop drinking [alcohol] a month before the show and no sugar. I still eat carbs because to have just protein and vegetables for me, it doesn't work. But I eat one potato with some fish and greens - very basic and happy food.'
Eat well and exercise often: that's life advice you can't argue with.
Got a tablet? You can now download 'marie claire' magazine straight to your iPad, Kindle (just search the store for 'marie claire magazine'), Nook or Google Nexus.
Celebrity news, beauty, fashion advice, and fascinating features, delivered straight to your inbox!