12 beauty products every new mum needs
In fact, anyone short on time could do with these...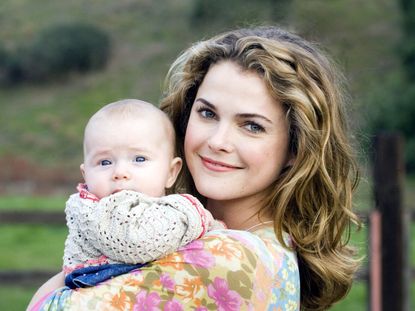 (Image credit: Everett/REX/Shutterstock)
In fact, anyone short on time could do with these...
When you're a new mum, you're lucky to even get in the shower, let alone wash your hair, blow dry it and do your make-up.
So if you're looking for a 2-minute mum make-up face, or need products that'll shave your beauty routine by half, we got you…
The skin care kit
Tata Harper Regenerating Cleanser, £32 – Not only does this deeply cleanse your skin, it also gently exfoliates dead skin cells and stimulates cell renewal.
The key is the ingredients used, like Willow bark (naturally rich in salicylic acid), able to dissolve the bonds that bind dead skin cells to the surface of your face; aloe vera, known for its reparative, skin soothing properties; apricot seed kernals, renowned for their exfoliating qualities and ability to polish the skin and pink clay, which draws impurities from the skin, so your pores don't get clogged.
Liz Earle Skin Repair Moisturiser, £20.25 – Give your skin everything it needs. This moisturiser contains Wheatgerm oil, Avocado oil and Vitamin E to protect your skin against free radical damage like pollution (which can cause of wrinkles and hyper pigmentation) as well pro-vitamin B5, necessary for the normal functioning of your skin and humectants, which attract moisture deep into your skin from your environment to keep it hydrated
Dr Andrew Weil for Origins Mega- Defense Advanced Daily UV Defender SPF 45, £30 – Protect your skin against both UVA (ageing rays) and UVB (burning rays) as well as pollutants and strengthen your skin's natural barrier with this ultra lightweight sunscreen.
Fresh Black Tea Firming Overnight Mask, £71 –This is the definition of beauty sleep. It claims to have a 'corset-like' effect on the skin and we can confirm that it's worth the hype. Not only does it hydrate your skin to make it feel super soft and plump the next morning, it also noticeably tightens your skin after just one week.
The cream itself is very thick, but absorbs quickly, so you don't end up with it all over your pillow case. It's a genuine miracle in a jar.
The body kit
Frank Body Coffee Scrub, £11.95 – The days of having enough time to both exfoliate and moisturiser your body may seem like a distant memory, but with this in-shower body scrub, you can achieve the two quickly thanks to the special blend of exfoliating sea salt, ground coffee beans (also known to help reduce the appearance of stretch marks), anti-inflammatory vitamin E oil and moisturising cold pressed almond oil.
It's like a scrub, body moisturiser and stretch mark treatment in one.
This hamper from Mama Mio is designed specifically for mothers-to-be and breastfeeding mothers - plus, it's free of nasty chemicals like parabens, petrolatum, pthalates and more. With a stretch mark prevention Tummy Rub Butter, Ways to Glow refreshing facial mist, décolletage hydrating Pregnancy Boob Tube and Superstar in a Jar moisturiser, you'll be using these products well after your little ones have arrived.
The hair kit
Aesop Nurturing Shampoo, £19 – Ok, it's pricey, but that's because it's like every hair hero you have in one bottle. Sea salt deeply cleansing your hair to give it extra volume when you dry it, while Peppermint Oil wakens up your hair follicles to promote growth. Not only that, the creamy formula is infused with Grapeseed oil to moisturise your hair and Tangerine oil to make it look glossy.
Bumble and Bumble Pre-a-powder, £22 – It does exactly what's said on the tin – equal parts dry shampoo, style extender and a pinch of volume.
For the best results, part your hair two inches up from your ear, sprinkle some dust, then part your hair two inches from that part, sprinkle some more dust and continue until you've reached most of your roots.
Then, tip your head upside down and shake it through with your fingers.
Tie your hair into a bun while you do your make-up, so that when you take it out, you have a slight curl at the end. It will look like a professional blow dry.
The make-up kit
Lancome Miracle Cushion Foundation, £19.50 – It's everything you love about BB and CC creams, but with more perks.
First off, it's super thin and light in texture, so it doesn't cake. Secondly, it has an SPF 23 for added protection. Thirdly, because you apply it with the powder puff, it's never streaky, so you end up looking airbrushed.
NARS The Multiple, £29 – Highlight, sculpt and add a flush of colour with just one multipurpose makeup stick. Simply pick a shade you like, then swipe across your lids to define your eyes, blend into the apples of your cheek for a touch of colour and smooth over your lips.
Bobbi Brown Smokey Eye Mascara, £23 – Hide any tiredness with this kohl-pigmented mascara. The ultra black formula will make your lashes look super long, plus it holds it own against flaking, smudging, sweat and humidity. So even if you're copping the odd hand in the face, you're make-up will still be on point.
Clarins Fix Make-Up, £23 – Keep your skin looking dewy and everything in place with this light refreshing mist. It's enriched with aloe vera, allantoin and rose water to keep your skin feeling moisturised
Celebrity news, beauty, fashion advice, and fascinating features, delivered straight to your inbox!