This is what went down at the Future Shapers Awards 2018
Here are all the details from this year's Future Shapers Awards, where we celebrated 11 incredible women. ICYMI, this is what happened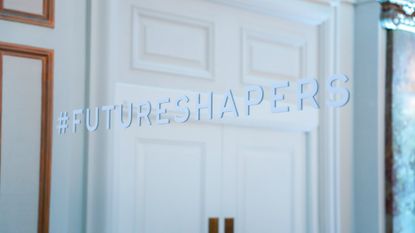 Here are all the details from this year's Future Shapers Awards, where we celebrated 11 incredible women. ICYMI, this is what happened
This year's Marie Claire Future Shapers Awards, in partnership with Neutrogena, saw us recognise the work of 11 game changing women.
From cyber experts and nursing trailblazers to sporting legends, Marie Claire Editor in Chief and Future Shapers judge, Trish Halpin, recognised our winners, announcing: 'Finding out what has driven our winners to success and what gives them such a unique take on the world is something I've found truly inspiring.'
Joining her on the judging panel to select our eleven extraordinary winners was the marketing director for beauty in Northern Europe at J&J, Meghan Davis, campaigner and author Gina Miller and Marie Claire columnist and TV presenter Angela Scanlon.
This year, the women we honoured ranged from cyber experts and fashion designers, to award-winning actresses and champion sportswomen.
But the inspiration wasn't limited to the stage - all of our attendees are shaping the future, not only looking incredible on the red carpet, but also passing on their words of wisdom to Marie Claire readers about how to succeed in different industries.
Emma Gannon, author of the bestselling Multi-Hyphen Method, gave us her top tips for women starting out in her industry, saying that we need to 'harden up a bit'. Passing on her advice she explained, 'You'll get a get a lot of rejection and it's okay to feel like you're being rejected: it's part of the process!'
TV and radio broadcaster Kirsty Gallacher also shared her wisdom, telling young women to 'Listen to your gut and take the right advice.'
And of course it's unsurprising that the ceremony itself included a healthy dose of #inspo. In her acceptance speech, Daisy Kendrick, founder of anti-climate change non-profit organisation Ocean Generation, encouraged us to be aware of our daily habits, as 'the way we choose to work, eat, drink and spend our money can literally save people on this planet.'
Author of The Language of Kindness, Christie Watson, also moved us, using her speech to pay tribute to her career as a nurse. 'I cannot think of a better job than holding someone's hand during the darkest period of their life', she announced, going on to make an impassioned plea about the future of nursing and the gender bias. 'Nursing is the most undervalued of all the professions and it's the most undervalued because it's 89% female.'
Who are our 2018 Future Shapers?
Anna Whitehouse – Founder of Mother Pukka and Flex Appeal campaign for flexible working
Catherine Allen – CEO and founder of virtual reality company Limina Immersive
Cristina Gavrilovic – Head of European Programmes for Justice and Care, which fights against modern slavery
Christie Watson – Author of Sunday Times bestseller The Language of Kindness and registered nurse
Daisy Kendrick – Founder of and CEO of anti-climate change non-profit organisation Ocean Generation
Elizabeth Uviebinené and Yomi Adegoke – Authors of the seminal Slay In Your Lane: The Black Girl Bible
Eniola Aluko - professional footballer for Juventus FC, sport and entertainment solicitor and football pundit.
Hannah Weiland - founder of faux-fur brand Shrimps
Jodie Comer – BAFTA-winning actress and star of Killing Eve
Sarah Taylor – Director of Cyber and National Security Capabilities at the Foreign and Commonwealth Office.
Our VR Pioneer Catherine Allen set out her dreams for the future of cutting edge technology insisting 'It is not a boys' toy, not a gimmick. It's actually an artistic medium of social and artistic potential. We are really shaping this industry against the tide, and we're making it more diverse.'
Authors of the groundbreaking bestseller 'Slay in Your Lane: The Black Girl Bible', Yomi Adegoke and Elizabeth Uviebinené, spoke about what the success of their incredible book meant to them, explaining, 'When we had recognition from the mainstream media that this book was a cultural landmark, it was overwhelming, and made all those sleepless nights, and the worry that we wouldn't get it right worth it.'
One of the most moving speeches of the night came from anti-trafficking warrior Cristina Gavrilovic, who spoke passionately about her work and how it needed to be talked about more.
'This award helps bring attention to one of the biggest humanitarian challenges of our times,' she told the room. 'Human trafficking and modern day slavery involves children, women and men being forced into a situation of exploitation where violence, deception and coercion is just a way of being.'
The last speech of the night came from flexible working pioneer Anna Whitehouse, who gave us the sobering fact that 54,000 women every year get made redundant for having a child - something that needs changing, as well as paying a tribute to her own parents, who had accompanied her to the awards.
Celebrity guests from Ella Eyre and Vick Hope to Hayley Hasselhoff and Jasmine Hemsley joined us for the post-ceremony party, where we sipped on Red Door Gin cocktails and feasted on gourmet canapés and luxury macarons, with the DJ sets going into the night.
What did we eat?
Canapés:
Truffle marinated salsify, Jerusalem artichoke
Black pepper tuna, olives
Sesame chicken
Bone marrow croquettes
Party food:
Beef sliders
Vegan sliders
Fish & chips
Dessert canapés:
Salted caramel, chocolate ganache, shortbread
Lemon curd, toasted meringue, vanilla sablé
Apple mousse, blackberry, honeycomb, macaron
What did we drink?
The Red Door Gin & Tonic
Red Door Gin, tonic, raspberries to garnish
The Red Door Gin Elderflower Collins
Red Door Gin, elderflower cordial, lemon juice, soda, lemon to garnish
If that wasn't enough, each of the guests left with a bumper goody bag… see below for all the products:
What was in our goody bags?
Neutrogena Hydro Boost Water Gel Cleanser
Neutrogena Hydro Boost Eye-awakening gel-cream
Neutrogena Scented Hand Cream
Neutrogena Spot Proofing Oil Free Moisturiser
Living Proof dry shampoo
BUXOM lip gloss
BEPPS vegan snacks
Pip & Nut sachet
Klorane conditioner
Kind Snacks bar
Marie Claire November issue
Huge thanks to the Principal London for the gorgeous venue, and Collective Two and Loop VIP for making the night so special.
What an inspirational evening!
Celebrity news, beauty, fashion advice, and fascinating features, delivered straight to your inbox!