The Pandemic-Fighting Inventors: 'We created a fast and unique Covid test'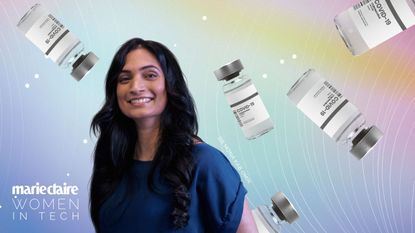 Join Marie Claire and Entrepreneur First on Friday 12th Feb at 1pm for a special STEM panel in light of National Women and Girls in Science day. Editor in Chief of Marie Claire, Andrea Thompson, and Co-founder of Entrepreneur First, Alice Bentick, speak to a host of successful female founders who are making waves across their industries.
It's Women in Tech week here at Marie Claire, and all this week we'll be bringing you stories of the brilliant women blazing a trail in the STEM industries. Dr Mona Kab Omir was one of the COVID test scientists who helped create a new COVID test promising results in 15 minutes. Here's her story
As the co-founder of Vatic, Dr Mona Kab Omir is committed to re-opening our world by making lab-grade Covid antigen tests accessible to everyone, everywhere. Apparently unique to anything that's already available, the genius of this lateral flow Covid test is that it doesn't require access to power or other equipment to work. The tests can be used anywhere to get results fast. And her saliva swab Covid test is as cheap as a cup of coffee, safe, painless, and easy to use.
But don't take our word on it: let's hand over to Dr Mona Kab Omir to hear how she's working flat out to get us out of this nightmarish lockdown pandemic world.
Meet the COVID test scientists: 'We knew we had to have an impact on COVID-19'
"I chose a career in STEM because I wanted to create something. Something that will make a difference to people's lives, and something which has value to society at large."
"After finishing my PhD in chemistry, I felt being creative, alongside thinking laterally to solve scientific problems that actually make a social impact, were the most important things in my life. This led me to entrepreneurship."
"I met my co-founder Alex Sheppard on the first day of talent investors, Entrepreneur First, programme. It's a melting pot of bold tech innovators). Our early vision Pre-COVID-19 was to turn healthcare from a reactive discipline into a proactive one. We planned to trial predictive testing: tracking for key biomarkers indicative of potential acute disease and injury incidence."
We saw a lot of similarities between inflammation and COVID-19
"Our first step on this journey was to build a device to monitor inflammation in athletes and patients with chronic inflammation. To monitor this, we wanted to create a baseline that demonstrated what normal looks like in healthy individuals and use that to predict when inflammation becomes harmful."
"We saw a lot of similarities between inflammation and COVID-19. This led us to a vision of combining the tracking of the antigen alongside the inflammatory markers to inform the patient about the stage of infection."
"We knew we had to have an impact on COVID-19. One of our advisors recommended us to contact Mologic, a leading developer of lateral flow and rapid diagnostic technologies. We approached Mologic at a time when we had no lab space and importantly, no key worker status during lockdown. They offered us lab access, bench space, tools and we got to work."
Follow your dreams, no matter what
"We became Covid test scientists by developing a test that functions like a trapdoor, mimicking the properties of a human cell, 'tricking' the virus into binding on the test line and generating a signal visible to the naked eye. As such, our test's mechanism makes it a literal 'infectiousness test'. This is because its core functionality is generating signal by exploiting the means through which the virus enters human cells as the identifier. This different capture mechanism was inspired by my background in pharmaceutical sciences and targeted drug delivery."
"Working in STEM has been an exciting space for me. It's given me a sense of satisfaction: I can use my imagination and then see it in action. My advice to other women aspiring for careers in STEM? Follow your dreams no matter what, and know your own worth. Never accept being tokenized or side-lined."
Celebrity news, beauty, fashion advice, and fascinating features, delivered straight to your inbox!
Maria Coole is a contributing editor on Marie Claire.
Hello Marie Claire readers – you have reached your daily destination. I really hope you're enjoying our reads and I'm very interested to know what you shared, liked and didn't like (gah, it happens) by emailing me at: maria.coole@freelance.ti-media.com
But if you fancy finding out who you're venting to then let me tell you I'm the one on the team that remembers the Spice Girls the first time round. I confidently predicted they'd be a one-hit wonder in the pages of Bliss magazine where I was deputy editor through the second half of the 90s. Having soundly killed any career ambitions in music journalism I've managed to keep myself in glow-boosting moisturisers and theatre tickets with a centuries-spanning career in journalism.
Yes, predating t'internet, when 'I'll fax you' was grunted down a phone with a cord attached to it; when Glastonbury was still accessible by casually going under or over a flimsy fence; when gatecrashing a Foo Fighters aftershow party was easy-peasy-lemon-squeezy and tapping Dave Grohl on the shoulder was... oh sorry I like to ramble.
Originally born and bred in that there Welsh seaside town kindly given a new lease of life by Gavin & Stacey, I started out as a junior writer for the Girl Guides and eventually earned enough Brownie points to move on and have a blast as deputy editor of Bliss, New Woman and editor of People newspaper magazine. I was on the launch team of Look in 2007 - where I stuck around as deputy editor and acting editor for almost ten years - shaping a magazine and website at the forefront of body positivity, mental wellbeing and empowering features. More recently, I've been Closer executive editor, assistant editor at the Financial Times's How To Spend It (yes thanks, no probs with that life skill) and now I'm making my inner fangirl's dream come true by working on this agenda-setting brand, the one that inspired me to become a journalist when Marie Claire launched back in 1988.
I'm a theatre addict, lover of Marvel franchises, most hard cheeses, all types of trees, half-price Itsu, cats, Dr Who, cherry tomatoes, Curly-Wurly, cats, blueberries, cats, boiled eggs, cats, maxi dresses, cats, Adidas shelltops, cats and their kittens. I've never knowingly operated any household white goods and once served Ripples as a main course. And finally, always remember what the late great Nora Ephron said, 'Everything is copy.'