Pied A Terre, Fitzrovia
Acting Features Director Tracy Ramsden samples fine-dining, old school-style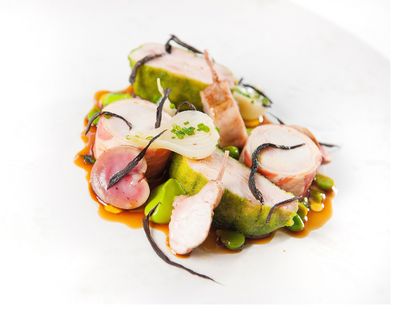 Acting Features Director Tracy Ramsden samples fine-dining, old school-style
If it's post-work on a Friday night, and you're looking for somewhere lively, buzzing, one of those anything-goes places where you have no idea where the night might take you or who you may meet, you probably shouldn't head to Charlotte Street's Pied a Terre (you'd be better off down the road in Soho). You see, in a neon sea of chain Italians, pop-up pulled pork bars and small dish gastro cafes, there's one constant that has out-lasted all the new foodie fads on the block. Quietly reassuring, on the ground floor of a polished but unassuming London townhouse, Pied a Terre is quietly doing what it does best - Michelin-starred fine dining, French cuisine, exceptional wine. It's special, but it doesn't shout about it.
Nestled in the heart of Fitzrovia it has that old-school formality one might normally associate with Mayfair. Restaurateur David Moore opened Pied a Terre in 1991 and, on-site most evenings to greet both regulars and newcomers alike, this is very much his baby - the first in his portfolio that now also includes L'Autre Pied and pop-up Pieds Nus. He earned his stripes working alongside chef Raymond Blanc at Le Manoir aux Quat' Saisons in Oxford, and via a stint at Le Louis XV restaurant in Monte Carlo's Hotel de Paris. But it's here in London, specifically at Pied a Terre, that his heart lies. So much so that when most of the building was destroyed by fire in 2004, it was Moore who had it up and running again within a year. Today, alongside head chef Marcus Eaves, he boasts a Michelin star and a reputation in excellence. But how does it stand-up in today's fast-paced, ever more gimmicky foodie world?
We headed to central London's foodie Mecca, Fitzrovia, on a blustery, non-eventful Wednesday night. Charlotte Street has always been something of a hub for new eaterie offerings and drinking haunts. It might have been easy to miss the pared-back but subtly lit frontage of Pied a Terre and, once inside, the greeting is relaxed but occasion-appropriate and prompt (i.e. They politely take your coat and pull out your chair, but they don't make a song, a dance and a napkin swan out of it) For somebody who usually finds the pomp and ceremony of fine dining awkward, dated and unnecessary, it was refreshing to be greeted with a relatively informal warmth. This wasn't sceney or stuffy in the way some fine dining experiences can be, it doesn't cater to egos, it just gets down to business: the business of good food.
Now here's my problem with fine dining: whilst I can't bear the in-out rush of restaurants that squeeze in as many covers as possible by giving you a two hour-window before you have to move on, I also don't like... well, making a meal of having a meal. Five hours at the same table? It smacks of over-indulgence and isn't my idea of a brilliant night out (I'm from the School of The Easily Bored). I also had a dining partner - my boyfriend - who, though appreciates good food, would much rather that bellyful feeling of three large courses than 10-12 small plates that amount to little more than a spoonful. Unrefined, perhaps, but a challenge nonetheless.
We went for the nine course Pied a Terre tasting menu (£105) with sommelier suggested wine for every course. Pleasant surprise number one: speed, but not haste. There was never longer than five minutes between courses - which quite possibly would have dragged me over my boredom threshold, and my ever-hungry companion to the nearest Nandos to fill his boots.
We started with mushroom and truffle soup with creamed orzo pasta. A unique twist on a classic that was easy on richness and big on flavour. And at risk of reaching the punchline too soon, by the end of the menu, having forgotten a number of other dishes, this one stayed with me. Really tasty.
The main courses where generous for a tasting menu, more fish than red meat which averted that heavy, over indulgence you often feel towards the end of a nine-course bonanza. The Scottish halibut was stand-out. I'd say mouth-watering if it wasn't such a cliche. But it was a delicious piece of fish. More surprising was the roast partridge, gamey, rich, tender and flavoursome. It might have been too much with other rich meats on the menu but in this mix, it was a welcome palette smacker.
Pleasant surprise number two: for a French restaurant, they didn't obsess over French wines, which they could easily have done. Being some of the best wines in the world and all. Instead, the impressively knowledgeable but equally approachable sommelier had hand-picked the best wines to compliment each dish. With surprisingly good wine from less predictable corners of the world - Germany, Chile and Australia - to name a few, it provided a masterclass in original 360-menu planning.
I could say the slightly beige, wooden-themed narrow dining room lacked character (which it did) and that at one point I had to stifle an uproarious laugh (which I did, because it didn't feel appropriate) but had I wanted 'vibe' and an anything-goes atmosphere, I'd have headed down the road to any one of the generic eateries that cater to the masses. Had I wanted a one-off, special occasion evening, with a menu-to-remember where the sole focus was on accessible but top notch fine dining, I'd have headed to Pied a Terre. Which I will again, should I ever fancy turning a non-descript Wednesday into a seriously classy date night.
Celebrity news, beauty, fashion advice, and fascinating features, delivered straight to your inbox!