These are the very real consequences of office sex
Whether it's a dangerous liaison or a life-long relationship, workplace seduction can have serious consequences. Three women who have broken the corporate taboo tell their stories...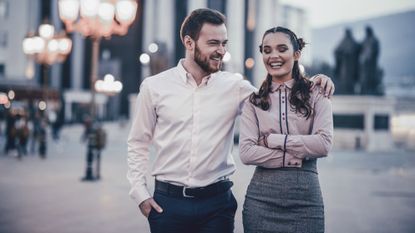 Whether it's a dangerous liaison or a life-long relationship, workplace seduction can have serious consequences. Three women who have broken the corporate taboo tell their stories...
Words by Anna Moore
In this long-hours culture many of us see more of our colleagues than our friends and families. We sit next to men in smart suits, showing us their most competent and creative sides. They, in turn, are treated to our best selves – most of us make more of an effort to look good for work than we do for our partners.
Little wonder that sex in the office is flourishing. One in three of us has had sex at work, according to a survey of 1,000 UK workers by Human & Legal Resources and half of us meet our partners at work, according to the Industrial Society. It feels deliciously illicit, locking you into a private world of in-jokes and emails, but often there is a cost – office affairs can be ruinous.
Is it worth it? Here three women tell their stories…
'I FOUND LOVE AND LOST MY JOB'
Grace*, 36, an events organizer from Bristol, had an affair with her married colleague two years ago. She was sacked for gross misconduct.
'Adam* and I clicked when he interviewed me for the job. He was very good-looking – tall and broad-shouldered. The week I started, we drove to Liverpool to meet clients. We laughed all the way back. When he dropped me off I almost kissed him goodbye. Although I was single at the time, I had to remind myself that he was my boss – and married with three children.
Two months later, we had an event in Morocco. On the first evening, when we were out for a meal, Adam accidentally touched my waist and left his arm there. I remember thinking "This is weird…it's wrong." But by the time we got back to the hotel, it was a question of "My room or yours?" From the very first time, it never felt like I was his bit on the side. Adam was tender and warm and totally focused on me. Sex wasn't the main part of the evening – we were up most of the night talking and touching each other. When I woke up next morning, he pulled me to him and said "I've been watching you for hours, just sleeping, and you're so beautiful…" No one had ever said the things he said to me.
Our affair lasted seven months and I fell utterly in love. I used to say, "You know I'll lose my job," and he'd reply, "I'd never let that happen." A lot of very naughty MSN messages were sent, lots of texts, and we'd disappear together at lunch – it sounds seedy but there were lots of fields in that area and Adam had a big car! We saw each other a lot. We went to networking events together and there were openings in London where we'd have to stay overnight in a hotel. At work he'd say he needed to meet with me in the boardroom just so he could steal a kiss! The fact that it was behind everyone's back added excitement.
No one suspected anything for a long while, but then one Sunday Adam texted to say the boss wanted to meet him and all his meetings for Monday were cancelled. I was terrified. When I got to work the next day, I tried to log on to my computer but they'd taken me off the system. It was humiliating and scary. They'd started checking our emails and that's how it was uncovered.
'I was called into the boardroom where a lawyer, the boss and another senior staff member presented me with transcripts of all our emails and MSNs. They'd downloaded everything off my hard drive – including my personal Hotmail account, as I'd accessed it from work.
I hated the way they were looking at me – like I had some nasty disease. One of those guys had slept with another employee the night after his son was born. The boss – who was telling me I'd wasted company time – was known to sit at his desk watching porn and sometimes send it round to staff as a laugh. But I was so shocked I could barely speak, let alone throw back accusations.
I was told to clear my desk and sent on "gardening leave" while they carried out a "full investigation". I was eventually sacked for sending "lewd and explicit messages", which contravened their internet policy. I was terrified my colleagues would think I was evil. People always blame the woman. But they were really upset. They thought we made a good couple – and Adam obviously wasn't happy at home. His wife found out, of course, and he decided to stay with his family.
They didn't sack Adam, but he left to start his own company. Professionally, I've now got a better job that I love. Romantically, it's hard. I'm heartbroken and haven't had a partner since. I'd say to anyone else in a similar position – don't go there.
'I FELL IN LOVE WITH MY BOSS…AND MARRIED HIM'
Stephanie Hopkins works in PR and married her former boss. They live in Brighouse, West Yorkshire
'For a long time I found Carl scary at work. He doesn't like anyone being late, he expects a lot from you and can come across as arrogant and intimidating. But a year after I started, I had to organize the company's 21st birthday party and as Carl was the chairman, we had a lot of meetings. He was very direct and funny and I was intrigued.
One day, he invited the staff to his house for a private performance from Jim Bob – the singer from Carter and the Unstoppable Sex Machine. Carl had bought it from eBay. It was such a great night and, by the end, I really liked him. As I was leaving, I wrote a text saying, "I fancy the pants off him". I meant to send it to my friend – but accidentally sent it to Carl! It was so embarrassing. He sent a reply asking, "Who do you mean?" I could have lied but, after a few exchanges, I confessed – then didn't sleep all night. I was convinced I was going to lose my job.
The next day at work, Carl admitted he felt the same way. A few days later, he put a plane ticket to Paris down on my desk among a pile of papers. That was our first date. I remember sitting on the plane thinking, "What am I doing?" If it didn't work out he could fire me. We had a really romantic weekend and I found he wasn't scary at all. He's genuine, caring and gentle. He admits that his work persona is an act for the business world.
We managed to keep the relationship secret for four months. We'd meet for lunch most days and spend the nights together – then Carl would drop me off round the corner the next morning. That was how we were spotted. I got out of the car and a colleague was standing on the pavement. I confessed and, pretty soon, everyone knew. It wasn't an easy situation. Carl and I kept things very professional in the office. I was eventually promoted and people probably did think it was because I was seeing the boss.
After about a year, Carl took me to Monte Carlo for the weekend and proposed. We had an engagement party and invited everyone from work, but only one person came. So we didn't invite them to the wedding!
We got married and since then Carl has sold the company. I stayed on for six months, then left to work for myself. I still do the PR for Carl's new company but he doesn't pay me. He should though – I've started invoicing him!'
'I WAS HIS OLDER BOSS'
Katrina*, 32, is a record company executive. She met her boyfriend, Scott, when he came to do work experience in her office. They are still together eight years later, but no longer work together
'I was an executive in the public relations department of an indie label when I was 24, and Scott started in my office, opening the post and answering the phones when he was 19. At first, all I noticed was his long blonde hair. Then I began to notice his quick wit, throaty voice and long legs – all the girls in the office were talking about him. Soon after he joined, we had a party for one of our bands and we all laid into the drinks. When he reached into the fridge for a beer, I took the opportunity to grab his behind and soon found myself sleeping with the intern.
The music industry can be very casual. People don't think anything of hooking up with subordinates, bosses, musicians – it's all cool as long as the two who get together agree on the merits of at least one band. So no one at work was bothered by our relationship and we made no effort to keep it quiet.
About three months later, I offered Scott a job. As we both climbed the ladder, our mixing of work and sex was never a problem for our colleagues. But it wasn't always so easy for me and Scott. And when he moved in with me, it felt relentless – we were now working, commuting, eating and sleeping together. And if he didn't like the way I was doing things or vice versa, it was difficult, really difficult.
It is not easy maintaining authority when your hot-headed boyfriend has just slammed his office door in your face. It's also a challenge not to fire him on the spot. Or how about when he calls your product "substandard"? Or points out mistakes you've made in sloppily written press releases? Try going home and cuddling on the couch after he says you're too much of a wimp to sack inept staffers.
It is true that I am not the most assertive manager, but he expects extraordinarily high standards from his colleagues. It could be upsetting that they all thought my boyfriend was a prick. Especially when I kind of agreed with them!
Once, when our office was being renovated, we had to share an office and a phone. Not a happy few weeks. But other times it was great – we played off each other's strengths and challenged each other to work harder. It was enough to keep us at it for three years – the job, that is.
He eventually went off to work for a rival record company. The relationship is still going strong, we've been together eight years and have a three-year old daughter. I haven't regretted for a minute that I violated all sorts of professional codes when I grabbed hold of him that night.
Celebrity news, beauty, fashion advice, and fascinating features, delivered straight to your inbox!
The leading destination for fashion, beauty, shopping and finger-on-the-pulse views on the latest issues. Marie Claire's travel content helps you delight in discovering new destinations around the globe, offering a unique – and sometimes unchartered – travel experience. From new hotel openings to the destinations tipped to take over our travel calendars, this iconic name has it covered.