How #MeToo shows that we need to acknowledge sexism in the music industry too
The sexual harassment recently uncovered in Hollywood is sadly not confined to the world of film. From Kesha's court battle to Lady Gaga's revelation of sexual assault, the music industry too is under scrutiny - POLLY DUNBAR speaks to women on the frontline of pop...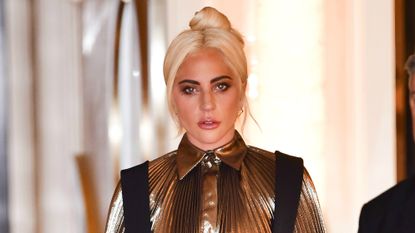 (Image credit: Getty Images)
The sexual harassment recently uncovered in Hollywood is sadly not confined to the world of film. From Kesha's court battle to Lady Gaga's revelation of sexual assault, the music industry too is under scrutiny - POLLY DUNBAR speaks to women on the frontline of pop...
It's late evening in a London studio, and filming on a teenage pop singer's first music video has halted. Her manager, an executive from her record label and the director – all male – are huddled around a laptop, looking at footage of her and discussing their displeasure in tones they make no attempt to hush. The star herself sits alone and crying on the other side of the room, wearing hotpants, a bralette and sky-high stilettoes. A make-up artist and several stylists look on in awkward silence. By the time the shoot is abandoned, the singer's crimes have been spelled out to her in the most degrading terms possible.
'The men explained they weren't happy with the way she was moving; she looked "lumpy" and "overweight", although she was tiny,' a witness on the shoot tells Marie Claire. 'One of them told her she'd need to lose weight and practise her sexy dancing, because she didn't look "shaggable enough". She was clearly devastated, but she just nodded and mumbled, "OK."'
In 2016, it's difficult to think of many situations in which sexism this blatant would be tolerated in Britain. Yet pop music is a £4 billion-a-year business in which men hold 67.8 per cent of the jobs, and the vast majority of positions of power. Female artists are often treated as no more than pretty cash cows, whose bodies and talents exist purely to be exploited for maximum commercial gain. Women working in other roles in the industry claim they are also viewed as subordinates or sex objects.
Kesha's ongoing legal battle with the songwriter-producer Dr Luke (Lukasz Gottwald) has shone a stark light on the most extreme version of this exploitation. In 2014, the singer sued her former mentor, claiming he'd 'sexually, physically, verbally and emotionally abused' her 'to the point where she nearly lost her life.' The suit's aim was to sever the contract binding Kesha to Dr Luke's label, allowing her the freedom to work with other labels and, in her words, 'get free from my abuser'.
The producer countersued her for defamation, denying her claims strenuously. But when a court ruled Kesha had to remain in her contract with Dr Luke earlier this year, the hashtag #FreeKesha began trending on Twitter and fellow female musicians including Lady Gaga, Lily Allen, Kelly Clarkson and Lorde publicly offered her their support, only serving to underline their empathy with her. Taylor Swift donated $250,000 (£198,000) 'to help with any of her financial needs', while Adele dedicated her Brit Award for Best Female Solo Artist to her, acknowledging the problems faced by so many female stars by thanking her own record label 'for embracing the fact that I'm a woman'. The overwhelming outpouring of solidarity for Kesha suggested that her allegations had struck a deep chord with women in the music industry who had up until this point remained tight-lipped. This was confirmed by Lady Gaga, who revealed she had been sexually assaulted by an unnamed producer when she was 19.
In Britain, countless women who work in the business testify to frequent cases of sexual misconduct and misogyny. 'Women I know often tell me stories about sexual harassment,' says Lara Baker, events manager at the Association of Independent Music (AIM), the organisation that looks after some of the world's most successful independent record labels. 'The music industry involves a lot of late nights and drinking, and in those situations it's common for people's sense of what's appropriate to go out the window. A woman will be in a taxi with her boss or a client after a gig and he'll suddenly start kissing or groping her and she's expected not to mind. It's not easy for her to speak out when it involves a colleague or client and her reputation is at stake.'
A particularly disturbing element of Kesha's story is her allegation that Dr Luke 'bombarded' her with insults about her weight, calling her a 'fat fucking refrigerator', which she says contributed to her developing an eating disorder. Attempts to control a young female artist's image and make her more commercially appealing by 'encouraging' her to lose weight and wear sexier clothing is a common scenario that singer-songwriter Lauren Aquilina, 21, has experienced first-hand. 'I've been in so many situations where my image has been commented on as public property,' she says. 'When I was younger, I did a shoot for a partnership with a fashion brand and I was told by a guy who was high up in the company, "These clothes are designed for small women, so if you want to work with us in the future you should think about losing weight, because this isn't really working at the moment." I was crushed. I was only a size 10, but I started wondering if he was right.
'I've been told repeatedly that to be successful, boys need to fancy you and girls need to want to be you. I've been asked, "When are you going to start looking like a pop star?" I don't look like a typical pop star; I'm not a size six and I don't wear skimpy clothes. I think my fans like that because they can relate to me. But I've felt so much pressure to compete with other girls in the music industry, and until recently it really affected me.'
'A music industry boss will suddenly start groping [an artist] and she's expected not to mind'
Aquilina has also found that as a young female artist in the music industry, she has been patronised over her songwriting, and experienced pressure to change. According to PRS for Music, only 13 per cent of their 95,000 songwriters are currently female, so it's little surprise that songs written by women are not always taken seriously – despite the phenomenal success of female singer-songwriters like Taylor Swift and Adele. The fact is, the majority of chart-topping songs performed by female artists, from Rihanna to Katy Perry and Miley Cyrus, are still written by men.
Aquilina says, 'I've had a few mental-health issues and I've been told by men in the music industry that I needed to stop being so emotional; such a girl. I've been told to stop moaning and write a happy, upbeat song that befits a female pop star. I know for a fact a male artist would never be asked to ditch an emotional, raw song. 'Now, I have a female manager and A&R rep and that's made a big difference to my confidence. I've learned to stick up for myself more. I've had to grow up at an alarming pace to handle the pressure and demands of being a 21-year-old woman in the music industry.'
It's not just the artists who suffer as a result of sexist attitudes: they permeate the entire industry, with women who work everywhere from A&R to promotion and PR earning less than their male counterparts and struggling to rise through the ranks. The upper echelons of the business remain solidly male. Despite the music industry signing up to UK Music's Equality and Diversity Charter in 2012, there is little sign of progress.
At Midem, the international music event which took place in Cannes in June, a major panel discussion on the future of the industry consisted solely of middle-aged and older white men, one of whom said, without irony, 'Hopefully in the next 20 years there'll be some women on this stage.'
Emma*, 32, worked in A&R for a small label for three years, hoping to scout new artists at gigs and nurture their careers. She says, 'I've never been happier than when I got my job, because I'm obsessed with music. I've been to thousands of gigs and I thought there couldn't be anything better than getting paid to do it, but by the end of three years, I hated it. I was still being treated like the office junior, opening post and making cups of tea, while the guy who started at the same time as me was promoted. When I tried to give my opinion on a band or a singer, the men in the office would either ignore me or take the piss out of my taste. It was incredibly demoralising.'
Björk recently spoke about encountering a similar lack of respect for her opinions. 'Everything that a guy says once, you have to say five times [as a woman],' she said. Georgia LA, the writer, producer, presenter and DJ on Apple Music's global station Beats 1, knows how this feels. 'When I did media training for record companies, I'd put together the press pack and present it in meetings, and because I was a young woman, I wouldn't get taken seriously,' she says. 'But if a guy presented my ideas, the executives would say they were great.'
Georgia LA has also experienced gender discrimination in salary terms. 'I was doing a music presenting job at one stage but was furious when I found out the male presenter was getting almost 40 per cent more than me for exactly the same job,' she says. 'My agent had a word and was told they didn't have the budget to give me more. It was so frustrating – they should have shared the budget equally between us.'
At AIM, Baker organises regular networking and conference events for women in music, as well as working on the annual Women in Music Awards, which celebrate the achievements of women in the music industry. She cites networks such as SheSaid.So, which helps women support one another and collaborate. 'There are so many women wanting to get into the music industry, but a very small number of women at the top, so we're trying to find ways to help them get there. The more women there are in powerful positions, the more the culture will change,' she says.
She believes the only way to create gender equality within the music industry is to involve men in the conversation, like the UN Women HeForShe campaign is attempting to do. 'We need enlightened men to be part of the fight, calling out their colleagues and friends if they see them saying something sexist or making inappropriate advances,' she says. 'Equality has to be something we're all working towards together.'
Despite the bleakness of the current picture, Aquilina believes there is reason to hope change will eventually happen. She says, 'Adele is a fantastic role model, because she's so successful, and she doesn't let herself be pushed around. She's chosen not to let herself be sexualised, and that's so refreshing. She's proved that audiences want to see diversity in music. I just hope that labels are listening.'
*Name has been changed
Celebrity news, beauty, fashion advice, and fascinating features, delivered straight to your inbox!
The leading destination for fashion, beauty, shopping and finger-on-the-pulse views on the latest issues. Marie Claire's travel content helps you delight in discovering new destinations around the globe, offering a unique – and sometimes unchartered – travel experience. From new hotel openings to the destinations tipped to take over our travel calendars, this iconic name has it covered.