Dame Arc review: "Yep - this is officially one of the most successful G-spot sex toy shapes out there"
Hitting the spot perfectly.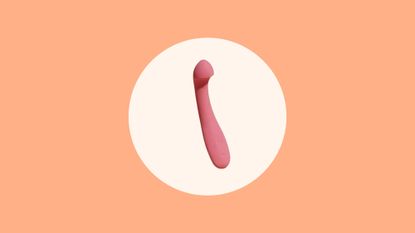 (Image credit: Future)
As a brand, Dame is on a mission to empower women via sexual wellness. How? By designing body-safe sex toys for women, by women. So, what did I think when testing their Dame Arc, a rather uniquely shaped vibrator with ten settings? Good question. You'll have to scroll for my full review, but topline: it's vibrations are strong, it's design is sleek, and it's shape is perfect for G-spot stimulation. I found that it worked for both internal and external orgasms (hello, foreplay) thanks to it's expertly-designed curves. For my full review - keep scrolling.
Reasons to buy
+

5 intensities

+

5 patterns

+

Medical grade silicone

+

Waterproof

+

Whisper quiet

+

USB rechargeable

+

3 year warranty

+

G-spot curve

+

Clitoral ridge for external use

+

Storage bag provided

+

Easy-to-use buttons

+

Internal and external use
Reasons to avoid
-

Could be stronger

-

The curve may be hard for some to insert
Spoiler alert: this isn't just a Dame Arc review but the answer to finding your G-spot. Yep, you read that right - trying to find your G-spot can be a hard enough, but the clever and unique design of this toy will certainly help.
G-spot orgasms have been pretty hyped up over the past decade, with some calling them the holy grail of sexual pleasure. That said, not everyone gets the same pleasure from G-spot stimulation, so it's important not to feel left out if it just doesn't do it for you.
That's why I think the Dame Arc is one of the best sex toys - not only is it designed for G-spot stimulation, but external and clitoral vibration, too, making it really multi-faceted.
A bit of background for you, before I jump into my review: the G-spot was discovered almost 75 years ago, yet many are still on the fence about its existence. Regardless of this, many will find internal G-spot sex toys more pleasurable to use than other shaped sex toys. I certainly do - I'm Ness Cooper, a clinical sexologist and sex toy reviewer whose been testing G-spot vibes professionally for over ten years.
Some have been badly designed, some haven't been powerful enough, and some just don't work, but this Dame Arc review is a testament to the fact that when they do work, they work. Keep reading this review to find out how to experience amazing pleasure with G-spot sex toys.
Don't miss my Lelo Enigma review, Ruby Glow Blush review, and Smile Makers Billionaire review, while you're here.
Dame Arc review: "I found its deep and sensual shape amazing for G-spot orgasms"
So, is the Dame Arc really one of the best G-spot vibrators out there? Short answer: I reckon so, and I'll explain why below.
Built to curve with your body and provide both internal and external stimulation, you're pretty much guaranteed an orgasm...
Special features and what sets it apart from competitors
Quick sex science lesson, first: you may have noticed that G-sport toys tend to be curved. This is to stimulate the clitourethrovaginal area (which many call the G-spot) which is located at the front of your vagina.
So, why the curve? Well, curved sex toys are meant to offer deeper pressure on the G-spot area, leading many to experience an intense orgasm.
The Dame Arc's curve promises to be just the right angle for the G-spot area (other competitors are quite intense and can feel a bit uncomfortable rather than pleasurable). On top of this, the surface of the tip is wider than some G-spot vibrators, meaning that there's a higher chance it'll find (and pleasure) your G-spot area.
Plus, the Arc has a slightly raised ridge in the centre of the tip designed to direct more focused vibrations when used externally on the clitoris. Foreplay win..
How to use the Dame Arc and how it was
Packed with a storage bag, USB charge, sticker, and booklet complete with an instruction QR code, you even explore workshops by other sexperts, if you're after even more tips.
Often I wouldn't use a curved G-spot vibrator for foreplay but the slightly raised ridge designed by Dame had me intrigued. I enjoyed the soft stimulation, and it did a great job of turning me on.
Turning the toy on, it uses rumbly style vibrations which I found travelled deeper than buzzy vibrations, allowing for more intense stimulation across my G-spot area.
On the insertion front - it is worth noting that the Arc can be a bit more fiddly compared to a classic-shaped vibrator. That's where our guide to the best lubes comes in (definitely use it here for a stress-free and comfortable insertion).
Other need-to-knows: I was a fan of the curved tip, found the buttons easy to use, plus thought that the Arc's long body allows you enough surface area to hold the sex toy while inside you (important for G-spot orgasms as you often need consistent and rhythmic motions).
Hot tip: if you're struggling to hit your G-spot area, try tilting and twisting the vibrator slightly toward one thigh. This may help find the spot for you.
How to keep it maintained and clean
The silicone is easy to clean in warm water and with your standard sex toy cleaner.
Once dry, it takes two hours to recharge. Make sure you remember to charge - you'll have a total of 1.5 hours of playtime when you do remember to charge.
About Dame
Fun fact for you: Dame was one of the first sex toy brands to successfully crowdfund some of their designs through Kickstarter and Indiegogo.
Now they're one of the world's leading brands - designed by women, for women -with a revenue of over $1 million.
Should I buy it?
The Dame Arc is definitely worth investing in, in my opinion.
It's a good sex toy for both internal and external play, which means that even if you don't get along with it as a G-spot toy, there's still hope it'll be fun to use on your external erogenous zones and clitoris.
Celebrity news, beauty, fashion advice, and fascinating features, delivered straight to your inbox!
Ness Cooper is a Sex and Relationship Expert and Writer. She's been a freelance writer for over 10 years, knowledgeable in all areas of human sexuality and has a special interest in sex toys and tech.
Ness has been nominated for many awards during her career. From ETO's Best Erotic Journalist, to Best Sexologist at the 2022 Sexual freedom Awards.
Her first published pieces were theatre reviews, written for her local paper when she was 13. I think we can all agree that she now reviews more fun items.
Not only does she write down-to-earth sex and relationship articles, she tests sex toys, including prototypes. She knows what works and what doesn't with sex tech and sexual pleasure!
Ness is always training and trying to expand her skills. This has led her to train in Pelvic Floor Biomechanics and Pilates. Her pursuit of knowledge has also taken her to the Kinsey Institute in the US, where she studied human sexuality.
With a background in sex and relationship therapy, coaching, and education, she's one of the UK's leading Sex and Relationship Coaches and Sexologists. She helps people to find their authentic sexuality and sexual happiness and teaches Sexology to other human sexuality professionals.
Ness also offers 1-2-1 coaching and group sessions.