These real roses last an entire year and no, it's not witchcraft
Totally obsessed.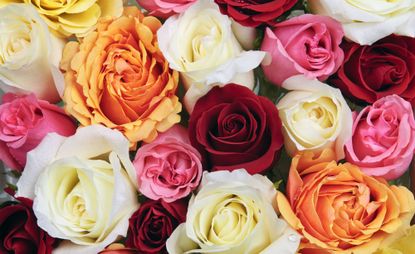 (Image credit: Monkey Business Images/REX/Shutterstock)
Totally obsessed.
Receiving a bouquet of roses is always a special moment, but it's pretty depressing when they start going brown and need to be chucked out a week later. Having to bin a romantic gesture isn't very romantic, let's be real. If you want the magic to last a bit longer (think 51 weeks longer), there's this cool new company that now sells real roses that last a whopping whole year. And, they don't even need water to survive. WILD.
The gorgeous long-lasting roses come from a company called Infini London, which was co-founded by a celeb florist called Louis Strudwick. And you can totally see his hand in all the work as each of the roses are absolutely perfect.
If you're wondering how they manage to keep the roses alive for so long, it's not witchcraft and wizardry — each of the blooms are individually treated with an eco-friendly solution that keep them looking fresh and from losing petals. Nobody tell Belle and the Beast, that story would have panned out way differently if they'd had one of these on hand.
The roses come in fifteen different colours, ranging from the classics including deep reds and baby pinks to their truly wild blue, grey and rainbow blooms. And these aren't crappy dyed flowers either, they literally look like they were grown that way and we're totally falling in love. Apparently, they have some big celebrity fans as well since Leigh-Anne Pinnock from Little Mix has previously raved about them in the past.
Unsurprisingly, these beauties aren't the cheapest around but they're perfect for special occasions. You can buy individual long-stemmed roses for £19.99 if you're on more of a budget or opt for one of their beautifully packaged bouquets, including their see-through diamond cubes (£199) or very haute couture round boxes (£149).
And if you really want to make a statement, you can also snag their Large Square Box for £299 which holds up to 42 flowers. Whether you're looking for the perfect Instagram props or an alternative Valentine's Day gift, they're a sure fire hit.
We chatted with Infini London to find out what their best-selling bits are and safe to say, we totally see why. Check them out below…
Priced at £99, available at INFINI London
Priced at £119, available at INFINI LONDON
Priced at £149, available at INFINI LONDON
Priced at £199, available at INFINI LONDON
So, if you want to sneakily send this link to somebody who needs to take a hint, we're not going to say a thing. TBH, we're totally considering buying a box for ourselves as our annual treat yo'self gift: payday's soon, right?
Celebrity news, beauty, fashion advice, and fascinating features, delivered straight to your inbox!
Megan is a freelance journalist who covers entertainment and all things lifestyle, with a particular passion for fashion, beauty, travel and Keanu Reeves stories. She has previously worked on staff for titles including Marie Claire UK, CNN Style and The Evening Standard and has written for titles such as Bustle UK, Wallpaper*, Forbes and Hong Kong Tatler. She splits her time between London and her hometown Hong Kong, where she currently lives with the love of her life - an elderly dog named Poppy - and her husband.