Someone has invented a Christmas tree with wine bottles and it's great
Looks like we're in for a VERY merry Christmas.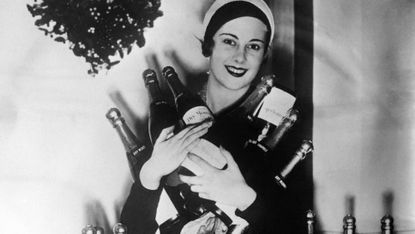 (Image credit: Gamma-Keystone via Getty Images)
Looks like we're in for a VERY merry Christmas.
The Starbucks Christmas drinks menu has been released and the John Lewis Christmas advert has landed, it's safe to say that Christmas is officially upon us once more.
As if the arrival of the festive season wasn't reason enough to be excited, we can now confirm that the traditional Christmas tree has had a makeover. And it couldn't be more 2016 appropriate.
Yes, the wine Christmas tree is now officially a thing. So it looks like we're all going to be in for a VERY merry Christmas this year.
Two years ago, Silver Oak Cellars wowed us all when they used 500 empty wine bottles (we bet they had sore heads the next day) to create a 16 foot wine Christmas tree, fairy lights and all.
As if we needed another reason to drink more wine over the season of merriment, it seems the mastermind behind this quite frankly fantastic idea has kickstarted the latest Christmas trend. Here's hoping Christmas wreaths get a similar treatment...
With people worldwide opting for the DIY route and recreating the look in their homes.
If you want to follow suit and create your own Christmas tree with wine bottles this year (and who doesn't) then there are a few ways to go about it.
For those of you who haven't planned ahead and saved up all your empty wine bottles (we aren't judging), then why not start brewing up batches of mulled wine?
Using your now empty wine bottles (in this case we think DIY could definitely stand for drink it yourself), invest in a small/medium/large (depending on how many bottles you have - again not judging) wine bottle drying rack.
Simply slot you bottles onto the hooks, add some fairy lights and baubles, and wallah! You have yourself a Christmas tree constructed from wine bottles.
If you don't fancy forking out for a wine rack then why not layer up shelving and stack your bottles up, as this creative Instagram user has done below.
So why not rescue some wine trapped in a bottle this Christmas and make your very own Christmas tree? While there aren't a lot of wine bottle Christmas tree tutorials floating around, we did manage to track down a beer bottle Christmas tree one which could easily be adapted.
If you're not feeling that adventurous this year, you can also opt for wine Christmas ornaments to jazz up the ol' green.
Wine Christmas Tree Ornaments
While they're not going to get you buzzed, these cute Christmas ornaments from winechristmas.com (because where else would they come from?) would look adorable on your tree. We're particularly keen on the left one, which speaks to us on a spiritual level.
Alternatively, if you aren't a huge wine drinker but still fancy a merry one this holiday season then why not invest in alcohol filled baubles to decorate your tree with? Because yes, they also exist now and they're a perfect Christmas gift for him or Christmas gift for her in case you need inspiration.
Gin Filled Baubles
Pickering's Gin have emerged as the hero we all need, and created a collection of colourful glass baubles filled with 5cl of gin. They're super popular every year hey've previously sold out in 82 seconds) and this 2017, they've actually had to announce pre-order and you can sign up now on their registration page. This year, they'll be going for £30 for a pack of six in different colours.
While December 25th is still a while away, you'll have more than enough time to get through enough wine bottles for a glamorous tree. 'Tis the season and all that - we'll have a drink in the name of Christmas.
Celebrity news, beauty, fashion advice, and fascinating features, delivered straight to your inbox!