Women too posh to push
The number of British babies born by caesarean section has more than doubled in the last thirty years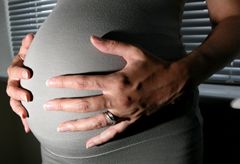 (Image credit: Katie Collins/PA Photos)
The number of British babies born by caesarean section has more than doubled in the last thirty years
The number of British babies born by caesarean section has more than doubled in the last thirty years, suggesting women are becoming increasingly worried about natural births.
Around 25 per cent of all births in the country are now Caesareans compared to around 11 per cent back in the 1980s. Researchers claim the rising rates are driven by an increase the surgery among affluent women.
'Thirty years ago mothers having caesarean sections were more likely to come from deprived areas and from lower social backgrounds,' says Ruth Dundas from the University of Glasgow's Social and Public Health Sciences Unit.
But according to the findings published in the journal BMC Public Health, by 1990 there was no association between choosing to have the procedure and a woman's personal circumstances.
'Now the growth is mainly driven by an increase in more affluent women,' says Ms Dundas. Many women are becoming increasingly worried about natural births and rising numbers are demanding C-sections with their second child.
Women are also now giving birth well into their 30s which increases the possibility of complications occurring during labour.
In 2000, 17.4 per cent of births were caesareans, with planned or elected C-sections making up 33 per cent of these.
Celebrity news, beauty, fashion advice, and fascinating features, delivered straight to your inbox!